Whether you've got a picky eater or you're following the doctor's recommendation, multivitamins for kids can give you peace of mind knowing your child is getting the nutrients he needs. Adult multivitamins have too much of some vitamins and not enough of others. Children have unique dietary needs that children-specific formulas meet. They're a relatively inexpensive way to stay on top of your child's health. Today's formulas not only have the right nutrients, but they are also designed to appeal to children. Even reluctant eaters can be tempted by gummies and chewables in fun shapes and colors.
We reviewed dozens of multivitamins for kids to find the best on the market. Our search included a close look at the included vitamins, their source, the flavor, and dosage options. The number of choices is staggering and the options continue to grow. No matter your dietary choices or restrictions—vegan, kosher, halal—there's a children's multivitamin out there for your family.
SmartyPants is a name to contend with in the world of vitamins. Their Kids Formula Daily Gummy Vitamin hits all the marks with good doses of the recommended daily vitamins. They also have a few extras that make them a favorite amongst parents of children with sensory and behavioral issues. SmartPants stays on top of their formula and keeps improving it to accommodate a growing understanding of what and how children absorb vitamins best.
The 5 Top-Rated Multivitamins for Kids
*Ratings are from Amazon at the time of publication and can change
Our Top Pick: SmartyPants Kids Formula Daily Gummy Vitamin
There's something to be said for a multivitamin that comes from a company with a long history of quality ingredients. The SmartyPants Kids Formula Daily Gummy Vitamin is ahead of the game. In 2016, the Food and Drug Administration (FDA) developed new labeling requirements requiring the disclosure of dietary ingredients like herbs and botanicals as well as updated measurements and disclosure of vitamins D, A, and E as well as potassium. It also required a change in the percentage daily value for children ages one to three. The due date for these changes is 2020. Well, true to form, SmartyPants has already updated its vitamin formula and labels to reflect the changes and additional requirements.
This multivitamin formula is for children ages four and up. It's non-GMO and free of common allergens, gluten, and skips artificial colors and flavors. Yet, it's got a great mix of Omega-3's that come from wild-caught fish and the vitamins kids may lack like vitamin D3, B12, K, C, and A. Its high dose of vitamin C follows FDA recommendations and provides an immune system boost by promoting the repair daily cell damage.
Finally, we have to mention taste, which can't be separated from sugar content in this case. We think it's important to point out that a full dose (four gummies) has 5 grams of sugar. Most children like the taste, but that's fairly high for a multivitamin. The sugar is there in large part to counteract the texture and taste that comes from the long list of healthy ingredients, especially the fish-based oils. Overall, this is a great multivitamin that covers the important bases with the vital nutrients yet comes at a reasonable price.
SmartyPants Kids Formula Daily Gummy Vitamin Key Features:
Non-GMO, allergen-free (milk, eggs, peanuts, tree nuts, fish, shellfish, soy, wheat), gluten-free
Natural colors and flavors
For children 4 years old and up
Omega 3 DHA and EPA (essential fatty acids)
Runner Up: Feel Great Vitamin Co. Multivitamin Gummies for Kids
The Feel Great Vitamin Co. brand created a winning formula with their Feel Great Vitamin Co. Multivitamin Gummies for Kids. It's low on sugar, which parents like, but high on flavor and fun with bear shapes that kids love. Growing concerns about exposing children to chemicals and synthetic ingredients has led to the development of multivitamin formulas like Feel Great's that skip artificial ingredients in favor of all-natural sources of essential vitamins and minerals.
Children age two and up are safe to use these vitamins. We love that the label includes the percentage daily value for children ages two to four and those four and up. That gives you a pretty good idea about what you're getting and where you might need to further supplement your children's diet with the food they eat. Keep in mind that older children will need to get more of their vitamins and minerals through their food because dosages are lower to accommodate toddlers.
This multivitamin formula has vitamin A, the Bs, D, E, folic acid. We like that it gets in the important vitamins but doesn't have as much sugar as some of the competitors. Like many other children's multivitamins, it doesn't contain iron or calcium simply because most children get enough of both in their diet. The bottom line is that Feel Great's formula sticks to the basics and works for children in a wide age range.
Feel Great Vitamin Co. Multivitamin Gummies for Kids Key Features:
Allergen, gluten, and dairy-free
Non-GMO
Fun gummy bear shapes and colors
No synthetic colors, artificial flavors or sweeteners
Best Budget Pick: vitafusion L'il Critters Gummy Vites Complete Multivitamin
vitafusion's L'il Critters Gummy Vites Complete Multivitamin have a fun bear shape with bright colors to appeal to children. And, in general, they're given good marks on flavor, which can't be said about all children's vitamins. Of course, there's always going to be an exception or two, but overall, even picky kids give them a thumbs up.
But what do parents care about? The ingredients. These ones don't skip out on the important vitamins and minerals like vitamin A, B (several of them), D, and E. They've also got a good dose of folate, which helps in cell division, that kids need for healthy growth and development. All that comes without high fructose corn syrup, synthetic dyes, including FD&C, and gluten. And they're relatively low in sugar.
They're safe for children ages two and up, though the dosage is different based on the child's age. Here's where the label comes in. At first glance, it might look overwhelming, but it's actually got exactly what you need to know. It has the dosage for children ages two to three and a separate column for ages four and up. It also includes different information based on a 1,000 (which is more likely for young children) or 2,000 calorie diet. Yes, it's a lot. However, that information lets you know how to adjust your child's diet as he gets older.
vitafusion L'il Critters Gummy Vites Complete Multivitamin Key Features:
Free from gluten, high fructose corn syrup, and synthetic dyes
Well rounded vitamin content
Fun, colorful bear shapes
Good taste
Low price
Best Chewable Multivitamin for Kids: Culturelle Kids Probiotic Plus Complete Multivitamin Chewable
Not all kids love gummies, and Culturelle Kid Probiotic Plus Complete Multivitamin Chewables provide a great alternative. But these aren't just a multivitamin. They also contain Lactobacillus rhamnosus, a common probiotic. If you've ever eaten yogurt then you're familiar with probiotics. These live bacteria aid digestion. Probiotics are regulated by the FDA like foods rather than drugs, but you should still talk to your child's doctor before starting them.
Probiotic aside, Culturelle has created a great multivitamin formula that's incredibly low in sugar, something many of the competitors can't say. To be clear, the label says sugar-free, which is technically true, but you might be surprised to see that it has less than one gram of sugar alcohol. That's a small enough amount that these vitamins can legally be advertised as sugar-free. Considering that most children's multivitamins have two to five grams of sugar, that's still an impressively small amount.
The fruit punch flavor appeals to most kids. They're also gluten-free, dairy-free, non-GMO, and vegan. The only base that isn't covered are common allergens, but for most families, these multivitamins are a good chewable option.
Culturelle Kids Probiotic Plus Complete Multivitamin Chewable Key Features:
Extremely low sugar
Gluten and dairy-free, non-GMO
Vegan
Good taste
Include probiotic
Best Multivitamins for Toddlers: NovaFerrum Vegan Multivitamin with Iron for Infants and Toddlers
The NovaFerrum Vegan Multivitamin with Iron for Infants and Toddlers targets the unique needs of the youngest of children. This is a liquid formula, which is far easier for infants and toddlers to swallow. There's no risk of choking or leaving the gummy or chewable on the table either. Infants and toddlers need many of the same vitamins and minerals as adults and older children just not in the same dosages. It's much easier for these children, with their low body weights, to overdose on multivitamins that aren't formulated for them. NovaFerrum's have the key vitamins A, D-3, B-6, and B-12. It also contains thiamin to help the body break down food and riboflavin (another of the B vitamins) to help build healthy red blood cells.
The fact that this vegan formula has dosages meant for children under four sets it apart from most children's multivitamins on the market. However, it also has an iron supplement, which many multivitamins for kids don't. Generally, nursing infants get iron through breast milk and through iron-fortified foods once they start solids. Talk to your child's doctor to determine if he would benefit from an iron supplement. If your child has dietary restrictions, a medical condition that limits his iron absorption, or is a picky eater that isn't getting enough iron, this might be the perfect multivitamin mix for your household.
NovaFerrum Vegan Multivitamin with Iron for Infants and Toddlers Key Features:
Liquid formula with a dropper
Iron supplement
No sugar, alcohol, dye, lactose, gluten, or allergens
Paraben-free
Vegan-certified
Grape raspberry flavor
Who Should Buy Multivitamins for Kids
Not all children need a multivitamin. Adventurous eaters who clear their plate at every meal and love trying new foods probably aren't going to be deficient in anything. However, the number of kids who turn their nose up at any food that resembles a vegetable or can't stand the texture of meat needs to get their vitamins elsewhere. Children who are good candidates for multivitamins include:
Picky eaters
Children with chronic medical conditions that limit the foods they can eat or require medications that interfere with absorption
Children with a diet consisting mainly of processed, fast, or convenient food
Children who are on a vegan or vegetarian diet
Children who regularly drink soda pop, which can move too many vitamins and minerals from the body
Talk to your child's doctor to see if there are any special supplements your child may need like iron, fiber, or probiotics. Any child can take a multivitamin as long as they stay within the FDA's recommended daily allowance for its contained nutrients. Just be aware of how many your child is eating. You can get too much of a good thing. It's easy for children to mistake multivitamins for candy, and an overdose can be dangerous.
Important Features to Consider
Vitamin and mineral content. The essential vitamins and minerals children need include: vitamin A, several vitamin Bs (B2, B3, B6, and B12), calcium, and iron. However, calcium and especially iron aren't typically found in children's multivitamins. Most children get enough of both through their diet with calcium from dairy products and iron from red meat, turkey, pork, and beans. Iron is often left out of children's multivitamins because it's easy for children to overdose on it. You really should only use a children's multivitamin with iron if your child's doctor recommends it. Vitamins D, E, and K are also commonly found in children' multivitamins along with folate or folic acid.
Water-soluble vs fat-soluble vitamins and minerals. All of the B vitamins and vitamin C are water soluable, which means they are immediately ready for absorption. Any excess is flushed out of the body through urine, which also means the body doesn't store them. They need to be consumed every day. Fat-soluable vitamins and minerals like vitamin D and iron are absorbed in the body's fat stores where they can build up over time. If your child gets high doses of them, he may not need to eat them every day. These are also the vitamins and minerals that are easier to get an overdose.
Flavor and texture.  The multivitamins flavor and texture can make or break its success with your child. Familiar fruity flavors usually go over well. But, you also need to keep an eye on the source of the flavor. Artificial sweeteners and dyes may have behavior effects on some children. In recent years, manufacturers have been turning to natural sources such as fruit extracts and juices for flavors.  As for texture, some ingredients like fish oil and iron can create oiliness or grit that children don't like.
Multivitamin type. There are four basic multivitamin types: gummy, chewable, liquid, and melt-away. Gummies are by far the most popular because many times they look and taste like candy. Chewables are also popular, but some kids are bothered by their dry, chalky texture. Liquids are often used for infants and toddlers because they go down fast and easy. Melt-aways are far less common than any of the other three types but are a good option for kids who can't stomach anything else.
Frequently Asked Questions
When should I start giving my child vitamins?
Unless your doctor recommends otherwise, you can start giving your child multivitamins around the age of four.
Are children's vitamins effective? 
Children's vitamins are effective as long as they are taken correctly. For example, fat-soluble vitamins can only be absorbed with food. Therefore, for full effectiveness, they should be taken with or after a meal or snack. Other multivitamins require more than one gummy or chewable per dose or the manufacture may recommend taking one in the morning and one in the evening so that the water-soluble vitamins are fully absorbed.
What vitamins should a 1-year-old take? 
The first step is to talk to your child's doctor to get a recommendation. If your child has a medical condition that includes medications that interfere with vitamin absorption, the doctor may recommend a multivitamin with extra supplements. Be sure the formula is made for children under two. Opt for a liquid if you can as gummies and chewables may pose a choking hazard.
What vitamins are good for child growth?
A healthy mix of vitamins is ideal but the essential vitamins for growth are A, Bs, and C. Vitamin A is used in bone growth, ocular development, and the immune system. Many of the B vitamins are used in energy production, development, and the breakdown of nutrients for use as the growth material.
Other Multivitamins for Kids We Reviewed
We looked at 20 other multivitamin formulas for kids. They may not have made our top 5 best multivitamins for kids list, but there are still some great alternatives that might have the perfect formula for your child. We've included a brief rundown with each listing so you have the information you need to compare your options.
Gummy Multivitamins for Kids
Flamingo Supplements Multivitamin Gummies
This formula works for anyone, child or adult, over the age of four. They're also a kosher and halal option.
Key Features:
Vegetarian, Kosher, Halal Multivitamin
Gluten-free
No artificial flavors
Cost: $17
Flintstones Children's Complete Multivitamin Gummies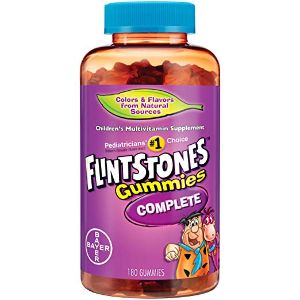 This formula is made for children two and up. While the dosage may be different based on age, children get a helpful does of the essentials.
Key Features:
Formula designed for ages two and up
Free from aspartame, high fructose corn syrup, soy, dairy, eggs, shellfish
No artificial flavors, sweeteners, or colors
Cost: $12
Flintstones Gummies Children's Multivitamin Plus Immunity Support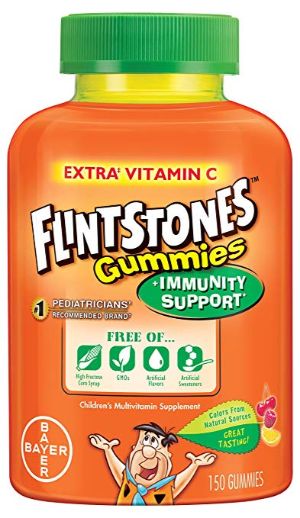 This is another formula made for those two and over. It's the familiar complete multivitamin formula with an extra dose of vitamin C for improved immune health.
Key Features:
For ages two and up
No high fructose corn syrup, soy, dairy, eggs, fish, or shellfish
Fun Flintstones shapes
Cost: $13
Garden of Life mykind Organics Kids Gummy Vitamins
Garden of Life skips synthetic ingredients for natural flavors and colors. This formula is organic, kosher, and vegan with good dose of fiber too.
Key Features:
Four gummies per dose
No pig gelatin or corn starch
Certified USDA organic
Cost: $25
Noor Vitamins Complete Children's Gummies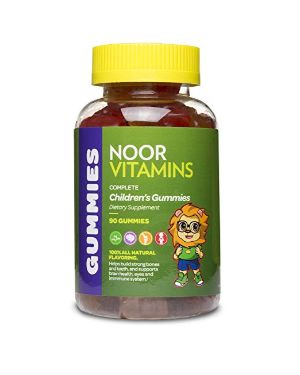 Adjustable dosage allows this formula to be used for children ages two and up. Add good flavor and fun shapes and it's a hit with kids.
Key Features:
No artificial flavors or colors
Halal vitamins
Free of wheat, soy, yeast, and gluten
Cost: $18
SmartyPants Kids Complete and Fiber Gummy Vitamins

SmartyPants hits the mark again with these multivitamins. However, they add prebiotic fiber into the mix for a formula that keeps kid moving.
Key Features:
Contains 4 grams of fiber
No artificial flavors, colors, or sweeteners
Non-GMO, allergen-free, and gluten-free
Cost: $20.88
Yummi Bears Complete Multivitamin and Mineral Supplement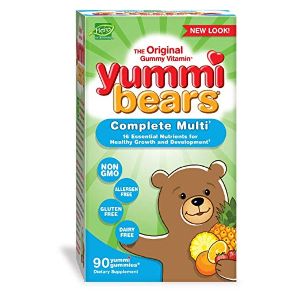 Yummi Bears has a long list of 16 vitamins and minerals, including calcium.
Key Features:
Three flavors with  no artificial flavors, preservatives, or colors
No allergens, gluten, dairy, or soy
Non- GMO
Cost: $13
Zarbee's Naturals Children's Complete Multivitamin
Zarbees comes packed with 14 vitamins and minerals. However, they take a turn for the natural by sweetening with honey.
Key Features:
14 vitamins and minerals
No high fructose corn syrup
Made with fruit-based pectin
Chewable Multivitamins for Kids
NaturesPlus Animal Parade Children's Chewable Multivitamin
NaturesPlus goes all out with a long list of vitamins and minerals along with a few extras like bioflavonoids, zinc, iron, and calcium.
Key Features:
Includes iron and calcium
16 vitamins
8 minerals
Cost: $23
Nature's Way Alive!® Children's Premium Chewable Multivitamin

Nature's Way packs the vitamins in 19 vitamins and minerals you want but leaves out the gluten, artificial flavors, dairy, and preservatives.
Key Features:
Made with fruit-based pectin
No soy, wheat, yeast, dairy, gluten, or artificial flavors
Includes two flavors
Cost: $12.66
Rainbow Light Nutristars Chewable Multivitamin
Rainbow Light adds some extras to their formula with herbal and plant-based digestive enzymes.
Key Features:
Designed for easy digestion
No artificial additives
Contains iron
Liquid Multivitamins for Kids
Childlife Multivitamin and Mineral
This formula has high doses of water-soluable vitamins and also includes a few extra minerals that are often left out like magnesium, calcium, and zinc.
Key Features:
Adjustable dosage based on child's age
Includes potassium, chromium, manganese, and selenium
Most children like the taste
Cost: $16
Feel Great 365 Children's Liquid Multivitamin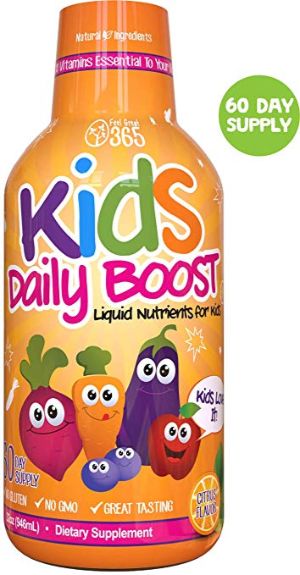 These liquid vitamins put in the nutrients kids need and leave out the chemicals and synthetic additives parents don't want.
Key Features:
Dairy and gluten-free
Vegan and Non-GMO
Includes bioflavonoids and aloe vera gel
Cost: $40
Premium Kids Liquid Multivitamin & Superfood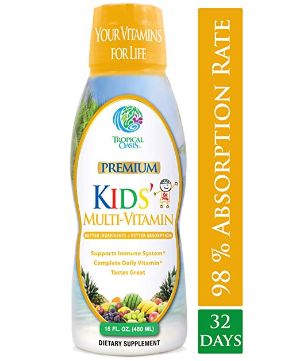 This liquid multivitamin packs a powerful punch. It's loaded with high doses of the essential vitamins plus bioflavonoids and aloe vera gel.
Key Features:
100% recommended daily allowance of 14 vitamins
Gluten-free
Can be mixed with other drinks
Multivitamins for Toddlers
Bio Naturals Children's Liquid Multivitamin & Immune Booster
This liquid formula can also be used in dosages for children ages one and up. It's also completely vegetarian and sugar-free.
Key Features:
For children one and up
Includes prebiotic fiber for digestive health
Sugar-free
Cost: $29.90
NOMMY BEARS Multivitamin for Kids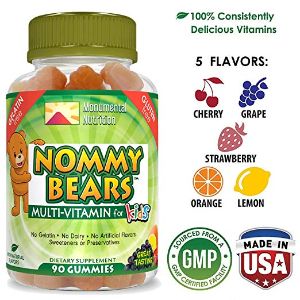 With a pectin base, this formula skips artificial flavors but still manages a variety of flavorful options for picky kids.
Key Features:
For children two and up
Includes 14 vitamins and minerals
Allergen, gluten, and dairy-free
Cost: $19
Nordic Naturals Nordic Berries Multivitamin

With 10 essential vitamins and minerals, these gummies make a great supplement for children ages two and up.
Key Features:
For ages two and up
Pectin-based
Non-GMO, gluten and dairy-free
Cost: $21
Simply Natural Kids and Toddler Gummy Vitamins
Three fun flavors house 13 vitamins and minerals that come from natural, organic sources.
Key Features: 
For ages two and up
No artificial, flavors, or sweeteners
No high fructose corn syrup
Cost: $16
These Amazon brand multivitamins are fairly new to the market, but they're affordable and are a vegetarian, pectin-based alternative.
Key Features:
For children ages two and up
Three flavors
Gluten, wheat, dairy, soy, and egg-free
Cost: $10.99
Zarbee's Naturals Complete Toddler Multivitamin
Zarbee's Naturals features 11 essential vitamins and minerals in an allergen-friendly alternative for the youngest members of your family.
Key Features:
For ages two to four
Made with vegetarian pectin
No high fructose corn syrup, artificial sweeteners or dyes
Cost: $11