It's true that people can be healthy at all sizes and there's no need to track your weight unless you want to, but if you find weighing yourself helpful, you'll need a bathroom scale. Most modern bathroom scales are digital, as they're easy to read with less margin for error, but you can still find analog bathroom scales should you prefer. Some "smart scales" even link up to your smartphone to give you additional data.
We reviewed dozens of bathroom scales to identify the best of the best. We considered a range of factors, including accuracy, readout type, smart features, durability, and average customer reviews.
After a large amount of research, the Innotech Digital Bathroom Scale stood out as our top pick. It has all the solid features you need from a bathroom scale without those extras you don't. It scores extremely highly on reviews from existing customers, with over 2,500 4 and 5 star reviews on Amazon at the time of writing.
The 5 Top-Rated Bathroom Scales
*Ratings are from Amazon at the time of publication and can change
Best Bathroom Scale Overall: Innotech Digital Bathroom Scale
What most people want from a bathroom scale is something durable, reliable, and accurate. The Innotech Digital Bathroom Scale ticks all three boxes, and more. It's made from 6 mm tempered glass, which is both shatterproof and scratch-resistant, keeping your scales looking as new as the day you bought them. The four weighing sensors can give you precise readings up to 400 pounds and are accurate to within 0.2 pounds. Measuring 12 x 12 inches, this scale is large enough to stand on without feeling cramped but compact enough that it won't take up too much space.
The large 3.6 inch digital display is back-lit and shown in negative, which makes it extremely readable, even in the dark or if you have poor lighting in your bathroom. Retailing at around $20, these scales provide exceptional value for money. All in all, the Innotech Digital Bathroom Scale is a no-nonsense bathroom scale that gives you everything you require from a scale without paying for extras you may not use.
Innotech Digital Bathroom Scale Key Features: 
Available in black or white to best suit your bathroom decor.
Automatically calibrated straight out of the box.
Easy to switch between stone, pounds, and kilograms.
Best Glass Digital Bathroom Scale: EatSmart Precision Digital Bathroom Scale
If our top pick doesn't seem right for you, the EatSmart Precision Digital Bathroom Scale is another excellent option that was extremely close to reaching the top spot. It's made from clear 8 mm tempered glass for a modern look that's also extremely durable. You get an instant reading as soon as you step on—no need to tap to activate. The scale also automatically shuts off to help preserve battery life. It's easy to read the large 3.5 inch digital display that's back-lit in cool blue.
It can weigh people of up to 400 pounds and with its four high-precision sensors, it has an accuracy of +/-0.2 pounds (3 ounces), so you can be sure the reading you see is your exact weight or extremely close to it. The $23 price tag makes it marginally more expensive than our top pick, but not enough to make much of a difference. We still think it's a great price for such a durable bathroom scale.
EatSmart Precision Digital Bathroom Scale Key Features: 
Non-slip platform can help prevent accidents.
Auto-calibrated for accuracy.
Runs on 4 AAA batteries.
Best Budget Bathroom Scale: RIVIO Digital Body Weight Bathroom Scale
Looking for a bathroom scale at a bargain price? Consider the RIVIO Digital Body Weight Bathroom Scale which costs just $12, offering exceptional value for money. You can choose between black or white options, both of which have clear back-lit LCD displays, making it easy to read your weight. Weight measurements are accurate to 0.2 pounds up to a maximum weight limit of 440 pounds. You can opt to view your weight in either pounds, kilograms, or stones.
These scales might not be quite as durable as more expensive models, and don't expect any fancy features, but they weigh accurately and are easy to use—what more can you ask for?
RIVIO Digital Body Weight Bathroom Scale Key Features: 
Anti-skid feet keep scale from sliding on hard floors.
Runs on 2 AAA batteries (included).
Uses 4 weight sensors to get accurate readings.
Best Smart Bathroom Scale: Arboleaf Digital Smart Scale
Aside from going digital, scales haven't changed all that much in a long time, but with the advent of smart scales, such as the Arboleaf Digital Smart Scale, bathroom scales can now give you much more data to work with. The Arboleaf Smart Scale comes with a compatible Android or iOS app. When you have this app on your phone (or other smart device), you can connect to the scale using Bluetooth and it sends the data from your weigh to the app. In the app, you can look at a range of body composition data, including muscle mass, bone mass, basic metabolic rate, and body fat percent. What's great is that it can identify different users when they step on the scale and send data to the correct user profile.
Aside from all the smart features, you can use it as a regular weighing scale without connecting it to the app. It's auto-calibrated and gives accurate readings. The tempered glass construction is hugely durable and suitable for users up to 396 pounds. The $30 price tag makes it among the most expensive in our top five, but that's reasonable value considering all the extra features.
Arboleaf Digital Smart Scale Key Features: 
Syncs with fitness trackers so you can keep an eye on your goals.
Gathers data using 4 high-precision sensors and 4 sensitive electrodes.
Works with iPhones, iPads, and Android phones and tablets.
Best Analog Bathroom Scale: Thinner Scales Extra-Large Dial Analog Bathroom Scale
Just because a technology is newer, it doesn't necessarily mean it's better, and some people still prefer the simplicity of an analog bathroom scale. If you prefer a dial over a digital display, consider the Thinner Scales Extra-Large Dial Analog Bathroom Scale. The large dial is clear and easy to read with every pound marked with a small line, every 10 pounds with a bigger line, and every 20 pounds with written numerals. Sure, you won't be able to measure fractions of a pound like on a digital scale, but most people don't really need that kind of precision, since weight naturally fluctuates slightly, anyway.
The rubber coating on the platform is textured to provide grip and the whole unit is sturdy, weighing people up to 330 pounds. It might be a little bare bones for some people's tastes, but if you want a straight-up analog scale, this is an excellent choice. It costs $30, so it isn't cheaper than digital choices, just different from them.
Thinner Scales Extra-Large Dial Analog Bathroom Scale Key Features: 
Large 6.5 inch dial display.
Extra-large platform suits people of all sizes.
Sturdy and stable design.
Who Should Buy a Bathroom Scale
Anybody who wants or needs to monitor their weight should buy a bathroom scale. This includes but isn't limited to people who are trying to gain muscle at the gym, people who want to make sure they're gaining an appropriate amount of weight during pregnancy, and anyone who is trying to lose or gain weight for medical reasons.
While monitoring your own body weight isn't essential for everyone, many households have a bathroom scale for if and when anybody wants to check their weight.
If you're planning on bulking up, or trimming down, you may want to look at supplements to speed your progress and if that's the case, try The Best Post-Workout Supplements.
Important Features to Consider
A bathroom scale should have a few important features. Here's what to consider when selecting a weighing scale for your bathroom:
Analog vs. digital. The vast majority of bathroom scales on the market today are digital models, as they're easy to read and allow you to measure fractions of a pound. However, you can still find some old style analog scales with dials. Some users prefer their simplicity, plus no batteries are required.
Smart features. Some bathroom scales now have smart features. They can connect to smartphones and tablets via Bluetooth or WiFi and come with apps that give you a greater amount of data than standard scales, such as muscle mass and metabolic weight.
Platform material. Digital scales tend to have tempered glass platforms, though you can find some stainless steel options. Analog scales usually have metal platforms coated in rubber or cork for grip.
Accuracy. Most average digital scales are accurate to within +/-0.2 pounds, so you can track small fluctuations in weight. However, this isn't always useful or healthy as all humans naturally fluctuate in weight by small amounts day to day and even hour to hour. Analog scales usually only have pounds marked, so it's hard to be accurate to more than the closest full pound.
Weight limit. All bathroom scales have a maximum weight they can measure. For digital scales, this is usually between 400 and 450, but is often slightly less for analog scales.
Display size. Whether you choose analog for digital scales, it's important the display size is large enough for you to read clearly.
Frequently Asked Questions
What type of scale is most accurate?
Analog scales are usually accurate to the nearest whole pound, whereas digital scales can be accurate to 0.1 or 0.2 pounds. However, poorly calibrated scales will decrease accuracy, as will placing your scales on a soft or uneven surface.
How do I know if my bathroom scale is accurate?
Most bathroom scales arrive fully calibrated so, in theory, they should be accurate. However, if you're unsure, you can try weighing something they you're certain of the exact weight of.
Is a digital scale better than analog?
A digital bathroom scale isn't necessarily better than an analog scale, it's just a different kettle of fish. Each type has its pros and cons. However, the majority of buyers find the increased accuracy and ease of reading digital scales beats the convenience of going battery free with an analog scale. That said, people who grew up using analog scales often prefer sticking to what they know.
Should I weigh myself every day?
Weight naturally fluctuates from day to day, depending on various factors, including water retention and how recently you've eaten or drunk. As such, weighing yourself daily often doesn't give you the most accurate picture of your weight. Most experts recommend weighing yourself once a week, preferably at the same time of day (first thing in the morning is best as there's less margin for error).
Other Bathroom Scales We Reviewed
We looked at 20 other bathroom scales. Even though they didn't make our 5 best bathroom scales list, they're the best of the rest and each is still a great option. The information you'll need to compare each one is included with the listing.
Digital Bathroom Scales
BalanceFrom Digital Body Weight Bathroom Scale
No need to tap or switch on this scale to start it, just step on and get and instant reading. You can't get much easier to use than that.
Key Features: 
Uses 4 pressure sensors to give accurate results
Clear back-lit display
Comes with 2 AAA batteries included
Cost: $12
Beautural Precision Digital Bathroom Scale
The 6 mm tempered clear glass is sturdy, plus it blends in with its surroundings and works with all kinds of bathroom decor.
Key Features: 
Extra-large, easy-read display
Accurate to 0.2 pounds
Runs on 2 AAA batteries (included)
Cost: $15
Etekcity Digital Bathroom Scale
A nicely rounded tempered glass scale that's strong, stable, and reliable. It can provide measurements from 11 to 400 pounds at 0.2 pound increments.
Key Features:
Large back-lit 3.2 inch display
Gives consistent and precise readings
Sturdy tempered glass platform
Cost: $14
Etekcity Stainless Steel Digital Bathroom Scale
Another offering from Etekcity, but this one has a sturdy stainless steel platform with a brushed finish to avoid smudges and marks.
Key Features:
Simply step on for an instant reading
Clear easy-to-read display
Auto-calibrated for accurate results
Cost: $22
If you're concerned about slipping on your bathroom scale, the Famili Digital Bathroom Scale is the perfect antidote with its heavily textured platform.
Key Features:
Capable of weighing between 11 and 400 pounds
Back-lit display screen
Non-slip feet on base
Cost: $20
GreaterGoods Digital Bathroom Scale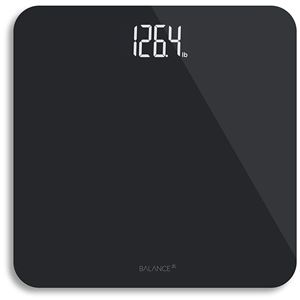 A sleek-looking glass bathroom scale that's available in clear, black, and white. All look great but the display shows up best on the black version.
Key Features:
Accurate to within 0.1 pounds
Supports up to 400 pounds
Non-slip, anti-scratch feet
Cost: $19 to $23
The pre-calibrated sensors on this sturdy scale give you accurate results, but it does cost significantly more than similar models.
Key Features:
Large 3.6 inch display screen
Easy to switch between pounds and kilograms
Automatically switches on and off
Cost: $40
Letsfit Digital Body Weight Scale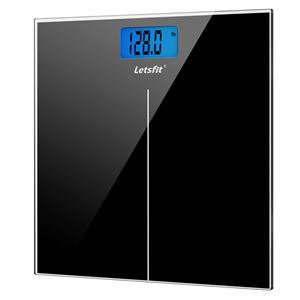 Despite the affordable price, this bathroom scale has a high accuracy to within 0.1 pounds, making it easier to track small weight changes.
Key Features:
Black or white options available
Includes 2 AAA batteries
Slim design
Cost: $14 to $15
NUTRI FIT Extra-Wide Digital Bathroom Scale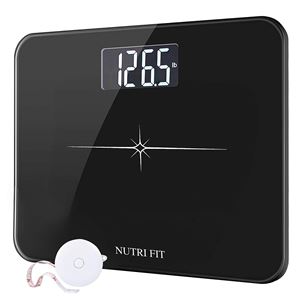 The extra-wide design gives you more room to maneuver and means you won't feel cramped while weighing yourself.
Key Features:
Choose between black or white finishes
Large back-lit display is easy to read
Accurate to 0.1 pounds
Analog Bathroom Scales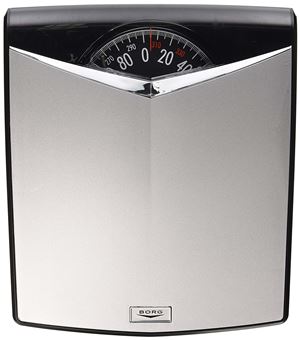 A simple dial scale that gives you accurate readings up to 330 pounds. It's extremely easy to use and calibrate.
Key Features:
Classic stainless steel accents
Measures in one-pound increments
Extremely durable
Cost: $14
Health o Meter Oversized Dial Scale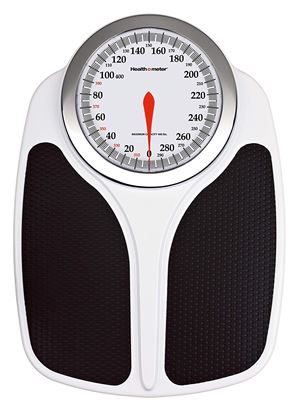 We love the huge dial on this analog scale that's clear and easy to read even from a distance.
Key Features:
Rubber coated platform for traction
Weighs up to 400 pounds
Easy to calibrate back to zero
Cost: $30
Salter Professional Analog Bathroom Scale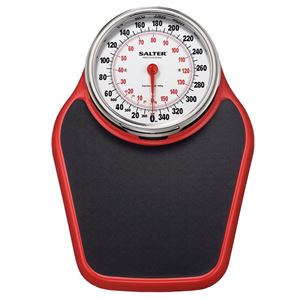 This professional-quality bathroom scale costs more than an average analog scale but it's accurate, reliable, and extremely sturdy.
Key Features:
Displays pounds and kilograms simultaneously
Available in three finishes
Large 7.25 inch dial is easy to read
Cost: $50 to $60
A classic dial scale at a reasonable price considering its sturdy construction, though some may find the display tricky to read, especially if tall.
Key Features: 
Gives accurate readings up to 300 pounds
Small and lightweight
Non-slip platform
Smart Bathroom Scales
FITINDEX Bluetooth Smart Scale
When paired with the compatible app, this scale can measure 13 points of body composition, including weight, bone mass, muscle mass, and body fat.
Key Features:
Compatible with Android and iOS
Accurate to 0.2 pounds
Step-on technology
Cost: $25
Homever Bluetooth Body Fat Scale
Thanks to the easy-to-use app, it's simple to keep track of a wide range of health-related metrics.
Key Features: 
Can measure BMR, visceral fat, muscle mass, and 10 other points of comparison
Stores data for up to 24 individual users
Large, clear display screen
Cost: $24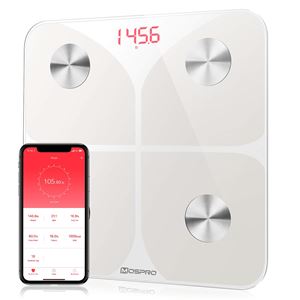 Using BIA technology, this smart scale takes readings of 11 types of measurements then feeds the data to the Feelfit app for your perusal.
Key Features:
Compatible with iOS and Android
Syncs with Fitbits and other fitness trackers
Measures weight, bone mass, metabolic age, body fat, and more
Cost: $16
If you want to keep a better eye on your body metrics, this is a great option. As well as having its own app, it also syncs with the Samsung Health, Apple Health, Google Fit, and Fitbit apps.
Key Features: 
Take 13 measurements, from BMI to muscle mass
Uses sensitive electrodes to gather data
App is extremely user-friendly
Cost: $27
ZOETOUCH Bluetooth Body Fat Smart Scale
An effective smart scale that accurately reads 8 measurements, including body fat, visceral fat, and muscle mass.
Key Features: 
Measures up to 400 pounds in 0.2 pound increments
Syncs with other fitness apps
Compatible with Android and iOS
Other Bathroom Scales
Ozeri Rev 400 lbs Bathroom Scale
Can't decide between digital and analog scales? This one gives you the best of both worlds with a mechanical dial and a digital display.
Key Features:
Large 5.5 inch dial and sizable digital display
Accurate to 0.1 pounds
Made from impact-resistant tempered glass
Cost: $27
Ozeri Rev Digital Bathroom Scale
A slightly more compact version of the above scale, which still combines digital and analog features but in a somewhat sleeker package.
Key Features: 
Dial shows pounds and kilograms simultaneously
Clear back-lit digital display
Weighs up to 400 pounds in 0.2 pound increments
Cost: $25 to $29