Doorbell cameras are a convenient technological advancement that households across the world have been implementing as a part of their home security system. With a doorbell camera you'll be able to keep package thieves off of your doorstep and inspect who is visiting your front door without leaving the comfort of your home. There's no need to open the door for every visitor with a doorbell camera which can sync to your smartphone or wall-mounted monitor – simply turn on the video feed instead of opening your door to strangers.
We reviewed dozens of doorbell cameras and have identified the best for protecting your home. Considering factors such as feature functionality, storage options, and video quality we've picked our top choices and broken down the rest to show you our favorite doorbell cameras on the market today.
BYLover Video Doorbell Camera
Class-leading storage capacity, a user-friendly smartphone app, and a suite of useful features make the BYLover Video Doorbell our top pick.
After extensively researching the various doorbell cameras on the market we've chosen the BYLover Video Doorbell Camera as our doorbell camera top pick. The suite of included features has everything we'd expect from a top-tier doorbell camera, and the accompanying smartphone app is both easy to use and highly customizable.
The 5 Top-Rated Doorbell Cameras
*Ratings are from Amazon at the time of publication and can change
Our Top Pick: BYLover Video Doorbell Camera
The fully wireless BYLover Video Doorbell Camera combines every quality we like to see in a doorbell camera, including a fantastic price point.
Featuring a class-leading 32gb SD card for local storage of your recorded videos, this doorbell camera will be able to store many days worth of recorded video to ensure that you have the surveillance footage you want when you need it. The user-friendly app can be accessed by multiple family members at a time, and you can use it to adjust settings and make room on the memory card as needed. This makes for a great family-oriented doorbell camera that can be used by anyone in the home with a smart device. You can even sync it to your iPad!
Other stellar stars include an impressively wide 166-degree lens, 720p video output, two-way audio, motion detection, and night vision. This suite of features and a history of positive user reviews propel the BYLover Video Doorbell to the top of our list.
BYLover Video Doorbell Camera Key Features:
720p HD video output
Two-way audio to communicate with visitors
Multiple family members can use the app at the same time
Adjustable motion-sensing sensitivity
Our Runner Up Pick: MetecSmart Doorbell Hub
MetecSmart Doorbell Hub
A bright 7 inch LCD display and powerful camera with automatic day and night modes, the MetecSmart Doorbell Hub is a great doorbell camera that doesn't require a smartphone.
Those looking for a more robust doorbell system with hard-wired electronics and a wall-mounted video monitor need look no further than the MetecSmart Doorbell Hub.
Installation may require a little more finesse than a fully wireless doorbell camera, but the upkeep will be much more simple once the wiring is said and done. There are no batteries to replace in this doorbell hub, and no smartphone apps to download. Operation and maintenance can all be handled on the monitor's 7" LCD screen.
Beyond doorbell operation and video monitoring, this device also features an electric lock control function and an indoor intercom system. The infrared night vision reached up to 4 meters from the outdoor camera, giving you a wide swath of nighttime vision that pairs well with the motion-sensing function to keep evening intruders at bay.
MetecSmart Doorbell Hub Key Features:
Electric lock control functionality
Indoor and outdoor intercom system
7″ LCD monitor screen
Night vision reaches 4 meters
Best Budget Pick: KALOGL Wireless Doorbell Camera
KALOGL Wireless Doorbell Camera
Budget-friendly yet feature-heavy, the KALOGL Wireless Doorbell Camera is a fantastic value alternative to more expensive doorbell cameras.
Matching feature for feature with our top pick in almost every way, the KALOGL Wireless Doorbell Camera is a quality, inexpensive alternative to other top-of-the-line wireless doorbell cameras.
Other than shorter battery life and the absence of an included SD card, you would be hard-pressed to find much difference between this device and our top overall pick. The camera angle, video quality, and suite of features are essentially identical. If you're going to opt for cloud storage over local SD card storage, then the KALOGL Wireless Doorbell Camera is the best value you're going to find straight from the retail shelf.
If you do choose to purchase an SD card, this doorbell camera will automatically erase your oldest recording to make room for new ones, so make sure to get a larger SD card if you can fit it into your budget, but stay under the 32gb max limit.
KALOGL Wireless Doorbell Camera Key Features:
720p video output
1-year warranty
166-degree viewing angle
Best Hard-Wired Doorbell Camera: WOLILIWO Smarthome
WOLILIWO Smarthome
Ready for any adventure, the Venture Pal 40L backpack unfolds from its own tiny storage pocket into a lightweight, water-resistant pack that comes in a variety of fun design options.
Equipped with a massive 9" touchpad monitor, the WOLILIWO Smarthome is not only a feature-laden doorbell camera security system, but also a sleek and stylish addition to your home.
Packed with powerful 700TVL IR night vision and 25 different ringtone options, this doorbell camera houses some of the most advanced features on the market. You'll have complete customizable control over each of the device's features from the bright monitor screen, and you can choose to order a second monitor screen if you want to access your doorbell camera from multiple areas of the house.
The included wiring allows you to install the video monitors up to 330 feet away from the doorbell with no audio or visual interference, perfect for large homes with long driveways.
WOLILIWO Smarthome Key Features:
9″ touchpad monitor
330 feet maximum distance between doorbell and monitors
700TVL IR night vision
Best Doorbell Camera with Free Cloud Storage: Arlo Pro Home Security System
Arlo Pro Home Security System
The most comprehensive doorbell camera on our list, the Arlo Pro Home Security System can be expanded to include 6 additional cameras for a complete home setup.
The Arlo Pro Home Security System is a standout on this list because it advances your video doorbell security further by separating the camera from the doorbell for a better perspective of your front door.
This is by far the most complete front door security system on our list, and, though the initial cost of investment is a bit higher than other doorbell cameras, the value is incredible as it comes paired with lifetime cloud storage for all of your recorded videos.
Aside from all of the expected functionality we've explained in our other top picks, all of which are matched or exceeded by the Arlo Pro, this home security system will also pair with Amazon's Alexa for voice commands and added home security. If you want to step up your doorbell camera game, this is the option for you, but we've listed more options with free cloud storage below so that you can find the best doorbell camera for your home.
Arlo Pro Home Security System Key Features:
Amazon Alexa compatibility
Up to 6 additional cameras can be linked into the system
Doorbell rings can be answered as calls on your smartphone
Who Should Buy a Doorbell Camera
Doorbell cameras can help bring peace of mind to anyone who has anxiety about answering the front door when strangers come knocking, and they can help prevent thieves from stealing packages left on your doorstep.
If you'd rather see who is standing at your door before you answer it or you'd prefer to speak to them through the monitor inside of your home, a doorbell camera is for you. Choose a wireless option for the convenience of easy installation and smartphone compatibility, or go hard-wired if you don't want to fuss with changing batteries.
Everyone can benefit from the added security of a doorbell camera.
BYLover Video Doorbell Camera
Class-leading storage capacity, a user-friendly smartphone app, and a suite of useful features make the BYLover Video Doorbell our top pick.
Important Features to Consider
There are a few important considerations to think through before purchasing a doorbell camera.
Hard-wired or wireless. As stated before, it all comes down to what is most convenient for you. Hard-wired systems require more effort to install, and you may even want to hire someone to do it for you, but in the long term they are much more convenient to operate and maintain. Wireless doorbell cameras will require you to change batteries and SD cards on occasion, but installation is a cinch.
Smartphone compatibility vs. an included monitor. If you use your smartphone throughout the day it is likely you'll prefer keeping things simplified by acquiring a doorbell camera that comes paired with an app you can download to access the device on your smartphone. If smartphones aren't for you, or you'd prefer a stationary spot to see and speak with your guests, choose a doorbell camera that comes with its own LCD monitor screen.
Additional cameras. Many of the doorbell cameras on our list are standalone security devices. If you're looking to create a complete home security system, look for devices that specifically state that they can be linked to other camera systems. The Arlo Pro Home Security System, for instance, can be ordered with up to 6 additional cameras for a complete home setup.
Frequently Asked Questions
What is a doorbell camera and how does it work?
Doorbell cameras feature your typical doorbell button and an inside receiver that will sound when a visitor rings the bell. Additionally, a camera is attached to the doorbell that either transmits to an inside receiver with a screen or to your smartphone via an app. This way you can see and speak to visitors through your doorbell camera without ever having to open your door.
Do doorbell cameras record all the time?
Typically doorbell cameras will activate when someone rings the bell or a motion-detecting sensor is tripped. This saves battery and storage space. In the settings on many devices, you can choose to have the doorbell camera record all the time, but your storage and battery will quickly run out.
Is there a monthly charge for doorbell cameras?
Only if you opt for premium cloud storage on certain devices.
Can doorbell cameras be hacked?
It is possible, but highly unlikely to occur. Someone would have to physically access the doorbell or know your WiFi's password in order to truly hack your device, and doorbell camera manufacturers are well aware of this. Anti-theft technology is implemented on most modern devices, and their technology and security software is constantly being updated to better prevent attacks.
Other Doorbell Cameras We Reviewed
BYLover Video Doorbell Camera
Class-leading storage capacity, a user-friendly smartphone app, and a suite of useful features make the BYLover Video Doorbell our top pick.
We looked at 20 other doorbell cameras. Even though they didn't make our five best doorbell camera list, they're the best of the rest and each is still a great option for your home security needs. The information you'll need to compare each one is included with the listing.
Wireless Doorbell Cameras
Fitted with inbuilt microphone and speakers, the homectrl Smart Video Doorbell allows you to speak to your visitors through your smartphone or tablet, and they can respond to your queries through the doorbell.
Key Features:
720p output
Clear night vision
Two-way audio
Cost: $69.99
There's no need to sync your phone to your doorbell camera with this video doorbell and accompanying monitor from J-DEAL. Place your monitor in an ideal location and let that be your way of seeing what visitors you have at the door.
Key Features:
25 FPS transmission
Human body detection functionality
Included 7″ indoor monitor
Cost: $148.00
The high definition relay of the LIKU Video Doorbell to your smart device is top of class, as are the wealth of features. A wide-angle camera lens, two-way audio capability, motion detection, and battery-saving standby functionality round out an amazing suite of features often only seen on more expensive cameras.
Key Features:
1080p output
30 FPS transmission
Two-way audio capable
Cost: $73.99
Engineered with home security as its top priority, the SDETER Video Doorbell is prepared to notify your smartphone when someone has been hanging around your home for too long, and you can remotely trigger an alarm to scare troublemakers away.
Key Features:
1080p output
SD card and cloud storage compatible
1-year warranty
Cost: $68.99
SOOCOO Doorbell Security Camera
Connect your new SOOCOO Doorbell to the company's Anyhome App to sync your doorbell camera and all of its functions to your smartphone. You can see the camera feed from anywhere in the world and interact with visitors via two-way audio.
Key Features:
720p output
Waterproof
1-year warranty
Cost: $79.99
Setup a cool features like a motion alarm or automatic night vision to keep your doorway fully protected at all hours of the day. A low power standby mode keeps batteries fresh for a long time, and the strong wireless protection can be received through walls at a distance of 100 feet.
Key Features:
720p output
8 months of charge
Smart night vision
Cost: $69.99
Keep thieves from stealing your doorbell camera itself by utilizing the anti-theft lock installed in this YIROKA Doorbell Camera. The company is so sure that no one will be able to snatch your camera that they paired the device with a lifetime theft protection warranty.
Key Features:
720p output
Anti-theft lock
Lifetime theft protection
Cost: $79.99
Wireless Doorbell Cameras with Free Cloud Storage
EdwayBuy Smart Wireless Video Doorbell
Step into the future with the EdwayBuy Smart Wireless Video Doorbell. This set it and forget it doorbell security system will automatically detect and recognize faces and can be programmed to play pre-recorded voice messages which can be altered with voice filters to disguise occupants.
Key Features:
AI Face Recognition
Custom voice messages
Voice changing software
Cost: $59.99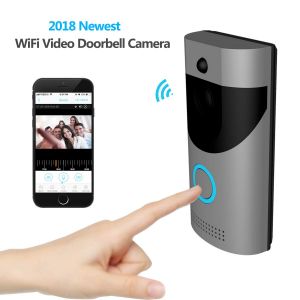 You'll never have to worry about storing your recordings with this home security camera from KAMRE. The lifetime free cloud storage will record up to 20 motion-activated recordings per day for up to 7 days each so that you have the security footage when you need it.
Key Features:
Battery standby time up to 6 months
Lifetime free cloud service with 7 days of recording
1-year warranty
Cost: $69.97
RemoBell S Video Doorbell Camera
Sync to your smart home systems with this top-quality video doorbell camera from RemoBell. With this doorbell, you can access your live and stored videos from a number of different devices. Access two-way talk on demand and customize your settings and alerts with a quick shout to Alexa.
Key Features:
180-degree wide viewing angle and infrared night vision
3 days of free cloud storage
Works with smart home devices such as Amazon Alexa and Google Assistant
Cost:  $85.99
Sunnystark Video Doorbell Camera
All of the options are available on this Sunnystark Video Doorbell Camera. You can hardwire this device to your house or keep it charged with batteries. Free cloud storage comes standard with purchase, as does a 16gb SD card so that you can store your recordings locally.
Key Features:
Hard-wired or wireless options
7 days of free cloud storage
Included 16gb SD card for local storage
Cost: $76.99
Hard-Wired Doorbell Cameras
AMOCAM Video Door Phone System
A full-featured video intercom system, this AMOCAM Video Door Phone lets you see and speak to visitors on the fly, and easy-to-access buttons are ready for when you need to sound an alarm or unlock an electronically-locked door for your guests.
Key Features:
Indoor intercom system
Waterproof and oxidation proof
Telephone set panel
Cost: $66.49
Sleek and sophisticated, this wall-mounted unit from AMOCAM features a bright LED doorbell light so that you have a clear view at all hours and can be programmed to unlock up to two electronically-locked gates on your property.
Key Features:
Wall-mounted 7″ LCD monitor
LED projection lighting
Double gate unlock functionality
Cost: $69.88
MAOTEWANG Video Door Intercom System
Be the first to know when Emma Watson visits your home with the MAOTEWANG Video Door Intercom System. Jokes aside, this doorbell camera has received high praise from reviewers for its LCD screen's visual clarity and the utility of the extra-long wires which make it so you can easily install the components separately at long distances from one another.
Key Features:
Embedded IR-Cut filter for enhanced video quality
Extra-long wires included
Wall-mounted 7″ LCD screen
Cost: $95.99
An advanced system with an integrated number pad, RFID cards, and an exterior strike lock, the MountainOne Video Door Phone includes more tech than most other devices on this list. You'll be able to set up passwords and quick access RFID cards so that close friends and family don't need your permission to enter your premises.
Key Features:
RFID cards included
Up to 4 indoor monitors
Included exterior strike lock
Cost: $117.99
Slim and visually customizable, the RCA Doorbell Video Camera will look great on any home's front entryway. Installation is a breeze as it wires right into your current doorbells setup, and you can access its video, alarm, and settings from any smartphone through RCA's Security All-For-One app.
Key Features:
3 megapixel HD video at 1080p
180-degree field of view
3 interchangeable faceplates
Cost: $149.99
Secure your entire home by opting for the TMEZON Wired Video Doorphone which can be optioned to include two fully-functional video doorbells and four indoor monitor screens. Protect multiple doors and answer them from anywhere in your home with this complete home kit.
Key Features:
Choose up to 2 doorbells and 4 monitors
Automatic snapshot functionality
Key unlock ready
Cost: $109.99
Budget Doorbell Cameras
Fully-featured at a budget price, the Elikliv Video Doorbell will wirelessly communicate to your smartphone for instant access to video and settings. An internal memory card will keep stored video so that if something goes wrong you can look back on your recordings.
Key Features:
Two-way audio
Infrared motion detection
Night vision
Cost: $49.89
Paired with a 2-year warranty that's twice as long as most of the competition, you're sure to get your money's worth with this value smart doorbell from Ewiseelive. All of the expected features come standard, and since it's battery-powered you won't have to mess with your home's wiring.
Key Features:
Two-way audio
6-month standby battery consumption
2-year warranty
Cost: $58.98
Lifemement Security Camera Doorbell
This Lifemement Security Camera Doorbell comes equipped with night vision. infrared motion detection, two-way audio, and everything else you could ever want from a video doorbell. It'll pair with multiple smart devices at once and reviewers have been happy about how well it has withstood harsh weather conditions.
Key Features:
8-10 months of battery charge
Supports multiple devices connections
Two-way audio
Cost: $59.98