One of the necessities in your family's home and maintenance items is laundry detergent. If you're not sure what kind of laundry detergent is best for your home, though, you may want to take a closer look at the types and the results in relation to your needs. If you have a soccer player who spends her days getting grass stains all over everything, you'll be looking for a different priority than the pianist. If you're not sure what laundry detergent you should pick up, then stress not; we've done the homework for you.
We reviewed dozens of laundry detergent to identify the best of the best. We found the laundry detergents for sensitive skin and the packs that come pre-portioned with detergent, fabric softener, and stain lifters. We found the laundry detergents for every budget and those that are going to be most effective on odors or stains. No matter what you need in laundry detergent, we've found the right one for you.
All through our research, the Tide Pods Laundry Detergent Pacs kept coming up as the name to beat, but no matter how deep we dug, we absolutely couldn't find a more universal laundry detergent. With its concentrated power that's up to 10x that of its competitors, there's no wonder we made it our top pick.
The 5 Top-Rated Laundry Detergents
*Ratings are from Amazon at the time of publication and can change
Best Laundry Detergent Overall: Tide Pods Laundry Detergent Pacs
The Tide Pods Laundry Detergent Pacs has all you'll need in a laundry detergent in one tiny pod. The detergent is beneath the color protection and stain removal encased atop and after just tossing it directly into your washer, you won't need to do anything else to your laundry to make sure stains are lifted and colors stay bright.
It's very likely from brand recognition alone you're already partial to Tide. In fact, if you look under Amazon's "Best Sellers in Laundry Detergent" you'll see that of the top 10, Tide holds six of those spots, and of which the #1 Best Seller. And a company doesn't get that kind of notoriety and popularity without building a reliable product time and time again. These Tide Pods are yet another in a long line of highly-effective laundry detergents.
Make no mistake, this is an incredibly popular detergent. On Amazon, it has over 25,000 customer reviews that have left it with an astounding overall rating of 4.8 stars. That's not common for any type of product, and one that nearly everyone uses, that's certainly positive reinforcement for your purchase.
Tide Pods Laundry Detergent Pacs Key Features:
Packaging with dishwasher pods available
Spring Meadow scent
Dissolves in hot or cold water
Best Laundry Detergent Packs: Gain flings Liquid Laundry Detergent Pacs
The Gain flings Liquid Laundry Detergent Pacs has an apt name since all you have to do in order to get your laundry started is fling these packs in the barrel with your close and push the "start" button. It has a stain lifter, but not just any stain lifter – Oxi-Clean stain lifter. If you're going to add a stain lifter, then it makes sense to pick one of the best on the market and capitalize on their brand recognition. It's a clever marketing tool, and one that Gain does again with their odor remover: Febreze. Combining one of the best-known laundry detergents with one of the best-known stain removers and best-known odor removers is kind of like pairing up Thor, Iron Man, and Captain America. It's an unbeatable team!
Over 10,000 customer reviews have awarded this laundry detergent an overall customer review of 4.8 stars on Amazon and that's plenty enough to tempt us. After checking out the glowing reviews, we think you'll be convinced, too.
Gain flings Liquid Laundry Detergent Pacs Key Features:
Original scent
3 sizes available
Works for both HE and standard washers
Best Budget Laundry Detergent: Amazon Brand – Solimo Concentrated Liquid Laundry Detergent
The Amazon Brand – Solimo Concentrated Liquid Laundry Detergent is a no-muss, no-fuss laundry detergent that will get your clothing clean while saving you big. You'll need less of this liquid detergent than you do a large portion of its competitors and that means you'll be buying it less often and saving money buying in bulk (without it actually needing the space most bulk purchases need). The company actually feels so confident that you'll appreciate their product that they offer a satisfaction guarantee that allows for a full refund up to a year after purchase.
There are over 2,000 customer reviews on Amazon for this detergent and it has an overall rating of 4.4 stars. The biggest selling point, though, has to be the cost. You can get this detergent, that will wash 128 loads, for under $17. If you Subscribe & Save, you can even get it for under $15 – a total steal!
Amazon Brand – Solimo Concentrated Liquid Laundry Detergent Key Features:
Safe in both standard and HE washers
2 sizes available
4 scent options
Best Liquid Laundry Detergent: Persil ProClean Liquid Laundry Detergent
Persil ProClean Liquid Laundry Detergent boasts a deep clean for your clothing, without destroying the material. If you struggle to get those deep-in stains or dirt out of your (or your family's) clothing, then you're probably familiar with pilling. If you want to get the same kind of thorough clean without the damage, then you'll appreciate the fiber care ingredients added to this liquid laundry detergent to protect your clothes. There are two different fragrances for this detergent and if you have sensitive skin, you can opt for the gentle formula, as well.
Sitting with right around 9,500 customer reviews on Amazon and an impressive overall rating of 4.7 stars, this is clearly a solid detergent. Consider how passionately you have to feel about a product to leave a positive review and you'll get an idea of how good this has to be to get 94% positive reviews.
Persil ProClean Liquid Laundry Detergent Key Features:
5 packaging options
2 scent options
Works in both standard and HE washers
Best Laundry Detergent for Sensitive Skin: Arm & Hammer Sensitive Skin Free & Clear
Arm & Hammer Sensitive Skin Free & Clear
If you're looking for a laundry detergent that's gentle on your sensitive skin, then you may want to take a closer look at Arm & Hammer Sensitive Skin Free & Clear.
Arm & Hammer Sensitive Skin Free & Clear offers a sensitive formula that will prevent your skin from reacting, and even more than that, your skin may even feel an overall improvement after switching to this gentle detergent. There are no perfumes or dyes, and that means whatever scent that comes from it is less likely to be harsh chemicals. It's dermatologist tested and rated hypoallergenic, so you can count on it being safe.
The detergent itself offers a low-suds formula with a clean rise, so you won't ever have to worry about the soap residue sticking with your clothes and into the dryer. If you've ever had this happen, then you've felt your soft sweater turn into a stiff one and after it's been, essentially, baked into your clothing in the dryer, you may never get it back to the feel you loved.
There are and that's plenty enough to take confidence in the accuracy of the overall rating. And for this laundry detergent that's nothing but a good thing – it has an incredibly high rating of 4.8 stars!
Arm & Hammer Sensitive Skin Free & Clear Key Features:
Works for both HE and standard washers
140 loads
Unscented formula
Who Should Buy Laundry Detergent
The bottom line is that anyone who does their own laundry should purchase laundry detergent. For families, it's even more obvious that you'll need a quality detergent. If you have small children, you can expect paint involved in everyday school activities. While this is wonderful for giving them a creative outlet, it's not amazing for the laundry. Kids are prone to messes and teenage hormones lead to some pretty interesting smells. Washing the foul odors and lifting stains is something that requires an effective laundry detergent.
However, even if you have no children and you don't tend to stain your clothing, it will still need to be washed. You may not need a stain lifting laundry detergent, but you'll still need to remove the body odor and dead skin cells that happen just from wearing your clothing. You'll also want to keep in mind your linens. If you clean yourself, you'll have towels. Sleeping in a bed will get your sheets and pillows in need of a washing, as well. No matter how you look at it, if you have any kind of fabric in your life, you're going to want to clean it and that's going to mean laundry detergent.
If you're looking for something to use your detergent on, then check out The Best Bath Towels, and for another type of cleaner completely, try The Best Disinfectant Sprays.
Important Features to Consider
A laundry detergent should have a few important features. Here's what to consider when selecting a laundry detergent:
Stain removal. If you're a family who is accident-prone or just stain-happy, then you'll want to make sure your laundry detergent is up to the task. An additive that will make sure to remove all those extra spills and stains is going to go a long way to making sure your clothes still look great, even after dozens of wears.
Color boosters and bleach. Consider how much you'll appreciate a color booster in your laundry detergent if you have a brightly colored favorite shirt. Favorite shirts get worn more and that means they'll have to stand up to the abuse of your washer and dryer more often. If you want to keep the shirt looking the same brightness as it was when you bought it, find a color-safe bleach or a booster in your laundry detergent. For whites, you won't have to be as careful, but you always want to make sure you use regular bleach
High efficiency. Though it's more and more common to find detergents for high-efficiency washers, you still want to make sure you're making the most of your machine and getting the best value on your detergent by purchasing a complementing pair. There will be a green and blue HE label on the container, and if you have a high-efficiency washer or a standard top loader, then you'll want these exclusively.
Sensitive skin. Harsh chemicals may be the easiest way to get your clothing clean, but they're going to have consequences for those of us with sensitive skin. If you are prone to breaking out or itching after you change laundry detergents – or you have a little one at home who needs the softest clothing, then you'll want to just play it safe and find a good gentle formula of laundry detergent. The good news is that the gentle detergents are gentle on you and your clothing. You may need to do a bit more pre-treating to get deep stains out, but you'll definitely appreciate a laundry detergent that you can use for all your family's clothing.
All-in-1s. As we just mentioned above, there are a few extras in a laundry detergent that can really boost your garments. If you don't want to take the time to add three or more different detergents, additives, boosters, etc, then an all in one pack will allow you to make sure your laundry is getting full-service will less work from you than ever. Depending on the brand, you may recognize these as "pods" or "pacs" – despite the name difference, they're very similar, functionally. It will all come down to your detergent preference.
Frequently Asked Questions
Does laundry detergent kill bacteria?
It may shock you to learn that unfortunately, no. Most laundry detergents do not kill bacteria – to kill bacteria, you need a bit more robust formula. The chemicals that are used in some detergents to kill the bacteria in your laundry are harsh and you won't be able to use them universally. In fact, they very often come with very strict instructions to be especially careful you don't damage your clothing. Bleach, however, can kill most bacteria. If you find a color-safe bleach, then you may be well on your way to disinfecting, but even that may not be the best option for your delicate clothing.
There is good news, though! Even without any additives, your garments will likely come out disinfected from a large portion of the bacteria on them. Though the washer can create a bacteria breeding ground with its dark, cool, and damp environment, the dryer can reach temperatures that will kill most bacteria.
Is it better to use liquid or powder?
If you're wondering which is better for your clothing and your machine, then the liquid is going to win that competition. Liquid detergent is less likely to damage clothing or your machine. It's also better at removing greasy stains. However, powder laundry detergents are better at getting mud stains out of your clothing and are less expensive – you can even make it at home. The detergent that's better for you may be different based on your priorities and your family's need.
Does vinegar sanitize laundry?
Yes, vinegar can disinfect your laundry. In Jan 2020, The University of North Carolina at Chapel Hill found it to eliminate 90% of germs. The acetic acid in white vinegar can kill viruses and bacteria, so adding it to your wash is an excellent way to boost your clean. It will also act as an effective deodorizer, so popping it into your stinkiest of loads will help make sure you're getting the most out of the process. It won't overpower the laundry detergent scent, wither, making it doubly helpful. You can use it on colors or whites alike and both will benefit without sacrificing either brightness or softness of your fabrics. It's relatively safe for both high efficiency and standard machines but tends to damage rubber parts, so if your machine has exposed rubber (and most do somewhere), then you may want to avoid it. And, if you're going to add something into your wash anyways, then you may be better off finding a product that's specially designed to kill more than just 90% of germs.
How do you use laundry detergent packs?
For the best result, a laundry detergent pack should be used in a top-loading washer or a high-efficiency front-loading one. The ease of use is probably the best part of using a pack – they'll often have separate compartments in a dissolvable casing that contains the detergent, a stain fighter, a color booster, a fabric softener, or some combination of those. Before you put your laundry in the washing machine, you'll simply place the pack directly in the drum. Even if your washer has a specific place for detergent, you do not use that with detergent packs. They do not mix well with the automatic "feeders" or drawers and can damage your machine. Liquid detergent is the only kind you'll ever place in the dispensers. After tossing in the pack, add your clothing and start the machine as you normally would – couldn't be easier!
Other Laundry Detergents We Reviewed
We looked at 20 other laundry detergents. Even though they didn't make our 5 best laundry detergents list, they're the best of the rest and each is still a great option for your wash. The information you'll need to compare each one is included with the listing.
Laundry Detergent Concentrate
Gain Ultra Concentrated Liquid Laundry Detergent
This box will give you the bulk that you need, but the dispenser's location means you won't need to lug it around in order to portion it out.
Key Features:
96 loads
Box packaging uses 60% less plastic
Original fresh scent
Cost: $15
Method Concentrated Laundry Detergent
With this concentrated formula, you'll get more power than before and take less space than ever.
Key Features:
Plant-based, biodegradable formula
2 packaging options
8 scents available
Cost: $15
Purex Liquid Laundry Detergent
This is a concentrated laundry detergent that will lift stains and dirt and comes in a two-pack.
Key Features:
Breeze scent
110 loads per container
2-pack
Cost: $20
Tide Ultra Concentrate Liquid Laundry Detergent
You'll have your choice of two different pouring options, a spout that will let you measure a careful amount, and the removable lid that lets the detergent flow freely.
Key Features:
81 loads
Cleans, freshens, whitens, and brightens
Fresh scent
Laundry Detergent for Sensitive Skin
This may be a gentle laundry detergent, but that doesn't mean it's any less tough on stains and odors.
Key Features:
100% free of dyes and perfumes
Non-gentle options available
49 loads per container
Cost: $10
Babyganics 3X Baby Laundry Detergent
Though this is marketed – and even specifically made for – baby's clothing, you'll be able to use it for your clothing, as well.
Key Features:
No chlorine, phthalates, phosphates, sulfates, fragrances, or dyes
Non-allergenic; dermatologist tested
Standard and HE washer compatible
Cost: $15
Earth Friendly Products ECOS 2X Hypoallergenic Liquid Laundry Detergent
If you or a family member has skin sensitivities, then you'll love the hypoallergenic formula that you'll get with this laundry detergent.
Key Features:
Built-in fabric softener
200 loads per container
Lavender scented
Cost: $15
Seventh Generation Concentrated Laundry Detergent
By picking up this laundry detergent, you'll get laundry detergent that's strong enough to lift dirt, but gentle enough to keep your sensitive skin safe.
Key Features:
6 scents available
53 loads per container
Standard or HE washer compatible
Cost: $30
Tide Free and Gentle Laundry Detergent Pods
This gentle laundry detergent pods will give you the same efficient clean that you expect from Tide, but with fewer chemicals and allergens.
Key Features:
Free & Gentle scent
3-in-1: detergent, stain remover, and brightener
Hypoallergenic and dermatologist tested
Liquid Laundry Detergent
Arm & Hammer Plus OxiClean Odor Blasters Laundry Detergent
If odors are a problem in your home, then you won't want to overlook the laundry detergent from the brand known for making baking soda – the odor lifter.
Key Features:
Powered by OxiClean, the stain fighter
Fresh Burst scent
70 loads per container
Cost: $10
Biokleen Natural Laundry Detergent Liquid
This is a natural laundry detergent that, though it may not qualify as gentle, is still made with ingredients that aren't artificial chemicals.
Key Features:
No artificial fragrances, colors, or preservatives
300 loads per container
3 packaging options
Cost: $25
Gain Botanicals Plant-Based Laundry Detergent
This is another plant-based laundry detergent that, if that's a priority in your life, will ensure that your ability to effectively clean your clothing isn't related to your status as a conscientious consumer.
Key Features:
No dyes, phosphates, or brighteners
Standard or HE washer compatible
Gentle on skin
Cost: $10
Mrs. Meyer's Clean Day Liquid Laundry Detergent
Mrs. Meyer's is a well-known cleaning brand and their detergents are at the very top of their "Best Done" list, to be sure – so if you like any Mrs. Meyer's products, you're bound to like this one, as well.
Key Features:
2-pack
64 loads per bottle
Lavender scented
Laundry Detergent Packs
Amazon Brand – Solimo Laundry Detergent Pacs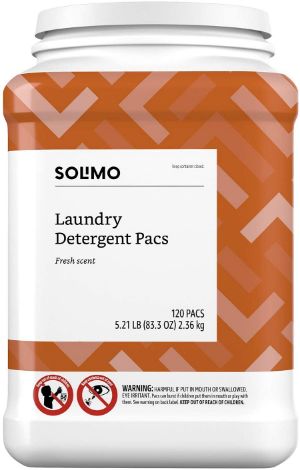 This a cost-efficient path for your laundry that's sure to make your monthly budget a more comfortable one.
Key Features:
Buy with other Amazon Brand and save
2 scents available
120 loads per container
Cost: $20
Arm & Hammer 4-in-1 Laundry Detergent Power Paks
If you want the power of Arm & Hammer, but the convenience of a laundry pack, this is the perfect blend of the two.
Key Features:
Fast dissolving
Works in all machines and temperatures
Concentrated pak
Cost: $10
Persil Proclean Discs Laundry Detergent
Stains can't stick around when you add this laundry detergent disk, with plenty of extra boosts, into your washer.
Key Features:
5 packaging options
4 chambers: stain removal, lasting freshness, fiber care, and detergent
Works in all temperatures and all washer types
Laundry Detergent Powder
Boardwalk 340LP Laundry Detergent Powder
If you do bulk laundry, then you'll appreciate this cost-efficient bulk-buy laundry detergent.
Key Features:
Tough on soil and stains
Quick dispersing
18 lb container
Cost: $25
For a powder laundry detergent that's made free of allergens in an eco-friendly way, then you'll want to take a close look at this one.
Key Features:
Fragrance-free
Biodegradable, hypoallergenic
Buy in bulk and save
Cost: $45
Grab Green Natural 3-in-1 Laundry Detergent Powder
You'll get three jobs done with this one laundry detergent – lift stains, boost colors, and clean superbly.
Key Features:
100 loads per bag
Phosphate, chlorine, and dye-free
Water lily fragrance
Cost: $20
Watkins 06738 Laundry Powder Detergent
This laundry detergent has been around for over 150 years, is biodegradable, and eco-friendly.
Key Features:
Unscented powder
Buy in bulk and save
5 lb container
Cost: $20