Bug out bags are pre-prepped, personalized survival kits that are designed to let you evacuate your home, take shelter, and survive for 72-hours in the event of an emergency, whether that be a natural disaster, terrorist attack, or a viral epidemic or pandemic like the COVID-19 outbreak in late 2019/early 2020.
The aim of the bug out bag (BOB) is to gather into a single place all of the essential materials and supplies that might be required to let you reach a safe location or until the immediate threat to your safety has passed. These supplies must cover a core group of necessities: shelter, warmth, lighting, hygiene, hydration, food, first aid, navigation, communication, and self-defense.
Building your own bug out bag can seem a daunting task at first, but doing so is well worth the effort. Not only will creating your bag before trouble arrives gives you peace of mind in knowing that you'll be well-prepared should an emergency situation arise, it will also ensure you don't forget crucial items, don't have to leave anything behind that you can't source in time, and can leave in a hurry if need be.
To find out how to build your emergency bug out bag from scratch, read on.
DIGBUG 3-Day Tactical Backpack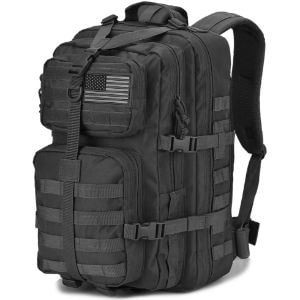 This 40-liter pack boasts enough internal storage space for three days' worth of kit and supplies and has plenty of exterior MOLLE webbing that allows you to attach additional gear with straps, carabiners, or MOLLE-compatible pouches. It also has plenty of separate storage compartments to help you keep your gear organized, comfortable padding on the shoulder straps and back panel, and is made with robust, 600-denier, water-resistant fabric. With this bag, you can keep all your bug out kit in one place and be ready to go when need be.
Key Features:
40-liter capacity
Tough, 600-denier fabric
MOLLE webbing
Water-resistant
Cost: $29.99
Go Time Gear Emergency Survival Shelter
This incredibly lightweight little shelter is designed for 2 people and provides the warmth and protection from the elements needed to survive a night in the open. It reflects up to 90% of your body heat and, unlike most emergency shelters, features an integrated paracord that can be suspended between two trees or vehicles to make an A-frame style tent.
Key Features:
Weighs just 8.7 ounces
Packs into 5.25" x 3.25" stuff sack
Waterproof mylar material
Tear and puncture-resistant
8 x 5 foot of interior floor space
Cost: $19.95
Even in warmer months, spending a night in the open or even in the car could easily lead to hypothermia without some form of insulation. This incredibly compact, lightweight sleeping bag provides just that without taking up too much space in your backpack.
Key Features:
Measures 83″ long x 30″ wide
Breathable and water-resistant
Weighs just 1.7 lbs.
Packs into 11″ x 5″ compression sack
Cost: $28.99
Sawyer Products MINI Water Filtration System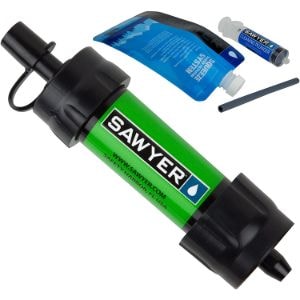 In a most survival situations, carrying heavy loads of water with you won't be an option. This tiny, lightweight filtration system lets you take water from wild sources (rivers, creeks, lakes) and make it safe for drinking in a matter of seconds or as you drink.
Key Features:
Removes 99.99999% of all bacteria
Removes 99.9999% of all protozoa
Can process up to 100,000 gallons of water
Weighs just 2 oz.
Comes with collapsible 16 oz. reusable squeeze pouch
Cost: $23.48
Aquatabs Water Purification Tablets
Because water is the most important resource to have in any survival situation, having a Plan B is always a good idea in case your Plan-A purification system is broken or lost. These purification tablets will take up a negligible amount space in your pack, give you safe, clean drinking water in just 30 minutes, and could well prove to be a lifesaver in the event that your purification pump, filter straw, or sterilization pen is no longer an option.
Key Features:
100 pack (treats 100 liters)
Kill microorganisms in water to prevent cholera, typhoid, dysentery and other water borne diseases
Approved by World Health Organization (WHO)
5-year shelf life
Cost: $9.95
These lightweight, highly portable freeze-dried meals allow you to get in some tasty, nourishing eats by simply adding water to the pouch.
Key Features:
15 grams of protein
Just add water
Portable and lightweight
30-year shelf life
Cost: $15.75
Between meal times in emergency situations, having a few tasty, healthy snacks at hand will not only give you a much-needed treat to boost your spirits but also keep up energy levels enough to help concentration. This variety pack gives you a choice of flavors and a wealth of tasty, nutritious ingredients.
Key Features:
24 bars
Gluten free
High in protein
No artificial colors, artificial flavors, preservatives, or fillers
Cost: $42.99
Phone Skope PYRO Putty Emergency Survival Fire Starter
In an emergency situation, you don't want to be messing about with standard matches, lighters, or magnesium strike sticks that may let you down owing to mechanical failure, dampness, or wind, rain, and/or damp kindling. This fail-proof, lightweight, non-toxic fire starter can get your fire going in any conditions thanks to a patent-pending putty that burns for up to 15 minutes with a single quarter-sized dab and trumps all the alternatives out there in terms of efficiency and reliability.
Key Features:
Lighter and 0.5 oz. can of fire starter putty included
Waterproof and weather-resistant
Non-toxic
Lights in any conditions
Cost: $21.99
Zippo Typhoon Matches and Match Kit
Unwilling to entrust your warmth, well-being, and means of lighting the stove that will boil your morning brew to a lighter? If so, you can do things the old-fashioned way with these superbly reliable, windproof and waterproof matches.
Key Features:
Windproof and waterproof
Burn for up to 30 seconds
15 matches included
Matches can survive submersion in water
Cost: $9.99
Etekcity Ultralight Portable Stove
This ultralight, ultra-compact little stove is the perfect way to ensure you can enjoy a hot meal away from home and is ideal for heating up the water you'll need for freeze-dried survival meals or morning cups of coffee.
Key Features:
Works with threaded 7/16 butane/butane-propane canisters
Measures 2.4″ x 3.15″
Weighs just 4.4 oz
Cost: $13.99
Stanley Mountain Compact Cook Set
Low on space and weight and high on quality and convenience, this outstandingly well-made, compact little cook set contains everything you need to cook rudimentary meals and boil your morning brew.
Key Features:
Weighs just 13.7 oz.
Includes nesting pot with vented lid, mug/bowl, and folding spork
BPA-free
Fuel or compact stove can be stored inside to save space
Cost: $25
This tough, durable titanium fork-spoon-knife combo weighs in at a tiny 18 grams and is far more robust and resistant to breaks and heat than plastic models contained in many multi-piece cooking kits.
Key Features:
Weighs just 18 grams
3-in-1 spoon, fork, and knife
Made with tough, heat-resistant titanium
Cost: $8
Swiss Safe 120 Piece First Aid Kit
This kit contains all of the essential supplies needed to deal with the most common emergency medical issues (light wounds, scrapes, burns, stings, bites, and even fractures) until you can find medical assistance.
Key Features:
120-piece kit of essential medical supplies
32-piece mini kit included
FDA-approved
Weighs only 1.2 lbs
Cost: $27.88
Gerber Suspension Multi-Plier Multitool
Multitools have an almost endless number of uses and applications and when prepping for any emergency situation this should be one of the first items that goes into your bag. This incredibly well-made multitool is significantly lighter and more compact than many of its competitors and has a total of 12 integrated components, including pliers, a serrated knife, Phillips screwdriver, large and medium flathead screwdrivers, a dedicated wire cutter, bottle opener, can opener, scissors, and a saw.
Key Features:
Weighs just 9.6 oz.
12 components
Ballistic nylon sheath
Lifetime warranty
Cost: $32.99
Energizer High-Powered LED Headlamp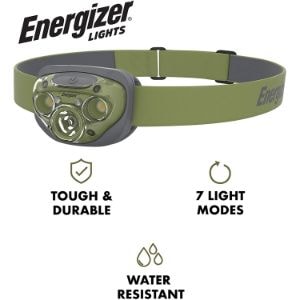 To tick the "lighting" box, you may well be tempted to opt for a powerful handheld torch, but in most cases you'll be far better served by a lightweight headlamp like this, which offers 250-foot range, 35 hours of LED light, weighs in at just 4 ounces without batteries, and frees up your hands for other tasks.
Key Features:
260 lumens
35 hour run time on low setting
Weighs just 4 ounces
Cost: $14.39
In any survival situation, there's a chance that you may have to protect yourself from animal or human aggressors. This 15-inch, stainless steel hunting-slash-survival knife should do the trick. It also comes in handy for a variety of other tasks, such as bushwhacking, food prep, and trimming kindling for your fire to size.
Key Features:
15-inch blade
Weighs 16.8 oz.
Nylon sheath, sharpener and fire starter included
Cost: $29.99
Sierra Dawn Campsuds Outdoor Soap
Packing a full complement of personal hygiene kit may leave you with little space for other, more important items in your bug out backpack. This very versatile, all-purpose soap solves a large part of the problem. Not only can it be used as a shower gel and shampoo, it also doubles up as an effective laundry detergent and dishwashing liquid.
Key Features:
Weighs 5.3 oz.
Concentrated: only a few drops needed per wash
Works in hot, cold, and salt water
Biodegradable
Measures just 5″ x 2.5″
Cost: $5.76
If you need something a little tougher on bacteria than the detergent featured above, these individually packed antibacterial wipes should do the trick. They kill 99% of germs and use aloe vera and witch hazel to soothe the skin.
Key Features:
Individually wrapped
Kill 99% of germs
Infused with aloe vera, vitamin E, and witch hazel
Cost: $9.99
Hoshine Hand Crank Cell Phone Charger
A dead cellphone battery in an emergency situation could spell big trouble (we're thinking calls to emergency services here, not Instagram story updates!). This charger solves the problem posed by the inevitability of standard power banks running of charge by using a hand-cranked dynamo that creates the power needed to charge your phone and endless number of times. It also boasts an integrated LED flashlight, AM/FM radio, and an emergency siren.
Key Features:
Self-powered (no batteries required)
Integrated flashlight, radio, and emergency siren
Weighs 6.3 oz.
Cost: $39.99
No survival kit is complete without a roll of duct tape for on-the-go repairs to your backpack, clothing, shelter, and various other pieces of kit. In a real pinch, it can also be used in place of medical tape, to fix broken windows in your vehicle, or to help with construction of an emergency shelter. Goriila's to-go tape is weather resistant, double thick, and comes in a very portable 1-inch roll that's ideal for squeezing into the last available nook of space in your pack.
Key Features:
Portable 1-inch roll
30 feet of tape
Weather resistant
Cost: $2.79
In the words of Ben Franklin, "by failing to prepare, you are preparing to fail." Given that failure in an emergency situation could amount to endangering the well-being of yourself and your loved ones, taking the time to build a bug out bag for your household is something that at least one person in every household should do. For more home and family safety gear, check out our review of the best fire escape ladders.
All of the above items are great choices for any bug out bag and can collectively ensure you remain safe, sheltered, warm, hydrated, and healthy in any emergency situation. While we sincerely you hope you never have to use it, it's always better to be prepared.