The busier you get the more in need you are of a multi-cooker in the kitchen. Not only will it open up your meal options, but it will also make each time you prepare food easier than you've ever imagined. For those of us who don't want to, or can't afford to, do a drive-thru on every busy night, a multi-cooker can be the solution to your family's food problems. If you're not sure what kind of options you have, though, fear not: We've done your homework for you.
We reviewed dozens of multi-cookers to identify the best of the best. We found the best pressure cooker and air-frying combinations for maximum versatility, and the smart multi-cookers that will allow you to control them when you're not there with it. We looked at large capacity multi-cookers and the ones best for beginners. No matter what you're looking for in your multi-cooker, we found the best one for you.
Early in our research, we easily identified the Ninja Foodi as the top of the multi-cooker category. Its versatility makes it a good cooker for my kitchen and the ease of clean up makes it all the more convenient.
The 5 Top-Rated Multi-Cookers
*Ratings are from Amazon at the time of publication and can change
Best Multi-Cooker Overall: Ninja FD401 Foodi 8-Quart 9-in-1 Deluxe XL
The Ninja FD401 Foodi 8-Quart 9-in-1 Deluxe XL is the best for versatility by leaps and bounds. The same kind of quality you get with all Ninja products shines through in this multi-cooker, that also proves you don't need to sacrifice that quality to get quantity, too. You'll have nine functions with the Foodi, but the two you'll inevitably use the most are air frying and pressure cooking. And each one gives you the kind of tender food, with a delicious crisp in record time. If you're looking for the pressure cooker that does it all – and does it better than all its competitors – this is the multi-cooker you want.
There are no mincing words; when it comes to overall customer satisfaction, this multi-cooker is incredibly impressive. Over 20,000 customer reviews on Amazon have earned this an overall rating of 4.8 stars – that's virtually unheard of, and definitely reassuring when it comes to making your choice of the best product for your family.
Ninja FD401 Foodi 8-Quart 9-in-1 Deluxe XL Key Features:
Dishwasher-safe crisp basket
Handwash, ceramic coated nonstick pot
3 sizes available
Best Multi-Cooker for Beginners: Instant Pot Duo Nova Pressure Cooker
The Instant Pot Duo Nova Pressure Cooker is perfect for newcomers to the pressure cooker game. This multi-cooker offers seven functions that will have you cooking like a pro in no time. The safety features including the locking lid and the EasySeal lid that will automatically seal makes the pressure cooking function less dangerous than ever and if that was what was holding you back, then you need worry no more!
You'll easily be able to go from no dinner plans to sitting down to a full meal with your family in under a half-hour and that's a convenience that you can get with very few other appliances. Doing so with a healthy meal is even more difficult, and the quality of your meal narrows the possibilities even further without the Instant Pot. In fact, for the beginning chef, it's virtually impossible otherwise.
It's very obvious that this multi-cooker is a well-loved product for beginners and kitchen-pros alike, just by the sheer numbers related to it. On Amazon, there are a whopping 141,000+ customer reviews earning it an impressive overall rating of 4.7 stars.
Instant Pot Duo Nova Pressure Cooker Key Features:
Includes steamer rack, stainless steel pot, and 2 sealing rings
4 model options
4 sizes available
Best Budget Multi-Cooker: Presto 02141 6-Quart Electric Pressure Cooker
The Presto 02141 6-Quart Electric Pressure Cooker is a compact multi-cooker that will give you and your small family all you need to make sure you're getting the healthy meals you want and in record time. You'll have a high-speed pressure cooker that will offer a variety of functions including high and low pressure, as well as slow cook, saute, brown, and keep warm.
You can use this cooker to finish off your meal with a side dish cooked in minutes or put your entire dinner in it for a complete healthy meal, all of your own. You can even use this to create a delectable dessert, too. Virtually any of your most common (and most preferred) foods can be prepared in this multi-cooker and they can all be done in fewer steps and less time than you may think.
When you're evaluating the facts behind this product, you won't want to overlook customer appreciation. There are right around 450 customer reviews on Amazon and an overall rating of 4.7 But the best part of this multi-cooker has to be the cost: You can pick it up for right around $55! That's a total steal.
Presto 02141 6-Quart Electric Pressure Cooker Key Features:
6 cook settings
6-quart capacity
Steam venting system
Best Air-Frying Multi-Cooker: Emeril Everyday 6 QT Pressure Air Fryer
The Emeril Everyday 6 QT Pressure Air Fryer will give you all the speed of any of the best pressure multi-cookers, but with an air frying capability, you can speed-cook foods you never thought could be prepared easier. For example, if your family is full of picky little ones who just can't go a day without chicken nuggets and french fries, then you can get the same kind of crisp that you'll get from your child's favorite fast food, without the trip or added expense. In fact, there are plenty of parents that have used the convenience of this air frying function of their multi-cooker to pull one over on their young children. Save a clean Happy Meal box with the nuggets and fries containers and refill them with an air fried meal. They'll be none-the-wiser!
Not only will you enjoy the air frying function, but you'll still be able to use the pressure cooking capability to prepare your family's healthy, home-cooked meals, too. You can still do the rice, beans, eggs, and full roasts, as well as desserts, but now you can do frozen nuggets, too. That makes this a pretty versatile multi-cooker!
Though you'll have plenty of reasons to appreciate this multi-cooker, none stands out more than the numbers that are associated with it. Sitting with right around 1,300 customer reviews on Amazon and an overall rating of 4.4 stars, this air-frying pressure-cooking, do-it-all multi-cooker is sure to keep your family thrilled.
Emeril Everyday 6 QT Pressure Air Fryer Key Features:
2 sizes available
3 packaging options
Dual-lid design
Best WiFi Multi-Cooker: CHEF iQ World's Smartest Pressure Cooker
The CHEF iQ World's Smartest Pressure Cooker will pair with your phone or tablet via their specialized app to give you full access to your multi-cooker's functionality, regardless of where you are. When your cooker connects to your Wi-Fi, it will open up the possibilities, and trying to work the timing of your meal's completion becomes all the easier. Not only that, but with access to the Chef iQ's app, you'll also get hundreds of guided cooking recipes and how-tos to take your chef game to the next level.
You'll have multiple cooking capabilities – with 300 presets you can use via the app or choose from the one-touch button on the cooker itself if you're away from your phone. You can pressure cook, steam, slow cook, and more in no time at all. You can also customize your settings via the app later on so that you get exactly the kind of result you want, each and every time.
With right around 300 customer reviews on Amazon, you can be reasonably certain that the rating is an accurate one. And considering the overall rating is a solid 4.3 stars, there's every reason you'll be one of this multi-cooker's satisfied customers.
CHEF iQ World's Smartest Pressure Cooker Key Features:
Built-in scale to cook by weight
6-quart capacity
3 automatic pressure release methods
Who Should Buy a Multi-Cooker
For a beginner in the kitchen, you may not know exactly what cooking device to use for which food – or how to do it. The multi-cooker is an "easy" button for these people that is undeniably useful. You don't even need to change the food out for several more complicated dishes. If you're looking to get a professional quality appearance and texture with high moisture content and a delicious crunch of skin, you can find a pressure cooking/air frying combination multi-cooker that will give you just that. And the best part is that for even the inexperienced cook, all you need to do is switch the function with the push of a button (and maybe trade out lids).
If the multi-cooker is an "easy" button for beginners, it's also a "fast" button for more experienced chefs, too. Even if you can do all the things your complicated recipes call for, and even if you know how to tackle each and every complex appliance and equipment in your extensive kitchen, that doesn't mean you want to take the time to do it each and every time. Even professional chefs' time is valuable and if you're interested in saving a bit of time without sacrificing your food's taste and quality, a multi-cooker is excellent for that. And if you're limited on counter space, this one appliance will tackle so much you'll only need this on your counter.
If you're in the market for other handy kitchen appliances, then you may also want to check out The Best Food Processors or The Best Coffee Grinders.
Important Features to Consider
A multi-cooker should do several things well. Here's what to consider when selecting a multi-cooker:
Air-frying. Right behind a pressure cooker, the air fryer is probably the most popular countertop kitchen appliance in recent times. While the pressure cooker will still cook raw foods more quickly, the air fryer is excellent for frozen foods or foods that you want crispy. For that reason, a combination will give you the speed of cooking your chicken or veggies, while finishing it off with the air-fryer will give the chicken skin a crisp and the broccoli a roasted-like browning.
Smart. There's no denying that the ability to set and forget is convenient, but a smart multi-cooker that responds to the commands you perform on your phone through a wif-fi connection is a superior convenience that you simply can't substitute. You'll be able to take full advantage of the speed of your multi-cooker's cooking, even if you only have a few minutes at home before you have to run. You'll be able to toss your frozen foods into the multi-cooer in the morning before you leave for work and then when you're getting ready to head home for the day, turn the cooker on so that your food will be ready for you to enjoy quickly as soon as you get home.
Slow cooker. You may think you still want your slow cooker for that beloved set and forget function but bear in mind that the multi-cooker you purchase does have the potential of performing those same functions. You may not be able to expect the multi-cooker to give the same result as with a high-quality slow cooker, but after experimenting, you'll find that you can get your food done, and tasting superbly, with your multi-cooker, too. You'll also appreciate the slow cooking function in order to keep your foods warm (though there is usually a dedicated "Keep Warm" function), or to plan ahead and getting all your foods cooked perfectly and done at the same time.
Crisping. Though the air-fryer is the easiest way to ensure your "crisp" result, it isn't necessarily the only way. There are several multi-cookers that offer a "crisping" ability without air-frying capability. While an air fryer will generally come with an additional lid that offers the convection of any standard air fryer, the multi-cooker's crisping function pairs best with a crisping rack that will ensure your foods aren't submerged in the liquid that will prevent the skin from crisping as it cooks.
Removable insert. You may agree that the biggest perk for the design of a multi-cooker is the ease of use – and that includes how well it cleans. You'll want to make sure you're comfortable cleaning it however it requires before you purchase. A removable insert that you can toss in the dishwasher may just be your easiest option yet. We highly recommend getting an extra insert, as well, because you may use this one appliance for multiple courses in the same meal. It really is that handy!
Frequently Asked Questions
What is a multi-cooker used for?
Virtually anything can be made, in some form, by using a multi-cooker. There are a variety of functions, but the majority of multi-cookers will include some combination of these (in order of likelihood): Pressure cooking, rice cooker, slow cook, steam, sautee, yogurt-making, air-frying, and so, so much more! You can prepare meats, vegetables, grains, breads, desserts, and even wine! The best part about the multi-cooker, though, is definitely the speed with which it can prepare all these foods. If you're wondering why someone would use a multi-cooker, the answer is simple: To make foods fast!
What is the difference between a slow cooker and a multi-cooker?
Pressure! A slow cooker isn't air-tight and it won't build up the pressure needed to cook your foods at an increased speed. The pressure cooker in a multi-cooker will build up pressure by heating the liquid inside the cooker. The extra pressure will make the boiling point of the liquid higher and force more liquid into the food so that it cooks faster and more evenly while maintaining its tenderness. A slow cooker will heat the pot the food is contained within, and the lid will keep the heat inside to cook the food thoroughly, but the lid will release air and prevent pressure from building up so you can absolutely check the contents occasionally without slowing the cooking process too drastically.
Can you deep fry in a multi-cooker?
Depending on your multi-cooker, you may be able to fry, as well. However, the chances are that you'll be more likely to find an air fryer option rather than a deep frying option. It will require a different lid, in most cases, but you'll get that crispy result if you choose the right multi-cooker and use it properly.
If you absolutely need to deep fry with oil, though you may be able to kind of use a multi-cooker's sautee function to heat the oil for a deep-fry. This isn't something we can recommend, though because it is not especially easy, and it probably won't give you the result you want. More likely is that you'll burn the oil and the food won't cook evenly.
Is it better to slow cook or pressure cook?
A slow cooker and a pressure cooker may be able to cook the same foods, but you won't get the exact same result, each time. For example, if you're pressed for time, then a pressure cooker can cook your entire pot roast, and the veggies, in 45 minutes or less – but the end result may not be as tender. The slow cooker will be more likely to give you the meat that pulls apart, but with slow cooking, there is a chance you'll overcook the meat. With each option, though, if you time it properly, you can get the kind of result you want.
Which is better for you may just come down to a matter of time. If you're going to be gone all day, then putting a roast in a slow cooker before work will likely give you a perfect meal, ready for you when you get home. The 45 minutes may not work for your family if some family members have to leave for a ball game or dance practice as soon as you all get home. If, however, you've forgotten to thaw out anything for dinner, a pressure cooker can get you your hot dinner ready in less than a half-hour, giving you a lot more possibilities for fast meals.
Other Multi-Cookers We Reviewed
We looked at 20 other multi-cookers. Even though they didn't make our 5 best multi-cookers list, they're the best of the rest and each is still a great option for your kitchen. The information you'll need to compare each one is included with the listing.
Air-Frying Multi-Cookers
1829 CSS Pressure Cooker and Air Fryer Combo
With up to 21 functions, there's not much this air-frying, pressure-cooking multi-cooker can't handle.
Key Features:
3 qt air frying basket
6.5 qt pressure cooking capacity
Dual-lid system
Cost: $190
Instant Pot Duo Crisp Pressure Cooker 11 in 1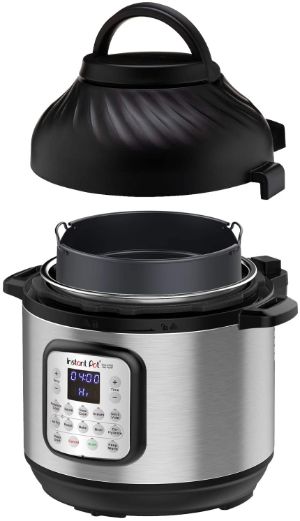 You'll get the added (and incredibly appealing) bonus of dehydrating with the broil/dehydrating try when you purchase this multi-cooker.
Key Features:
Protective pad and storage pad included
Dual-lid system
Multi-level air-frying basket
Cost: $180
NUWAVE DUET Pressure Air Fryer, Combo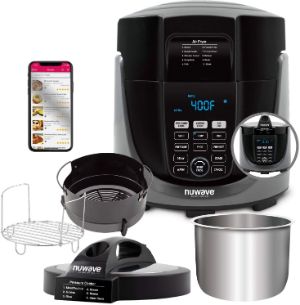 Not only does this multi-cooker come with its own preset functions, but you can save and store your own – up to 240!
Key Features:
6 qt pressure cooking, 4 qt air frying capacity
Dual-lid technology
Dishwasher-safe
Cost: $160
Not only will you be able to use this pressure cooking air fryer multi-cooker for a variety of purposes, but it comes with all the accessories you need to do them perfectly.
Key Features:
Safe-pressure release
Dual-lid system
1500 watt air fryer
Large Capacity Multi-Cooker
GoWISE USA 4th-Generation Electric Pressure Cooker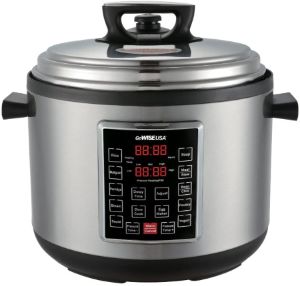 The locking pressure venting lid will allow you to build the pressure safely, cooking your food fast.
Key Features:
Ceramic coated stainless steel
4 size options
12 cook functions
Cost: $125
Megachef MCPR-3500 12 Quart Digital Pressure Cooker
This digital pressure cooking multi-cooker will give you the desired result with your food, each and every time.
Key Features:
15 preset options
12-quart design
Slow cook up to 9.5 hours
Cost: $100
This large capacity multi-cooker has a temperature-sensitive sensor to make sure your foods are cooked to the exact temperature, using the exact amount of pressure, no matter what food you're preparing.
Key Features:
10 qt capacity
19 pre-programmed settings
Safety-locking lid
Cost: $125
Power Pressure Cooker XL XL 10-Quart Electric Pressure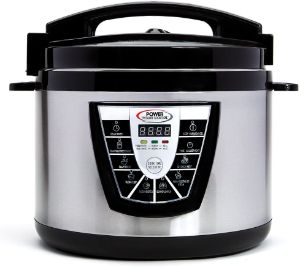 Whether you're cooking rice or a full meal, this multi-cooker can handle all you need to do for your meal's preparation.
Key Features:
10-quart capcity
Includes steaming basket, 3-tier rack, and inner pot
7 pre-set programs
Other Multi-Cookers
Breville Fast Slow Pro Slow Cooker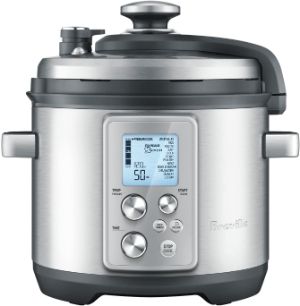 This multi-cooker offers a variable pressure to make sure you're getting the kind of preparation and cook that you need, no matter what the food type or recipe.
Key Features:
Variable pressure and temperature controls
3-way safety system and safety locking lid
6.5 qt capacity
Cost: $250
Cuckoo CMC-QSB501S, Q5 Premium 8 in 1 Multi Cooker
This multi-cooker has a nonstick coating so you won't need to worry about your food caking or burning to the surface, making clean-up a breeze.
Key Features:
5-quart capacity
8 pre-set programs
Includes bonus rice paddle
Cost: $165
Cuisinart CPC-600N1 6-Quart Electric Pressure Cooker
With a sleek design and vast versatility, you won't ever want to put this multi-cooker "away," and it is compact enough that it won't eliminate your working counter space.
Key Features:
3-year warranty
3 size options
1000 watts of power
Cost: $100
Gourmia GPC400 Digital Multi-Cooker
With a safety locking lid that senses pressure in order to prevent accidents, this is one pressure cooker that won't pose danger.
Key Features:
4-quart capacity
13 cook modes
Bonus recipe book included
Cost: $60
IAIQ 13-in-1 Electric Programmable One-Touch Pressure Cooker
You'll easily be able to operate this multi-cooker with one-touch buttons to create the foods you love.
Key Features:
6-quart capacity
7 cooking functions
Safety venting pressure valve
Cost: $90
This compact multi-cooker handles all the common pressure-cooking tasks, as well as so many more. With 16 pre-programmed settings, you can tackle anything from rice to cake.
Key Features:
6-quart capacity
Digital display
Pressure-release push button
Cost: $85
Mueller 6 Quart Pressure Cooker 10 in 1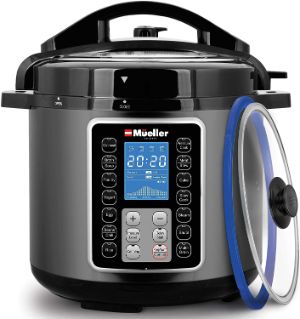 Not only does this multi-cooker tackle your slow-cooking needs, but it comes with a clear glass lid for those cooking functions that don't rely on the pressure build-up.
Key Features:
15 pre-set functions
6-quart capacity
Bonus recipe book included
Cost: $80
Ninja Instant, 1000-Watt Pressure, Slow, Multi Cooker
This pressure-cooking multi-cooker has superior safety with eleven levels of rigorously tested safety features.
Key Features:
Includes steam track and inner pot
6-quart capacity
Dishwasher-safe
Cost: $110
prepAmeal 3 Quart Electric Pressure Cooker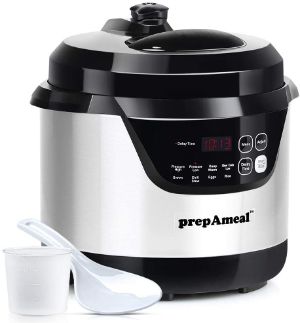 This multi-cooker is big on function and small on countertop real estate, making it perfect for smaller meals or side dishes.
Key Features:
Bonus rice paddle and measuring cup included
8 cooking functions
3-quart capacity
Cost: $50
Rozmoz 12-in-1 Electric Pressure Cooker
You'll get all the accessories you'll need to get cooking with this multi-cooker, including a recipe book, measuring cup, soup ladle, and more.
Key Features:
6-quart capacity
1-year warranty
Safety locking lid
Cost: $75
Yedi 9-in-1 Total Package Instant Programmable Multi-Cooker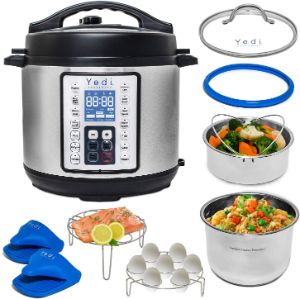 Most multi-cookers will require you to purchase accessories separately to perform their more obscure functions, but this convenient selection will give you a full kit to get you cooking faster.
Key Features:
15 pre-set functions
Includes egg cooker, steam trivet, ladle, rice paddle, cooking it, extra sealing ring, steam basket inner pot, and measuring cup
6-quart capacity
Cost: $100
Zavor LUX LCD 6 Quart Programmable Electric Multi-Cooker
You'll be able to switch between 33 pre-set programs including rice, meat, soup, and more – with just a push of a button.
Key Features:
3 packaging options
2 color options
6-quart capacity
Cost: $160