Ironing might not be everybody's favorite chore, but it's one of those tasks that have to get done, and to tackle it properly, you'll need an ironing board. With newer fabrics, and washer and dryer technologies, not every garment you own needs ironing, but there are still clothes that you can't get away with leaving un-ironed, such as dress shirts, blouses, structured pants and shorts, and some dresses. Owning the right ironing board will make ironing quicker and easier, so you can move onto a more enjoyable activity.
We reviewed dozens of ironing boards to identify the best of the best. To find the ultimate options, we compared different types of ironing boards, including full-size models, compact options, tabletop ironing boards, and wall-mounted models. We considered their ease of use, durability, and all-around quality, as well as examining average customer reviews.
The Minky Homecare Ergo Ironing Board was the clear front-runner when we looked closely at all our options. It's hugely durable and features an ergonomic iron rest that makes it comfortable to use for right-handed and left-handed individuals.
The 5 Top-Rated Ironing Boards
*Ratings are from Amazon at the time of publication and can change
Best Ironing Board Overall: Minky Homecare Ergo Ironing Board
The Minky Homecare Ergo Ironing Board is an excellent choice for any family. With an ironing surface measuring 48 by 15 inches, it's large enough for any ironing task you might throw at it. The Four-legged design makes it sturdy and stable, so you don't need to worry about tipping and you can be sure it will last you a decent amount of time. There's an easily-accessible lever that allows you to quickly and simply adjust the height of the ironing board to suit different members of the family, which is handy for couples with a large height disparity or parents teaching their children to do their own ironing.
We love that the cover is made from a heat-reflective material that bounces heat from the iron back up toward the garment, making ironing quicker. The iron stand at the end of the board is designed specially so that it's equally comfortable for right-handed folks and southpaws, which is great for families that contain both lefties and righties.  Retailing at roughly $67, it's reasonably priced considering its quality; you can find far more expensive ironing boards that don't perform any better.
Minky Homecare Ergo Ironing Board Key Features: 
Cord guide hold's the iron's cord to avoid snagging
Easy to adjust the height
Made in the UK by a manufacturer that supplies the Royal Household
Best Compact Ironing Board: Bartnelli Rorets Compact Ironing Board with Smart Hanger
For some buyers, a space-saving design is essential, in which case, we'd recommend the Bartnelli Rorets Compact Ironing Board with Smart Hanger. First off, the 34 by 12-inch ironing surface is smaller than most, meaning it takes up less room when it's set up. However, it has another great feature: a smart hanger on the end of the board that allows you to hang it on a clothes rail in your closet when it's folded. This is great if you don't have a suitable spot to store your ironing board.
The heat resistant pad is of great quality and has a three-layer design with foam, felt, and cotton fabric for a smooth ironing experience and to help prevent clothes from sticking. It's made in Europe and has the quality you'd expect from a high-end ironing board but in a small package. The four-leg design keeps it stable with no wobble in sight, if you're on a flat surface. At just $40, this compact ironing board is a bargain.
Bartnelli Rorets Compact Ironing Board with Smart Hanger Key Features: 
Simple one-click fold
Attractive hummingbird design on the cover
The safety lock prevents accidental collapse
Best Budget Ironing Board: Honey-Can-Do Tabletop Ironing Board
If you're on a tight budget, your best option is a tabletop ironing board, and the Honey-Can-Do Tabletop Ironing Board offers some of the best value for money around. It might be a little impractical for anyone who does mountains of ironing every day, but if you only iron the occasional button-down shirt or pair of dress pants, this model will more than fit your needs. The ironing surface measures 32 by 12 inches, which is compact but large enough to iron most garments easily. The cover is made from a simply polycotton blend with foam backing.
In order to use this model, you'll need to place it on a table, countertop, or similar surface, so there's no way to adjust the height other than switching surfaces, which can make it trickier to get the ironing board at a height that suits you well. If you can look past this, you have a real bargain on your hands, since this model costs roughly $17.
Honey-Can-Do Tabletop Ironing Board Key Features: 
Features a retractable iron rest
Legs fold flat when not in use for easier storage
Perfect for households with limited space
Best Wall-Mounted Ironing Board: Superior Essentials Wall Mounted Ironing Board
Not only does the Superior Essentials Wall Mounted Ironing Board save floor and storage space, but it also helps avoid the hassle of digging your ironing board out of the cupboard, lugging it over to where you want to use it, and getting it set up correctly. Once this wall-mounted unit is installed, your ironing board is always ready to use; just pull it down, and away you go. Installation is fairly simple if you know how to use a drill, just note that it must be installed on studs or a reinforced wall, not directly into drywall. You'll receive all the hardware you need to get it set up, plus a wooden mounting board.
Once fully extended, the ironing board measures 37 by 12 inches, which is perfectly adequate for most users. It has a double-fold design making it much more compact when it's fully folded away on the wall. At $130, this isn't the cheapest ironing board option out there, but many buyers are happy to pay more for the convenience of a wall-mounted unit.
Superior Essentials Wall Mounted Ironing Board Key Features: 
Swivel design lets you use it face straight out from the wall or sideways
The steel board is highly durable
Quick and easy to extend and fold away
Best Over-Door Ironing Board: Household Essentials Over The Door Small Ironing Board
The Household Essentials Over The Door Small Ironing Board is our top over-door ironing board. This style of ironing board has U-hooks to hang on the back of a door with an ironing surface that flips down when you need it. The board itself measures 42 by 14 inches, which is similar to an average full-size ironing board. It also has a hook to store your iron on when it's not in use. If you're living in a dorm room or shared house, this is an ideal option, but it's also great for laundry rooms if a wall-mounted model doesn't suit.
Thanks to its steel construction, both the board and the frame feel sturdy and provide a stable space to iron on. It fits over both standard and commercial doors. The feet at the base help keep the board steady and prevent the frame from scratching the door. With a $30 price tag, it's an extremely affordable option too.
Household Essentials Over The Door Small Ironing Board  Key Features: 
It has a self-retracting mechanism so it's easy to close
Folds up almost flush to the door so doesn't feel obtrusive
Includes pad and 100% cotton cover
Who Should Buy an Ironing Board
If you want to press your clothes effectively, you'll need an ironing board. You just don't get the same results if you iron on a table or other surface, plus you could cause damage with the heat of the iron. Every household should have an ironing board, even if you don't iron all that regularly. It's essential to have one on hand for those times when freshly-pressed clothes are a must.
Ironing boards are specially designed to make ironing easier. You can usually adjust them to a comfortable height, they have a convenient spot to rest your iron, and the padded cover helps you get the best results.
If you like your laundry just so, you might also want to check out our list of the best laundry detergents.
Important Features to Consider
An ironing board should have a few important features. Here's what to consider when selecting a new ironing board:
Type of ironing board. You can choose between a range of ironing board types so it's worth giving some thought to which type would suit you best. Free-standing folding ironing boards are the norm and come in both full-size and compact options. However, you can also find compact tabletop models that are great for small spaces, as well as wall-mounted and over-door models.
Adjustable height. Unless you're of an average height, using an ironing board can feel a little awkward or uncomfortable. Height-adjustable models allow you to set them at just the right height to suit you, which is great for anyone taller or shorter than average.
Size. A full-size ironing board is one that measures at least 48 inches long and between 12 and 18 inches wide. This gives you enough space to iron large garments quickly and efficiently. Anything smaller than this is considered a compact model.
Padding and cover. A smooth cover and even, lump-free padding is essential to getting a good finish on your clothes, without frustrating creases. The covers should be designed to avoid your garments sticking to it. Some covers have handy extra features, such as a reflective layer to bounce heat back and speed up your ironing. The pad and cover are usually sold with the ironing board, but you can buy them separately too.
Weight. Always check the weight of any ironing boards you're considering before buying. It shouldn't be too heavy for you to easily lift and handle.
Frequently Asked Questions
What makes a good ironing board? 
A good ironing board should be strong and stable, whatever style of board you choose. Not only are wobbly or collapse-prone ironing boards highly inconvenient, they're also dangerous. Your chosen ironing board should suit the way that you iron, whether you do so daily or once in a blue moon. It should have a quality pad and cover to help you get smooth, crease-free results. Ideally, it should have a convenient iron rest to hold your iron while it's heating up or if you need to set it down for a moment. Mesh or perforated ironing boards are great if too much moisture tends to build up while you're ironing.
How often should I replace my ironing board cover? 
Most ironing board covers last for around 5 to 7 years before they need to be replaced. However, you should notice when your cover needs replacing but any torn or heavily-worn areas in the outer cover, and any pitting or lumpiness to the padding below.
How long does an ironing board last? 
A quality ironing board can last several decades or even a lifetime. Although cheaper ironing boards might be appealing, it's worth splashing out if you can, since you'll probably never need to buy another ironing board again, whereas a cheap model will probably need to be replaced in 5 to 10 years.
Do ironing boards really make a difference? 
You might wonder whether an ironing board is really any better than a table to iron your clothes on, or if an expensive ironing board gives better results than a rickety old one. Well, the answer to both queries is "yes." Ironing boards are perfectly shaped to make ironing your clothes easier, plus they're heat resistant so you won't damage them. The cover and pad give you a smooth glide over clothes to more easily press out wrinkles and make the whole process quicker. As for cheap, wobbly ironing boards, the unwanted movement and cheap pad make tougher work of ironing.
Other Ironing Boards We Reviewed
We looked at 20 other ironing boards. Even though they didn't make our 5 best ironing boards list, they're the best of the rest and each is still a great option for all your ironing needs. The information you'll need to compare each one is included with the listing.
Folding Free-Standing Ironing Boards
Bartnelli Pro Luxury Ironing Board
Extremely stable and reliable with lockable wheels to make it easier to move, but costs more than many people want to pay more an ironing board.
Key Features: 
Quality cotton cover
Height adjustable
Measures 51 by 16 inches
Cost: $120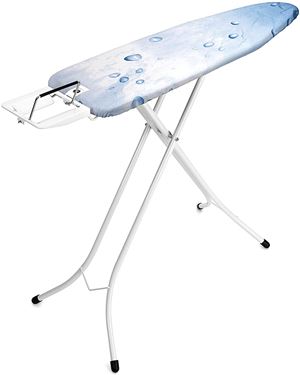 It's easy to adjust the height of this ironing board to suit all members of your family, plus it's sturdy with a four-leg frame.
Key Features: 
Measures 49 by 16 inches
Steam iron stand
Mesh board avoids moisture build-up
Cost: $80
Homz Durabilt DX1500 Premium Steel Top Ironing Board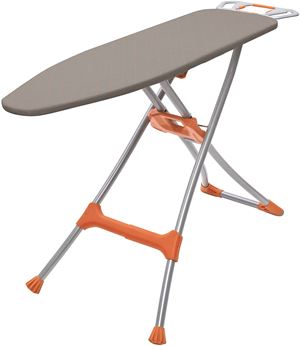 A super durable choice that's available with or without an iron rest, this ironing board will serve you well for years to come.
Key Features:
Double thickness padding
100% cotton cover
Silicone pads dissipate heat
Cost: $91
Homz T-Leg Steel Top Ironing Board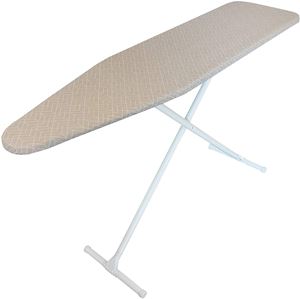 Want a large ironing board at a bargain price? This model is highly affordable and has an ironing surface measuring 51 by 13 inches.
Key Features: 
Perforated top
Height adjustable
Legs lock securely in place
Cost: $30
Household Essentials Deluxe Steel Top Board
Subtly stylish in black and gray, this is a durable ironing board with built-in iron rest and a handy clothes rack below the board.
Key Features: 
Mesh steel board lets steam through
Stable four-leg design
Height adjustable
Cost: $65
Sunbeam Adjustable Height Ironing Board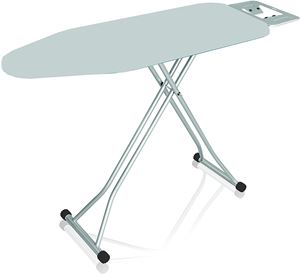 Simple but reliable, this ironing board has all the basics covered, such as height adjustability and integrated iron rest.
Key Features: 
Strong and stable design
Mesh board
Measures 52 by 15 inches
Tabletop Ironing Boards
AmazonBasics Tabletop Ironing Board
A compact, well-padded tabletop model with a perforated steel board to let steam through and prevent moisture build-up.
Key Features: 
Measures 14.5 by 23.5 inches
Three cover choices
Foldable legs
Cost: $27
Handy Laundry Store Collapsible Tabletop Ironing Board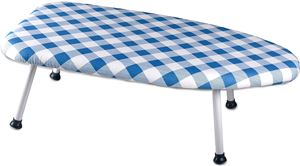 Great for the occasional spot of ironing, this board measures roughly 24 by 14 inches and folds flat for storage.
Key Features: 
Perforated ironing surface
Foldable
Easy to store
Cost: $21
Household Essentials Small Steel Table Top Ironing Board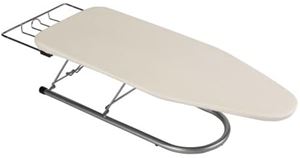 Unlike many tabletop ironing boards, this model features an iron rack, which is helpful when you need to set your iron down for a moment.
Key Features: 
Measures 12 by 30 inches
100% cotton cover
Stable legs
Cost: $23
Whitmor Cream Tabletop Ironing Board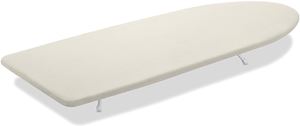 An inexpensive option with a thick foam pad and 100% cotton cover for efficient ironing.
Key Features: 
Ironing surface of 12 by 32 inches
Collapsible steel legs
Non-slip feet
Cost: $15
Whitmor Striped Tabletop Ironing Board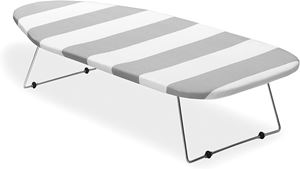 Another tabletop ironing board from Whitmor. This one has a different leg design from the choice above and is slightly shorter, at 29 inches.
Key Features: 
Scorch-resistant cover
Folding legs
Hook for hanging when not in use
Wall-Mounted Ironing Boards
Duwee Wall Mounted and Door Mounted Ironing Board
You have a range of options with this ironing board. You can either mount it on a wall or a door, and it comes in two sizes: 14 by 38 inches and 14 by 41 inches.
Key Features: 
Easy to mount
Heat-resistant cover
Sturdy and stable
Cost: $56 to $59
Household Essentials StowAway In-Wall Ironing Board Cabinet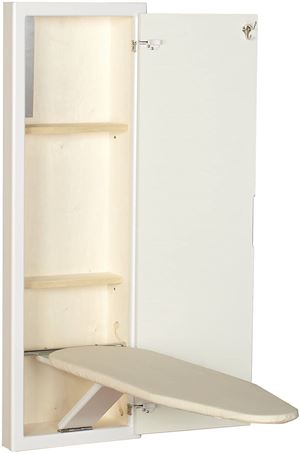 This wall-mounted ironing board and cabinet looks great when installed and sits almost flush with the wall, but installation is tricky.
Key Features: 
Ironing surface roughly 12 by 41 inches
A range of cabinet finishes available
Can lock board into multiple positions
Cost: $135 to $150
Iron-A-Way Built-In Ironing Center
This wall-mounted ironing center is more than just an ironing board, it also features an electrical raceway, a place to store your iron, and a hanging rail on the door.
Key Features: 
Wide range of color options
42-inch ironing board
Quality pad and cover
Cost: $420 to $515
Ivation Wall-Mounted Ironing Board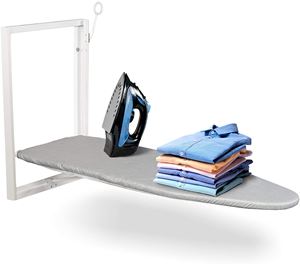 A simple wall-mounted model that's relatively easy to install and has some great features like the easy-release lever.
Key Features: 
Supports up to 25 lbs
Easy lock and release
100% cotton cover
Cost: $55Over-
Xabitat Wall Mounted Ironing Board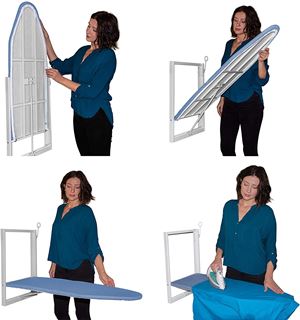 With its simple pull-out design, this is an affordable yet sturdy model, though don't expect it to be quite as rugged as the more expensive wall-mounted models.
Key Features: 
Board measures 37 by 12 inches
Easy to install
Quick-release mechanism
Over-Door Ironing Boards
HOMZ Over-the-Door Steel Top Ironing Board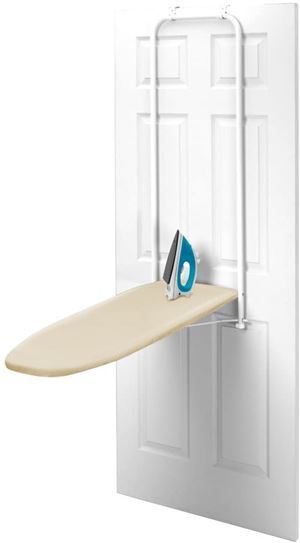 Just hook it over the top of a door, fold the board down, and you're ready to press some clothes. Ideal for dorms and small spaces.
Key Features: 
14 by 42-inch ironing surface
Cotton cover and 6 mm pad
Mesh board design
Cost: $40
Honey-Can-Do Door Hanging Ironing Board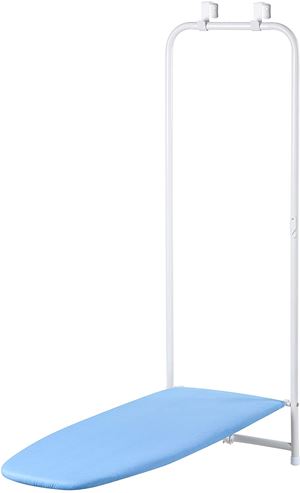 Thanks to the nicely thick foam pad and pure cotton cover, this basic over-door board makes ironing a breeze.
Key Features: 
Perforated ironing surface
Measures 42 by 14 inches
Easy to pull down and lock in place
Cost: $29
Polder Over-The-Door Hanging Ironing Board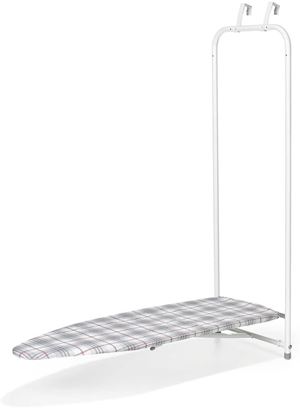 This over-door ironing board fits any door up to 1.5 inches wide and features an ironing surface of 42 by 14 inches.
Key Features: 
Stabilizing feet
7 mm padding
100% cotton cover
Cost: $40
TIVIT Over The Door Ironing Board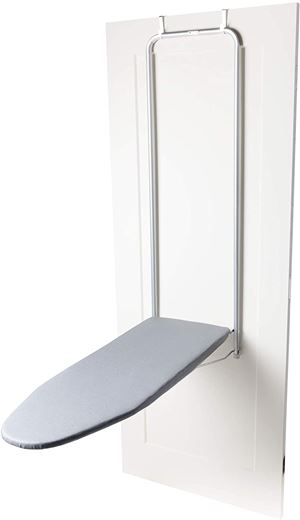 Made in Italy, this over-door ironing board is sleek and stable with an easy-fold design and a locking mechanism to keep it stable.
Key Features:
High-performance pad and cover
Steel mesh board
Ironing surface of 44 by 12.5 inches
Cost: $40