Electric pressure cookers are pretty alluring. They are incredible little appliances, that's why. Depending on what you are making, you can easily just throw in all of the ingredients, set it to the correct temperature, and you will have a delicious meal to enjoy in a short amount of time. The other attractive aspect of electric pressure cookers is that they are powerful little machines. One pressure cooker can take the place of a plethora of different kitchen appliances. You can easily replace 4 or 5 different appliances because an electric pressure cooker has the function to do what other machines can.
We have reviewed dozens of electric pressure cookers in order to identify the best of the best. In our search, we considered things like various programs offered by the pressure cooker, accessories that came with it, ease of use, price points and more. We found the top electric pressure cookers that will take the pressure out of feeding you and your family.
The Instant Pot Duo is the clear favorite when it comes to an electric pressure cooker. With over 30,000 reviews, the ease of use and the quick cooking times, this pressure cooker is a true beloved appliance by many and has found a home in kitchens across the world.
The 5 Top-Rated Electric Pressure Cookers
*Ratings are from Amazon at the time of writing and can change
Our Top Pick: Instant Pot Duo
It all began in 2010 when the first the Instant Pot came out. Now, nearly ten years later, the Instant Pot Duo is one of the best-selling electronic pressure cookers out on the market to date. Smashing sales records, the Instant Pot has found a home on countertops all across the country. There is a good reason for that, too. It has essentially taken 6 kitchen appliances and rolled them all into one convenient apparatus. Not only is it a pressure cooker, but also a rice cooker. Not to mention that it also can be used to make yogurt, to saute food, a steamer and a warmer for your food. It is no wonder that the world over loves this kitchen gadget.
This iteration of the fan-favorite features fantastic results time and again. It monitors pressure and temperature, as well as keeping time and adjusts heating intensity. It comes with dishwasher safe accessories like a steam rack with handles, soup spoon, measuring cup and serving spoon. It is also ULC certified and energy-efficient. It is available in various colors including black, white, teal and red, so you can match it to your existing kitchen decor. With this pressure cooker, delicious home-cooked meals are never more than a simple button click away.
Instant Pot Duo Key Features: 
Cooks food up to 70% faster
Easy to clean
Keeps food warm until ready to serve
Serve up to 6 people
Our Runner Up Pick: Mueller UltraPot
Coming up in our runner up spot is the Mueller UltraPot, a pressure cooker with a myriad of programs. Boasting an amazing set of approximately 15 different program modes, this pressure cooker is definitely deserving of our runner up spot. Some of the programs include modes for cooking foods like oatmeal, eggs, beans, chili, yogurt, soup, poultry and many more. There is even an option for cooking a cake in this amazing pressure cooker. Another great feature is that included with the cooker is a bonus steamer basket. This means that you can cook two different things at once.
It has a ceramic non-stick interior and food is cooked evenly through it's fully sealed environment, meaning that nutrients are totally preserved during the cooking process. You can even use this pressure cooker to do basic pressure canning. Smart control buttons help you to choose what meal you wish to cook in one easy step. One button press is all that it takes to create a scrumptious meal. Items that are included with the cooker are a silicone gasket, spoon, steamer basket, tempered glass lid and measuring cup. You will also receive a cookbook that features thirty tasty recipes to cook in your new pressure cooker.
Mueller UltraPot Key Features:
Features 15 "smart controls"
Easy to use
Delay timer
Lid safety locking system
Best Budget Pick: KUPPET 6-in-1 Electric Pressure Cooker
If you are on the lookout for a great electric pressure cooker, the KUPPET 6-in-1 Electric Pressure Cooker is most definitely one that can adapt to any of your cooking needs. This multi-function cooker can be used as a rice cooker, pressure cooker, warmer, steamer, to saute food and even more. Compared to traditional stovetop cook methods, this cooker can cook food to perfection 70% faster. It features 9 custom smart control programs, even including a setting for dessert. It preserves flavors and nutrients and slashes cooking time by way over half.
This cooker also features an "anti-hot" handle, making it easy to hold. With a large digital easy-touch control panel, it is easy to see what mode the cooker is on, and how to change it. It also has a 24-hour delay program, so if you are looking to put ingredients together but not cook them just yet, this is a great pressure cooker. The inner pot is made of 4-ply alloy steel, providing uniform rapid heating, sealing in nutrients and flavor. Included with the pot are a water storage box, a capacity cup, a rice spoon, and instructions on how to use it. The accessories are totally dishwasher safe.
KUPPET 6-in-1 Electric Pressure Cooker Key Features: 
9 built-in smart programs
Uses advanced steam technology
Energy efficient
Feeds 4-6 people
Best Wi-Fi Enabled Electric Pressure Cooker: InstantPot Smart Electric Pressure Cooker
In this iteration of the InstantPot, you are able to control your cooker right from the palm of your hand. With the InstantPot Smart Electric Pressure Cooker, you have access to verify your cooking progress, receive alerts on your phone and even share cooker access with your family. In addition to all of that, via the InstantPot application on your phone, you will also have access to thousands of different recipes to choose from. If you so choose, it even works with Alexa via an Echo Dot.
If you are in the mood for a sweet treat, this pressure cooker has a cake setting, where you are able to bake an entire cake that will come out moist and delicious every time. If you want to keep your food warm, there is a setting for keeping it warm for up to 99 hours and 50 minutes. It has 11 built-in safety features, including overheat protection, so as to ensure that your food will be delicious every time that you cook in your pressure cooker. If you do use Alexa, you are also able to ask it for recipes for your cooker. You will certainly never be at a shortage of recipes with this incredible Wi-Fi enabled pressure cooker.
InstantPot Smart Electric Pressure Cooker Key Features:
Access via Wi-Fi to your InstantPot
Accessories included
Access to thousands of recipes
Receive mobile alerts via the application
Best 10 Quart Electric Pressure Cooker: Power Pressure Cooker XL
There are many electric pressure cookers out there on the market, but the Power Pressure Cooker XL is the one that stands out as the best 10-quart pressure cooker. If you have a large family or are having guests over, this is the perfect cooker for you. By just the push of a button, you are on your way to a delicious tasting meal without all the fuss of cooking separate ingredients in different pots. It features an air-tight lid, which traps the steam, cooking your food at a faster rate, while still keeping all the nutritious vitamins and minerals of the food.
This cooker features flavor-infusion technology, so as to make certain that your food retains all of its flavors. It has built-in safety features and a safe-lock lid with a steam release. The removable inner pot is completely non-stick, which makes for super easy clean up after dinner. It is made of stainless steel, and it also has a large arm handle, so you are able to move this cooker around the kitchen with ease. When you are looking for a most tasty dinner without all the prep and cooking time, something just like this pressure cooker is the perfect item to use, especially if you're having guests over.
Power Pressure Cooker XL Key Features:
Safe-lock lid with steam release
One-button cook settings
Cuts cooking time by over half'
Features flavor-infusion technology
Who Should Buy An Electric Pressure Cooker
Electric pressure cookers are a great investment for just about anyone who cooks daily. Because they are packed to the brim with various features and modes, one can create just about any meal they want with an electric pressure cooker. The biggest feature that everyone tends to love about electric pressure cookers is that if you are interested in cooking something delicious, but do not necessarily have the time to do so, this is where the pressure cooker takes over. All you have to do is toss all of the ingredients into the cooker, set the mode you want it on, set the time, and you are good to go. By the time you come home from work/school/etc., you are able to open that lid up and smell the delicious aroma of your meal, ready to be plated.
The variety of features on electric pressure cookers are really endless. Many even come with functions to make a cake in them. You can make scrumptious homemade yogurt in them, soups, stews, chilis, and so much more. They are also great for steaming foods like vegetables, especially because they seal in the nutrients and vitamins that a normal cooking process would remove from them.
Important Features To Consider
An electric pressure cooker should be able to cook food efficiently and in a timely manner, be constructed of durable materials and cook a variety of different foods. Here is what to consider when selecting an electric pressure cooker.
Durability. First and foremost, you want to make certain that your electric pressure cooker is made of durable materials. You will want to look for one that isn't going to stop working in a year. When searching, look for one that is created with sturdy materials. These include stainless steel, heavy-duty components, and dishwasher safe accessories. You will also want to make sure that the inner pot is made with strong 3-4 ply materials to ensure an even cooking process. You want to make sure that when you purchase an electric pressure cooker that you will find one that will last you for years and years to come.
Efficient cooking. Not all pressure cookers are the same. In our guide, we identify the best of the best. You should look for a pressure cooker that is going to efficiently cook your food, each and every time that you use it. There are various different pressure cookers that use a variety of different cooking technologies, so it is best to research what one would be the best fit for you and your needs. Some use steam technology while others use special 360-degree technology. So, it all comes down to what your personal preference is.
Time efficiency. Electric pressure cookers are wonderful when it comes to cooking times. Most of them, compared to traditional stovetop/baking methods, can slash cooking time up to over half the normal time. Plus, the best part about it is that you can toss all the ingredients in all at once and when you are ready, you can press the appropriate button, according to what you are making. If you are looking for something that will cook food quickly, while still preserving flavor and keeping nutrients locked in than an electric pressure cooker is a great investment for you and your family.
Variety. So many electric pressure cookers these days have an amazing array of modes. From soups and stews to even yogurts and cakes, you can find one that is suitable to the type of food that you are primarily looking to cook.
Frequently Asked Questions
What is an electric pressure cooker and how does it work?
Electric pressure cookers work primarily by using steam to cook foods. By trapping the steam inside the pot, it forces the food inside to cook much faster than when cooking in a traditional manner. They have typically sealed pots with valves that can control the pressure of the steam that is inside of the pot. The high pressure of the water/wet ingredients that are in the pot can get upwards of 215 + degrees Fahrenheit. This heat forces the steam into the food, making it cook faster, and tenderizing items like meats in a quick manner. You can cook almost about anything in an electric pressure cooker.
Do electric pressure cookers use a lot of electricity?
No, electric pressure cookers do not use a lot of electricity. By and far, electric pressure cookers most definitely are one of the more energy-efficient appliances that you can have in your kitchen. A good example is if you wanted to cook a pot roast. Normally you would have to first brown your meat, and then turn your oven on and cook it for a few more hours. Whereas with an electric pressure cooker, you are able to cook that same pot roast in a little over an hour without having to brown it first. Another great example is if you want to cook stew, for instance. First, you would typically brown your meat on your stovetop, and then boil your vegetables, and the list goes on. With an electric pressure cooker, you are able to just "set it and forget it." Everything is made all in one pot and is ready to go in less time than it would take doing all those other unnecessary steps.
Are electric pressure cookers and Instant Pots the same thing?
The Instant Pot is a company that produces a line of various different multi-function electric pressure cookers.
What size electric pressure cooker do I need?
This all depends on the number of people that you plan on cooking for. If you have a large family, or if you host company over often for dinner, you may want to go with a larger size electric pressure cooker. If you are cooking for just yourself or a small family, a 6-quart pressure cooker would probably do the trick for you. However, if you typically like to cook large meals, an 8 or 10-quart cooker would be a better bet for you.
Other Electric Pressure Cookers We Reviewed
We looked at 20 other electric pressure cookers. Even though they didn't make our 5 best electric pressure cookers list, they are still the best of the rest and each is still a great option. The information you'll need to compare each one is included with the listing.
6 Quart Electric Pressure Cookers
Crock-Pot 6-Quart 8-in-1 Express Crock
From the beloved brand, this multi-function pressure cooker is perfect for creating delicious meals for your family. It features 8 one-touch digital settings.
Key Features:
Non-stick dishwasher safe inner pot
Serving spoon, steaming rack and recipe book included
Features dessert option
Cost: $45
GeekChef Multi-Use Programmable Electric Pressure Cooker
This pressure features 12 smart functions. It also features a pasta setting.
Key Features:
Sous vide function
Comes with a variety of accessories
Visible glass lid
Cost: $62.00
Gourmia 6 Qt Multi-Mode SmartPot Pressure Cooker
Featuring "speedsense" technology, it cooks food rapidly. It also has a poultry setting to cook your favorite bird in.
Key Features:
Programmable 24-hour delay timer
Lid-lock safety system
Automatic regulating thermostat
Cost: $50
Presto 6-Quart Electric Pressure Cooker
This electric pressure cooker makes automatic, fast and easy meals and tenderizes even the toughest meats.
Key Features:
Has a dessert function
Removable non-stick pot
Has 8 built-in safety features
Cost: $60
Yaufey Electric Pressure Cooker
This amazing electric pressure cooker has microprocessors that monitor temperature, pressure and more. Easy to clean.
Key Features:
Has baking function
Feeds 4-6 people
Customizable programs
8-Quart Electric Pressure Cookers
COSORI 8-in-1 Electric Pressure Cooker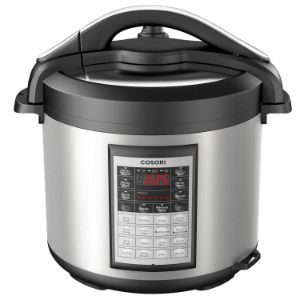 This electric pressure cooker features 17 smart programs and uses advanced steam technology to cook food.
Key Features:
Custom cooking times
Tempered glass lid for slow cooking
Feeds 6+ people
Cost: $100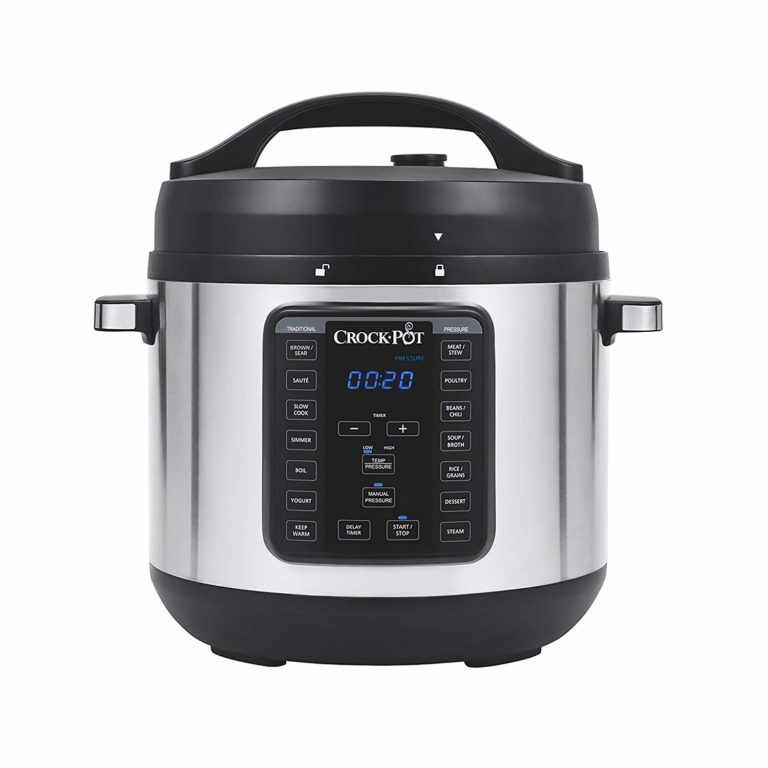 This pressure cooker is a powerhouse that will feed 10 or more people. It features a non-stick cooking pot.
Key Features:
Accessories include steaming rack, recipe book and serving spoon
Has manual pressure function
Dishwasher safe inner pot
Cost: $84
GoWISE 12-in-1 Electric Pressure Cooker
The inner pot of this pressure cooker is aluminum alloy with ceramic coating. You can even make cheesecake in this pressure cooker!
Key Features:
Detachable cord for easy storage
Built-in spoon holder
12 preset functions
Cost: $80
Simfonio Electric Pressure Cooker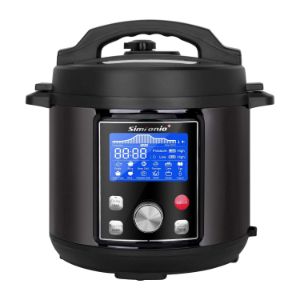 This electric pressure cooker features a large LCD panel to allow you to accurately see your choices. Accessories that are included are a measuring cup, cooking mitts, a steamer, an extra gasket, rice paddle, and recipe book.
Key Features:
Extra-wide steam release handle
10 safety protections
Very simple to use
Cost: $115
TaoTronics Electric Pressure Cooker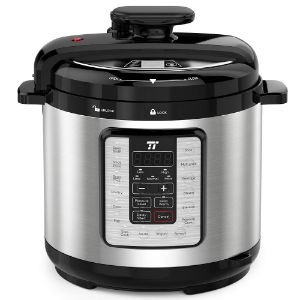 This multi-cooker features a whopping 16 preset programs. It comes with many accessories.
Key Features:
Easy to clean
Rubber seal lid
24-hour delayed start function
Electric Pressure Cookers with Yogurt Function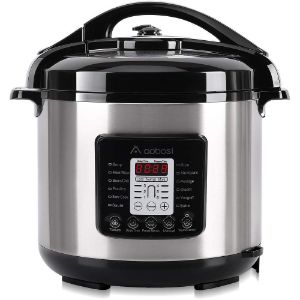 With twelve different functions, in addition to a yogurt maker, this is a very versatile pressure cooker. It has 6 adjustable pressure levels.
Key Features:
Reheat function
Dishwasher-safe removable lid
Accessories include an extra sealing ring, cookbook, measuring cup, rice spoon, ladle and steamer rack
Cost: $70
Dezin Electric Pressure Cooker
This pressure cooker features a sleek and elegant design to fit in with your kitchen aesthetic. You can make a plethora of food items including yogurt and even cake.
Key Features:
15 smart programs
Made of sturdy stainless steel
Portable handle design
Cost: $50
GoWISE 4th-Generation Electric Pressure Cooker
This cooker features 12 different functions including a porridge and yogurt function. You can also make pies in this electric pressure cooker.
Key Features:
Includes stainless steel rack, steaming basket, rice spoon and measuring cup
Secure pressure release
Slow cooker option
Cost: $47
LIVINGBasics Electric Pressure Cooker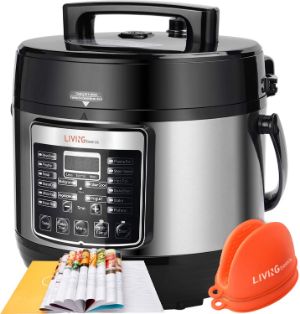 This pressure cooker features a 4th-generation microprocessor that monitors pressure, and it also has a baking function.
Key Features:
Can even steam potatoes
The lid is comfortable for both right and left-handed users
Brushed stainless steel exterior
Cost: $70
Mockins 8-in-1 Electric Pressure Cooker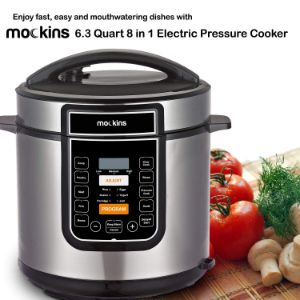 Featuring 16 different smart programs, this pressure cooker takes the place of 8 different kitchen appliances. In addition to yogurt, you can even make jam in this handy appliance!
Key Features:
Sturdy construction
Can cook almost anything
Has pressure regulator
Miniature Electric Pressure Cookers
Chefman 2.5-Quart Electric Multicooker
This is the perfect size cooker for feeding 2-3 people at a time. Beef and poultry are both a breeze to prepare with this small but mighty workhorse.
Key Features:
Easy to carry handle
Nonstick inner cooking pot
9 programmable features
Cost: $90
COSORI 2.1-Quart 7-in-1 Electric Pressure Cooker
This mini electric pressure cooker features a unique pressure release button. The small compact size is perfect for making meals for 1-2 people.
Key Features:
The small size makes travel easy
14 delicious dinners at the touch of a button
Easy to clean
Cost: $70
CrockPot 4-Quart MultiUse Mini Express Crock
The mini cooker features all the programs of a larger electric pressure cooker. Accessories include a steaming rack, recipe book, and serving spoon.
Key Features:
Manual pressure function
Nonstick cooking pot
Can feed 4+ people
Cost: $58
New House Kitchen Electric 9-in-1 Programmable Multifunctional Cooker
This little workhorse has a 2.5-quart capacity and nine programmable functions for making everything from rice to soup.
Key Features: 
9 functions: pressure cooking, steaming, sauteeing, browning, slow cooking, and more
Delay timer can be set up to 24 hours in advance
Intuitive one-button functions
Cost: $50
InstantPot Ultra 3-Quart Electric Pressure Cooker
This 3-quart InstantPot is perfect for a small gathering. It features the latest 3rd-generation technology.
Key Features:
Emits no steam
Automatic altitude adjustment
Visual progress bar
Cost: $100