No craft supply is complete without a pair of craft scissors. The right craft scissors will have you cutting fabric, thread, wire, paper, and all kinds of other crafting materials with ease.
Our crafting expert selected the LIVINGO Premium Tailor Scissors as their top pick after reviewing dozens of craft scissors for different projects and materials. The 9.5-inch titanium-coated blades allow these scissors to cut through a wide variety of crafting materials, from heavy cardstock for a pebble art frame to craft wire for a DIY ribbon wreath.
In addition to a pair of craft scissors, consider adding a top-rated hot glue gun to your craft supplies.
Our Crafting Expert's Top 5 Craft Scissors
Here are the top picks from our crafting expert. Compare the ratings and features of different models.
*Ratings are on a scale of 1 to 5 and scored by our expert
Research Tips (from a Crafting Expert)
Craft scissors are a necessity for craft projects, but our crafting expert is often asked about the many types of craft scissors and how their differences can affect crafts. Here are some tips from them for finding the right craft scissors for your project. It's a good idea to conduct some research and spend time comparing different craft scissors before buying your final picks.
Match the blade to your materials – Some craft scissors are designed for fabrics, while others are designed for heavy-duty materials, like wires and thin wood crafting supplies. The blade length and material is the most important thing to look for. Thick, durable blades are best for working with robust materials. But you'll want shorter, thinner blades if you're looking to cut intricate details or delicate fabrics.1
Make sure it's comfortable – One of the first things our crafting expert looks for in craft scissors is the handle design. Look for scissors with ergonomic handles, meaning that they're shaped in a way that lets you grip them naturally to reduce discomfort.2 Scissors should also have silicone or rubber handles to give you a reliable grip while increasing comfort.
Consider non-stick coating – If you're going to be working with glue, tape, or other sticky adhesives, you might want a pair of craft scissors coated in a non-stick material. Usually, this is Teflon.3 The coating allows you to keep cutting without your sticky materials getting in the way.
How Much Do They Cost?
Between $8 and $20.
Because craft scissors come in several different styles, depending on the materials they're designed to work with, you'll find them at an array of price points. On average, you can expect to pay between $8 and $20 for a long-lasting and efficient pair of craft scissors. The materials used to make the scissor blades and handles are the most common culprits of higher prices, but these materials – like titanium and stainless steel – also create more durable scissors.4
Our Methodology: Why Trust Moon and Back
Our craft expert has many years of crafting experience. In addition to their expertise, they also spoke with other crafters to gather their ideas on what's important to them when selecting craft scissors to use for projects. Our expert personally tested their top picks and other pairs of craft scissors to find the best of the best based on durability, ease-of-use, and their ability to live up to their target purpose. Their final five picks are ones they'd personally recommend to crafters, from beginners to experts.
The Best Craft Scissors: Full Reviews
The
LIVINGO Premium Tailor Scissors
are easily one of the best pairs of scissors our craft expert says they have ever laid their hands on. First taking them out of the package, they already impressed by the quality of the titanium-coated blades. They quickly tested them out on a stack of six heavy cardstock pages, which could be cut through with ease. With the 4-inch cutting length, these scissors are excellent for snipping long materials.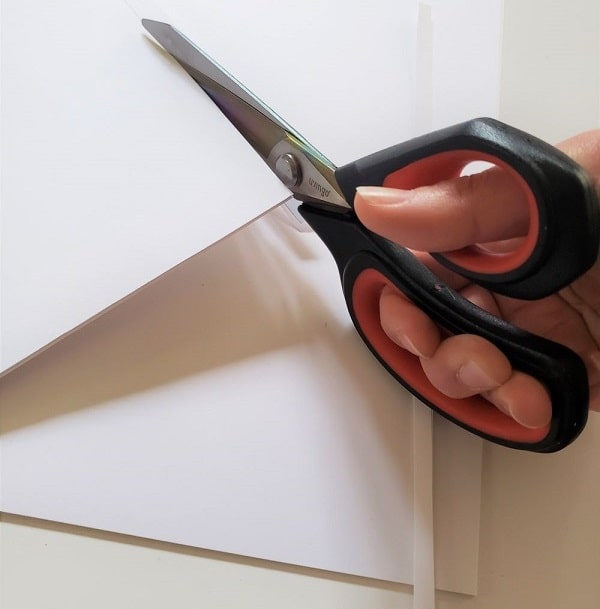 Another great feature of these scissors is the comfortable handle, which makes it easy to hold for prolonged periods of time without making your hands feel fatigued. The red area is non-slip, so the handle stays in place as you use the scissors while cushioning your fingers.
Pros
Made for fabrics, but super versatile for different materials
Ergonomic handle and comfort grip
Durable stainless steel blades with titanium coating
Cons
The grip may become worn down after consistent use
Not the best for delicate fabrics
The
Wescott Straight Titanium Bonded Craft Scissors
are just under $6, making them an affordable addition to your crafting supply kit. These are smaller than other craft scissors, making them ideal for kids, small hands, or small projects. Still, their size doesn't correlate to their ability to get the job done.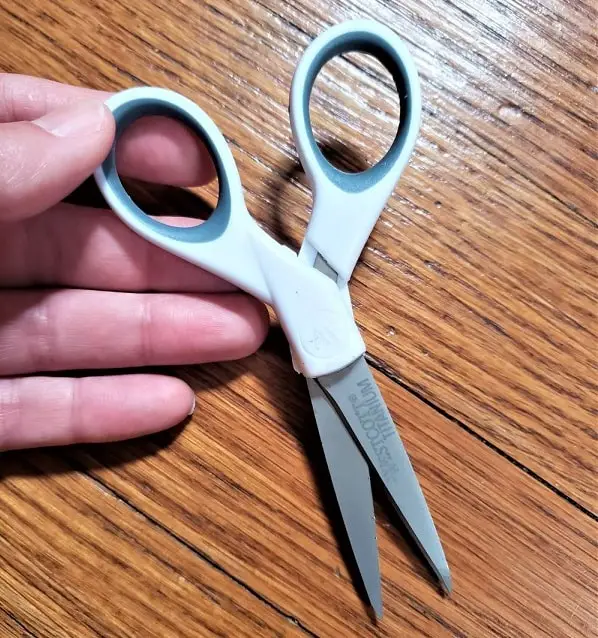 These scissors have super strong and sharp titanium blades. The blades come to a small, sharp point, allowing you to cut pretty intricate details along fabric, paper, etc. Our craft expert really loves this pair of scissors for cutting delicate fabrics, thread, and other sewing materials, but they also come in handy for cutting detailed scrapbook materials.
Pros
Lightweight
Precision tip is perfect for detailed projects
Comfort grip handles
Ideal size for small hands
Limited lifetime warranty
Cons
May not work with large hands and fingers
Blades sometimes stick when cutting
The
Fiskars Original Orange Handled Scissors
are probably one of the most well-known and recognizable scissors on the block. The Fiskars Original Orange Handled Scissors are just as incredible as they've always been, especially when it comes to cutting fabric. They work really well with felt, but they smoothly slice through thin and thick fabrics alike.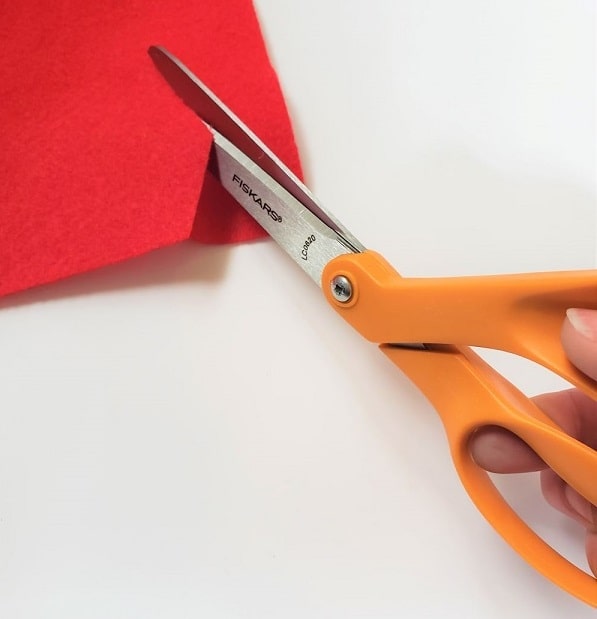 The orange handle on these scissors is like no other pair of scissors you'll use. The shape is unique to Fiskars, with its tell-tale slopes and curves designed to cradle your fingers naturally. It's one of the reasons why these scissors don't require a padded non-slip grip; their shape naturally keeps your hands stable and comfortable.
Pros
One of the most comfortable ergonomic handles to hold
Stainless steel blades
Smooth and consistent cutting with a variety of fabrics
Cons
May dull easily when used with non-fabric materials
Not the best fit for left-handers
The
UCEC Decorative Paper Edge Scissor Set
is one of the best you'll find for scrapbooking and paper crafts that require decorative edges. The set includes six scissors, each with a unique edging pattern, from smooth waves to zig-zags. Our craft expert gets a lot of use from this set when they make their own greeting cards (they cut right through heavy cardstock), but they have virtually endless capabilities.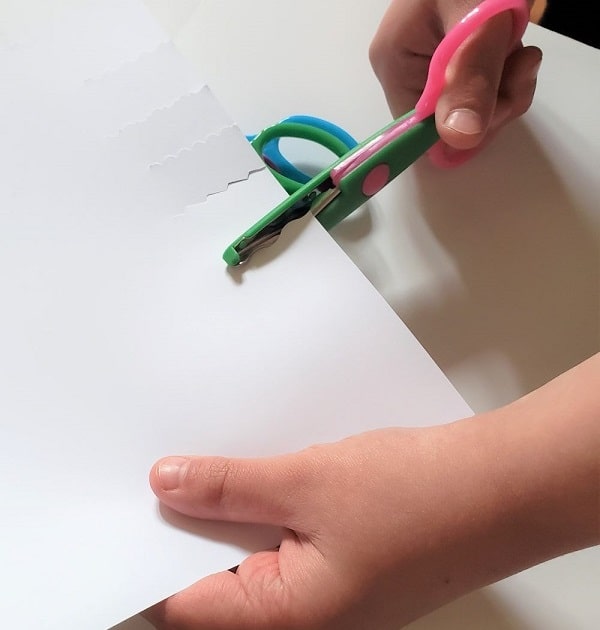 As you can see from the photo, they're sized well for little hands! The handles are soft, comfortable, and fully coated, so there's no risk of accidental slips or pinches.
Pros
Comes in a convenient carrying case
Small enough for kid-sized hands
Cut smoothly through just about any kind of paper
Cons
Can be difficult to see the blades when cutting
Although the
SINGER ProSeries Detail Scissors
are designed for sewing projects, you can get a lot of use out of them for other things, too. But you'll definitely want to stash them in your sewing kit if you have one. The small, pointed blades are helpful for snipping thread and making small, precise cuts in fabric.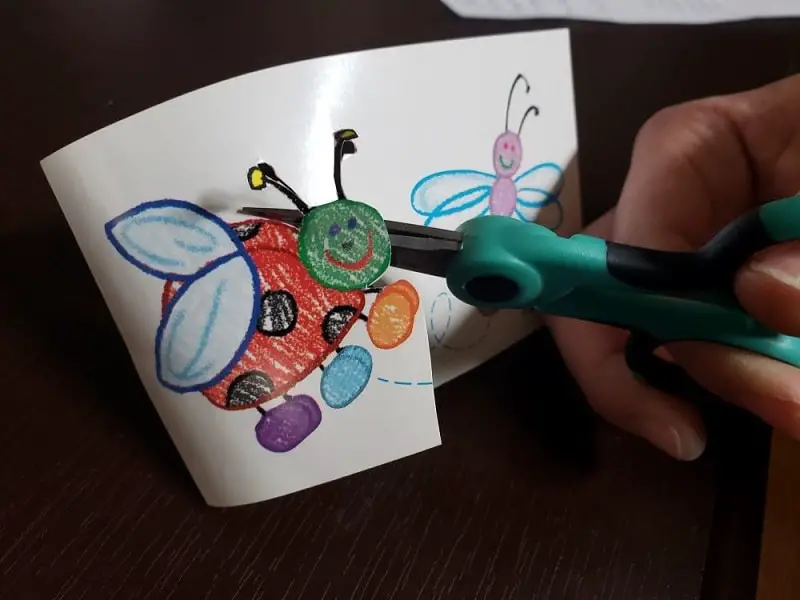 They're handy for working on intricate craft projects, like jewelry, paper crafts, and scrapbook pages. These scissors have a precision pointed tip that gets in all the nooks and crannies you need to navigate in more detailed projects.
Pros
Comfort, gripping handle
Works well for left or right-handers
Super pointed tip for precise detailing
Cons
May not be comfortable for large hands
Not designed for thick fabrics
What are craft scissors used for?
Craft scissors are used to cut common materials used in crafting, like fabric, paper, felt, and foam. Some craft scissors are more versatile than others, allowing them to also work for common household needs, like cutting through packaging.
What are the different types of craft scissors?
Craft scissors come in a wide range of styles, each designed for different purposes. Some of the more common types of craft scissors include those for fabrics, decorative edges, embroidery, small details, and sewing. Some are also general crafting scissors designed to work for multiple types of craft projects.
What are the scissors called that cut designs?
These scissors are called decorative edge scissors. There are several kinds of decorative edge scissors that you might see different names for. For example, scallop edge scissors create wavy designs, while pinking scissors create a zig-zag shape.
How do you use decorative scissors?
Decorative edge scissors can require a bit of practice to get the hang of. It can be challenging to continue a pattern along the full length of a paper's edge. To do this, try not to cut in one continuous line like you would with regular scissors. Instead, after each cut, line up the blade with the last piece you cut to ensure that the pattern continues.