Most parents are looking for ways to get their kids to step away from the screens and enjoy some fresh air. A backyard swingset encourages outdoor play and can be used by your children for a large chunk of the year. It's an excellent way to get your child to play outdoors when you don't have time to go to the park or your local play facilities are sub par. Choose the right backyard swingset and your kids will use it for years to come.
We reviewed dozens of backyard swingsets to identify the best of the best. We considered a range of features, including frame material, swing type, any other play equipment attached, durability, cost, and reviews from real buyers.
The Backyard Discovery Mount McKinley Swing Set stood out as our top pick. This is a rugged swingset with a fort, climbing wall, and several other fun features in addition to standard swings.
The 5 Top-Rated Backyard Swingsets
*Ratings are from Amazon at the time of publication and can change
Our Top Pick: Backyard Discovery Mount McKinley Swing Set
Looking for a swingset that offers more than just a swing or two? In addition to two standard belt swings and a trapeze bar, the Backyard Discovery Mount McKinley Swing Set has a climbing wall, rope ladder, slide, and raised clubhouse complete with a telescope and steering wheel. It will keep kids entertained for hours, on the equipment itself and with imaginative play.
The cedar wood construction is extremely sturdy, plus it's held together with heavy-duty metal brackets and Safe-T-Fuse locking nuts, which resist loosening over time so you won't end up with a wobbly or dangerous swingset. Cedar is naturally weather resistant and while it may discolor as time passes, it won't mold or rot. The main downside to this swingset is that it's fairly tricky to assemble. Even if you know what you're doing, you'll need a couple of extra pairs of hands. If you struggle with simple flat pack furniture, you'll probably want to pay for an expert to assemble it.
Assembly issues aside, this is an excellent swingset with so much to keep kids busy. The $700 price tag is high, but still offers value for money.
Backyard Discovery Mount McKinley Swing Set Key Features: 
Wave slide has high side rails for safety.
Space to fit a sandbox below the clubhouse area.
Meets all ASTM safety standards.
Our Runner Up Pick: Swing-N-Slide Ranger Wooden Swing Set
While our top pick has a lot to offer, sometimes all you want from a backyard swingset is swings. The Swing-N-Slide Ranger Wooden Swing Set is a solid wooden swing set featuring two belt swings and a trapeze bar. Perfect if you want to keep it simple or you already have other play equipment in your yard. The basic design means that it's easy to assemble, too. The chains on each swing are coated with a flexible plastic material to help prevent pinched fingers without infringing on performance.
The classic A-frame design means that it's fairly easy to switch out swings if desired. For instance, you might buy a bucket swing for a toddler to use and switch it for one of the existing swings, then you can switch back to the old belt swing as your child gets older. The set costs $215, which is a good price for such a durable wooden swingset.
Swing-N-Slide Ranger Wooden Swing Set Key Features: 
Each swing can safely support up to 115 pounds.
Chains are height adjustable so the swings can grow with your children.
Uses rugged metal brackets.
Best Budget Pick: Movement God Metal A-Frame Two Seat Swing Set
Not everyone has a huge sum of money to spend on a swingset, but that doesn't mean your kids have to miss out. You can buy the Movement God Metal A-Frame Two Seat Swing Set for just $130, which is ideal for budget-conscious buyers. It might be basic, with just two standard swings, but it does its job and features safe, strong steel pole construction. This backyard swingset is easy to assemble and completely freestanding. Just anchor it into the ground with pegs; no need for concrete.
The powder-coated steel frame is weather resistant. It won't rust, nor will it rot or decay like some wooden swingsets can. Due to the 100-pound per swing weight limit and fairly small swing seats, it's best suited to children between the ages of 3 and 8, though it's perfectly safe for anyone of 100 pounds or less to use.
Movement God Metal A-Frame Two Seat Swing Set Key Features: 
UV-resistant design means it won't fade or weaken with extended exposure to sunlight.
Easy to assemble.
No splinters or rough edges.
Best Metal Backyard Swingset: Lifetime Heavy Duty A-Frame Metal Swing Set
Looking for a truly rugged playground quality swingset for backyard use? The Lifetime Heavy Duty A-Frame Metal Swing Set might be what you've been searching for. Some cheap metal swingsets can feel a little flimsy, but this one is incredibly solid. It's made from high strength low alloy steel with a waterproof powder-coated finish to prevent rust. All plastic parts are UV-resistant so they won't become brittle or lose their color over time. You can choose between either a primary color finish or a more subtle earth-tone finish.
The swingset itself is a simple A-frame setup with two belt swings and one trapeze bar. There's a soft rubber coating over the chains to stop little fingers from getting pinched. The steel pole design is fairly easy to assemble and there's no cementing or anchoring required. This backyard swingset costs $550, which is fairly pricey for the basic setup, but the overall quality makes it worth the money.
Lifetime Heavy Duty A-Frame Metal Swing Set Key Features: 
Doesn't crack, fade, warp, peel, or rot.
No cementing required; just set it up and it's ready to use.
Passes playground safety and performance tests.
Best Backyard Swingset for Young Kids: Little Tikes Clubhouse Swing Set
If you're buying a swingset with little ones in mind, the Little Tikes Clubhouse Swing Set is a fantastic choice. Alongside two swings, it has a slide and a clubhouse area. Everything is the right size and height to suit preschoolers. Of course, this means that kids can grow out of this swing set quickly, so it's a better buy if you're planning to have more children or you have someone else you can pass it onto once your child gets too big for it.
The sturdy plastic construction is safe and durable, plus it's extremely easy to put together. It can safely fit up to four children on it at a time, so it's great for play dates or families with several young kids.  It retails at roughly $425.
Little Tikes Clubhouse Swing Set Key Features: 
Maximum weight limit of 60 pounds per child.
Anchoring kit included.
Two ways to climb up to the clubhouse.
Who Should Buy a Backyard Swingset
Anyone who has children of preschool or elementary school age might consider buying a backyard swingset. Rather than heading to the park every time your child wants to play on the swings, you don't even have to leave the safety of your backyard.
If you're at all concerned about the amount of time your children spend sitting down or in front of screens, a backyard swingset may encourage them to play outside more often. If you want to give them even more motivation, why not try The Best Drones For Kids.
Important Features to Consider
A backyard swingset should have a few important features. Here's what to consider when selecting a a swingset for your backyard:
Number of swings. The majority of swingsets we looked at during our research featured between one and three swings, but you can also find larger swingsets, which are ideal for big families. We'd generally recommend a swingset with at least two swings so your child can play with a friend.
Types of swings. Belt swings are the most common types of swings on backyard swingsets but aren't the only option out there. Bucket swings are popular on swingsets designed for toddlers, since they're safe for young children who can't yet safely balance on belt swings. There are also large saucer and bench swings that can accommodate two or more kids at once.
Frame material. Most backyard swingsets have either wooden or metal frames, but you can find a handful of models made for young kids with plastic frames. Wooden frames are rugged and strong, but can rot or mold over time depending on the wood type and whether you regularly treat it. Metal frames can be extremely strong but cheap metal swingsets often feel flimsy.
Anchoring. You can find completely freestanding swingsets must most must either be anchored to the ground with pegs or cemented into holes in the ground.
Coated chains. Children can quite easily pinch their fingers in the chains that attach swings to frames, but a rubber or plastic coating on the chains prevents this from happening.
Frequently Asked Questions
What do you put under a backyard playset?
A simple swingset doesn't necessarily need anything underneath it if positioned on grass but a larger playset, particularly one with a climbing element, should have either bark or rubber chippings on the ground around it to break the fall of any child who falls off it.
How long do wood swingsets last?
This depends on the wood and whether you maintain it properly. With annual staining or treating, a cedar or pressure treated pine swingset can last for 20 years or more. Swingsets made from soft woods, such as redwood, start to become prone to rotting after around 5 years.
How do I choose a playset?
When choosing a playset, you need to consider the age and interests of your children. A small toddler swingset might be fine for a 4-year-old but would be completely inappropriate for an 8-year-old. Some playsets are themed, which can help you decide. If your child is obsessed with pirates, for instance, she's probably love a swingset with a crow's nest and telescope. Do metal swingsets rust?
Do metal swingsets rust?
Metal swingsets absolutely can rust, but most contemporary options are powder-coated to prevent rust. In the past, metal swingsets were usually painted for rust-resistance, but paint flakes off over time allowing rust to set it. Powder-coating is a far more effective method for coating metal and keeping rust at bay.
Other Backyard Swingsets We Reviewed
We looked at 20 other backyard swingsets. Even though they didn't make our 5 best backyard swingsets list, they're the best of the rest and each is still a great option. The information you'll need to compare each one is included with the listing.
Backyard Swingsets for Young Kids
An inexpensive choice for little kids, featuring just one swing with safety seat to prevent toddlers and babies from falling off.
Key Features: 
Easy to assemble
Anti-slip design
Soft ropes hold swing in place
Cost: $70
Costzon Toddler Climber and Swing Set
A larger option from the same manufacturer as above, featuring a swing, slide, and basketball hoop. The plastic construction is lightweight yet durable.
Key Features:
Suitable for kids from 1 month to 6 years
Safety swing prevents falls
Slide slopes gently
Cost: $220
PlayEasy Climber and Swing Set
This cute mint green toddler swingset consists of a swing with safety harness, a slide, and a basketball hoop.
Key Features:
Suitable for backyard or indoor use
Maximum weight limit of 60 pounds
Easy to assemble
Sportspower My First Toddler Swing
Looking for a simple A-frame toddler swing? This is an ideal option for children between 9 and 36 months of age.
Key Features: 
Strong powder-coated steel frame
Meets ASTM safety standards
Folds down for storage or transportation
Cost: $35
Step2 Naturally Playful Adventure Lodge Swing Set
With two stories of fun for your little ones, you can't beat this swingset if you're looking for something large to keep kids occupied for hours.
Key Features: 
Sports two belt swings, a two-story playhouse, a slide, and a rope ladder
Suitable for children up to 75 pounds
Ground anchors included
Wooden Backyard Swingsets
Backyard Discovery Skyfort II Swing Set
Bring the fun of the play park to your own backyard with this extensive swingset. It has a range of fun features, including a climbing wall, monkey bars, and large clubhouse.
Key Features: 
Includes elevated crow's nest with telescope
Two belt swings and glider swing
Picnic table in lower clubhouse
Cost: $1,600
Backyard Discovery Somerset Swing Set
A smaller alternative to the Skyfort that's better suited to slightly younger kids. It has two belt swings and a trapeze bar, along with a slide and other excellent facilities.
Key Features: 
8-foot wave slide
Serving window in the clubhouse promote imaginative play
Climbing wall and standard ladder
Cost: $600
Creative Playthings Eastport Swing Set
Want a wooden playset that's made in the USA? The Eastport from Creative Playthings is an excellent option. It's crafted from USA-grown pine, too.
Key Features: 
Features two belt swings and a trapeze bar
Also sports a slide, climbing wall, and clubhouse
Meets all ASTM standards
Cost: $1,000
KidKraft Brooksville Cedar Wood Swing Set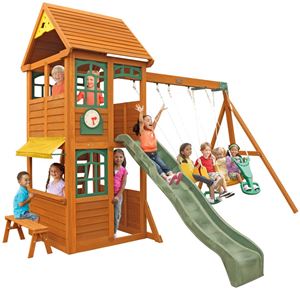 This solid wooden playset offers wings and much more, holding a maximum of 10 children up to 110 pounds each.
Key Features: 
Two belt swings and a glider swing
Spacious two-level playhouse with plastic slide
Easy to assemble compared to other similar options
Cost: $1,100
KidKraft McKinley Cedar Wood Swing Set
A very similar option to the above, except it features a trapeze bar instead of a glider swing, which is great for kids two like hanging from things.
Key Features: 
Clubhouse it set up for imaginative play
Kitchenette with stove and more in the lower clubhouse
Plastic slide has high rails for safety
Cost: $1,000
Swing-N-Slide Grandview Twist Play Set
This is a beast of a playset with an open slide, a tube slide, and lots more, in addition to its swing offerings of two belt swings and a glider swing.
Key Features: 
Also has monkey bars, a climbing wall, and a clubhouse
Durable wooden roof on the clubhouse
Dipped chains to avoid pinching
Metal Backyard Swingsets
Backyard Discovery Big Brutus Metal Swing Set
Get back to basics with this simple A-frame metal swingset, but rest assured that it's extremely strong and stable.
Key Features: 
Has two belt swings and a trapeze bar
Made from powder-coated steel
Only requires basic anchoring
Cost: $490
IRONKIDS Challenge 100 Metal Swing Set
We love the addition of a two-person glider swing alongside a standard belt swing, plus there's a single monkey bar and an A-frame ladder for climbing.
Key Features:
Includes UV-protective sunshade
Strong and sturdy design
Recommended for kids 3 to 8
Cost: $180
IRONKIDS Premier 100 Fitness Playground
Another option from IRONKIDS. This one includes two bucket swings, a monkey bar, a slide, and a small trampoline.
Key Features: 
UV shade protects kids from sun while playing
Lifetime warranty on the support frame
Ground stakes included
Cost: $260
This fun saucer swing set can hold several kids (and adults) up to a total of 200 pounds. It comes with a strong, stable metal frame.
Key Features: 
Swings 360 degrees
Height adjustable
Swing is foam-padded for comfort
Cost: $150
KLB Sport A-Frame Metal Swing Set
It isn't the most durable metal swing set out there, but it offers a glider, two belt swings, and a small slide at an affordable price.
Key Features: 
Anti-pinch chains
Freestanding design
Suitable for kids aged 3 to 8
Cost: $220
Movement God Kids Outdoor A-Frame Swing Set
If you have just one child of swinging age, this simple single-seat swingset is a decent option that won't upset your bank balance.
Key Features: 
Can hold kids up to 110 pounds
Easy to assemble
Wide base helps with stability
Cost: $80
This 40-inch saucer swing comes on a stable metal frame. It's large enough for two to three kids or a child and an adult, up to a maximum of 220 pounds.
Key Features: 
Made with UV-resistant materials
Powder-coated steel frame
Simple assembly
Cost: $110
XDP Recreation Blue Ridge Swing Set
Kids of roughly 3 to 8 years will have loads of fun on this seat featuring two standard swings, a glider swing, a hanging bar, and a swing.
Key Features:
100 pound capacity per user
Anti-pinch chain covers
Legs have foam padding for safety
Cost: $150
XDP Recreation Deerfield Kids Swing Set
If you have a large garden and several children, this is an incredible choice. It features a standard swing, glider swing, saucer swing, stand and swing, and trapeze bar, plus a slide and a see-saw.
Key Features: 
Fits up to 10 children at once
Safe-touch chains
Powder-coated finish
Cost: $320