The stinging pain of saltwater or highly-chlorinated swimming pool water in your eye is a feeling we all would rather not experience. Though your summertime childhood memories may be scarred by that burning sensation, the kind that's making you wince as you think about it now, there's no reason you or your children ever need to experience it again. Swimming goggles are more effective and affordable than they have ever been before, and they're an important part of a fun day in the water.
After reviewing dozens of swim goggles we have identified the best for you and your children. To find the best, we considered factors such as eye gasket comfort, strap security, and ease of use, particularly in the children's models. Using the information we gathered we have chosen our top picks and compiled a detailed rundown of many more great swim goggles.
We have chosen the TOPLUS Triathlon Goggles as our overall top pick. They're the best all-around swimming goggles we've seen. Comfort, protection, and utility are all accounted for, and users have unanimously praised these goggles for their extraordinary performance.
The 5 Top-Rated Swim Goggles
*Ratings are from Amazon at the time of publication and can change
Best Swim Goggles Overall: TOPLUS Triathlon Goggles
The TOPLUS Triathlon Goggles are the most well-rounded swim goggles for adults and older children on the market today. Utilizing soft, leakproof silicone eye gaskets, and a flexible nose bridge piece, these goggles feel comfortable and secure. The double-banded strap has plenty of grip and spreads out the tension so that no part should ever feel too tight, and the adjustable buckles are easy to manipulate.
Each of the lenses is coated with an environmentally-friendly, and skin safe anti-fog treatment, and they are mirrored to reduce glare as bright light bounces off of the water's surface. As a result, the lenses have a tinted effect that slightly darkens vision, but the reduction in fog and glare ensures stellar clarity.
These goggles have a flexible frame that contours to all face shapes and should never leave a mark on the skin. A nose clip and set of swimming earplugs have been included with the goggles, as has a hard plastic storage case. Dollar for dollar, there is no better pair of swim goggles on the market.
TOPLUS Triathlon Goggles Key Features:
Anti-fog Environmental Treatment Technology
Soft silicone eye gasket and nose piece
Hard storage case included
Nose clip and earplugs included
Best Kids Swimming Goggles: TOPLUS Kids Swimming Goggles
TOPLUS Kids Swimming Googles
Easy to use and comfortable to wear, the TOPLUS Kids Swimming Goggles are fan favorites for their user-friendly and fun design.
They've done it again! The TOPLUS Kids Swimming Goggles utilize the same advanced lens technology in our top overall pick and scaled them down into a more kid-friendly package. These bright and fun swim goggles have been made more comfortable and easier to adjust so that children can keep their focus on having a good time in the water.
The lenses have a safe anti-fog coating, and they also protect young eyes from harmful UV rays. They are encased in ultra-soft silicone gaskets that gently surround the eyes and prevent any water from getting into where it doesn't belong. Additionally, the included nose clip and swimming earplugs also help to keep the water out. A fun car-shaped storage box comes with the goggles as well.
Designed specifically for kids, the elastic strap fits snug around the head and features a locking mechanism for each strap so that they won't loosen over time. The straps are easy to adjust, but you won't often have to worry yourself with them because of the convenient clasp that makes putting on and taking off the goggles a breeze.
TOPLUS Kids Swimming Googles Key Features:
Adjustable straps with locking clasp
Anti-fog Environmental Treatment Technology
For ages three to twelve
12-month warranty
Best Budget Swim Goggles: FMU Swimming Goggles
FMU Swimming Goggles
The FMU Swimming Goggles prove to be a great value because they have many of the features that make our other top picks great at a budget-friendly price.
It's difficult to choose the best budget pick when there are many awesome goggles at such low prices. The FMU Swimming Goggles stand out, though, because they combine the best aspects of our previously listed top picks to make a great goggle that's appropriate for all ages at a low price point. Look closely and you'll see exactly what we mean.
FMU's shatterproof polycarbonate lenses are coated with anti-fog and UV protecting qualities while providing a wide field of view with their wide lens design. These lenses are fit into double eye socket seals for enhanced leakproof protection, and they're mirrored to reduce glare.
The soft silicone straps take their design straight from the TOPLUS Kids Swimming Goggles playbook by coupling a locking mechanism for each strap with an easy to use clasp. You'll be able to effortlessly find the perfect tension for a properly snug fit and then never fiddle with the adjustments again as the clasp will be your quick and easy way to secure or remove the goggles when necessary.
FMU Swimming Goggles Key Features:
Shatterproof polycarbonate lenses
Double eye socket seals
Multiple color options
12-month warranty
Best Recreational Swim Goggles: SPLASH Swim Goggles
SPLASH Swim Goggles
Designed to never pull on hair and to fit adults and children alike, the SPLASH Swim Goggles are a pleasure to wear for the entire family.
SPLASH Swim Goggles are revolutionizing the design of traditional swimming goggles with their patent-pending fabric strap design. The stretchy and colorful fabric replaces the typical silicone straps to more securely wrap around a larger surface of the head, and it is guaranteed to never pull your hair. Users with young children applaud this product's design and many say that their children's swimming lessons have become much more enjoyable thanks to this product alone.
These swim goggles are incredibly easy to put on and take off, and the fabric tension is adjustable so that you can find the ideal fit for yourself or your child. This product utilizes soft silicone eye socket gaskets and is completely latex and PVC free for complete hypoallergenic comfort.
The polycarbonate lenses are shatter-resistant, leak-resistant, and are coated with an anti-fog agent. A hard plastic case is included with the goggles. Since this is a one-size-fits-all product, the entire family can synchronize their look for their next trip to the pool or beach.
SPLASH Swim Goggles Key Features:
Patent-pending no hair pull design
Latex and PVC free
One size fits kids and adults
Included hard plastic case
Best Competitive Swim Goggles: arena Cobra Ultra Swim Goggles
arena Cobra Ultra Swim Goggles
When durability, comfort, and performance are your top priorities, you'll find no better than the arena Cobra Ultra Swim Goggles.
Though our other top picks are all fantastic options for recreational use, the arena Cobra Ultra Swim Goggles are the goggles you want in order to maximize your performance and comfort while in a race or swimming timed laps. The fit and form are a step above what most people need, but if you need it, then you truly need it, and in that case, these are the swim goggles for you.
Featuring a unique Swipe anti-fog mirror lens, arena claims that the anti-fog functionality will last ten times longer on these goggles when compared to its competitors. That's because when the anti-fog coating fades, you can use a finger to swipe the lenses and reactive the anti-fog coating to breathe new life into it— this is a trick that simply cannot be done with traditional coatings.
In addition to that enhanced lens functionality, these goggles also have a low profile design to reduce drag. It's more form-fitting to the face, and more comfortable as a result. Three interchangeable nose bridges are included so that you can fit the one the best contours with your natural features. There is a wide range of colors to choose from, enabling you to stand out from the crowd with your own design on race day.
arena Cobra Ultra Swim Goggles Key Features:
Swipe anti-fog mirror lenses
Three adjustable nose bridges included
Adjustable dual head strap
Many color options
Who Should Buy Swim Goggles
If you swim at the gym or frequent the beach, you should buy swim goggles. If you're interested in picking up a watersport hobby like waterskiing, windsurfing, or surfing, you should buy swim goggles. If you're heading out on a vacation to a tropical resort where you'll spend your days soaking in the sun and snorkeling above the beautiful underwater reefs, you should buy swim goggles.
Those are reasons why you may want to purchase swim goggles for yourself, but maybe you're thinking of picking up a pair for someone else. Children of all ages will benefit from a pair of swimming goggles. Whether your child is learning how to swim, or they've joined the school polo team, or they just so happen to have friends who frequently invite them over for a swim in their pool, they'll certainly benefit from a new pair of goggles. Swim goggles will help protect their eyes and make their time in the water all the more fun.
Important Features to Consider
There are a few important considerations to think through before purchasing swim goggles.
Lens coatings. Most swim goggles will feature one or more protective coatings on their lenses. Anti-fog, anti-scratch, and UV protective coatings are the main ones you will see, but not all goggles include each type. You should never clean your goggles with soap or abrasive cloths because the lens coatings will be damaged. It's best to rinse them with cold water and let them air dry.
Lens shape. The lens shape determines the fit of the goggles and how well you can see through your peripheral vision. Inner-eye and outer-eye fitments determine whether the goggles will fit tightly around your eyes inside of the eye socket, or if the lenses will be wide and fit over your entire eye socket. Panoramic lenses wrap around the contours of your face to open up your peripheral vision and are often featured in competitive goggles.
Strap type. Straps are one of the most important aspects of swim goggles as they function to securely fit the goggles to your face, and good tension is required to prevent leaks. Some straps are easier to adjust than others, while some can lock into place better, and others do a better job of not pulling hair. Each style has its benefits and drawbacks.
Extras. While many goggles will advertise that they come with protective cases or additional earplugs, one of the best 'extras' some provide is differently-sized nose bridges. Interchangeable nose bridges enable you to find the ideal fit for your face. It's a little thing that can make a big difference in the comfort and fit of your goggles.
Frequently Asked Questions
What are swim goggles for?
Swim goggles are used while swimming to protect the eyes from harm and pain. These goggles can be used indoors or outdoors, at the pool or beach, and often feature vision aids such as mirrored or tinted lenses, anti-fog coatings, and UV protection. At a basic level, swim goggles protect the eyes from painful elements such as chlorine or saltwater, but they can protect your eyes from much more than that.
Are mirrored swim goggles better?
Mirrored swim goggles are better at reducing the glare created by bright lights or sunny skies reflecting off the surface of the water.
How long do swimming goggles last?
Adults may be able to keep their swimming goggles for decades, and some of the highest quality goggles back this up with lifetime warranties. Children's goggles, on the other hand, sometimes need to be replaced with larger sizes as the child grows up. Goggles can become damaged, and anti-fog coatings can wear away over time, but if treated well they can last for years without issue.
Is it okay to swim without goggles?
It is perfectly fine to swim without goggles, but you may be putting your eyes at risk of damage or infection. Children especially benefit from the protective nature of swim goggles. Not only will goggles prevent foreign objects from entering your eye, but the UV protection they provide is also a good reason to wear them.
Other Swim Goggles We Reviewed
We looked at 20 other swim goggles. Even though they didn't make our five best swim goggles list, they're the best of the rest and each is still a great option for a day at the pool or beach. The information you'll need to compare each one is included with the listing.
Kids Swim Goggles
FINIS Fruit Basket Swim Goggle
Choose your color, or scent, of choice! The FINIS Fruit Basket Swim Goggles come in an assortment of candy colors, and they smell like the fruit that they share their color scheme with. Apple, pineapple, and watermelon are just a few of the aromas to try.
Key Features:
Smells like fruit
Soft eye gaskets
For ages three to eight
Cost: $10
The Speedo Skoogles feature double elastic bands and a quick-adjust speed fit clip system that kids find comfortable and adults can adjust in a flash. The eye sockets are extra wide to fit most young faces. UV and anti-fog protection has been added to keep your kids safe while they swim.
Key Features:
Quick-adjust speed fit clips
UC and anti-fog protection
For ages four to six
Cost: $11
With a unique easy pull fit clasp, the Splaqua Kids Swim Goggles are a cinch for kids or adults to tighten. Multiple fun colors are available including teal, green, and blue and purple tie-dye patterns. The lenses have an anti-fog coating, and the eyes gaskets are soft silicone.
Key Features:
Easy pull fit
Multiple colors available
Anti-fog lenses
Cost: $10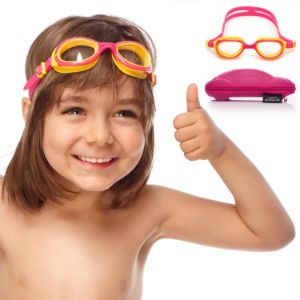 Gift your child a pair of swim goggles that double as a fun car toy with the SWIM ELITE Kids Goggles. The cute storage case is both practical and fun. The goggles themselves feature a soft silicone nose bridge and lenses that are impact-resistant, UV protecting, and anti-fog.
Key Features:
Soft silicone nose bridge
Impact-resistant lenses
Cute car-shaped carrying case
Cost: $15
The Yuenree Sparkle Swim Goggles are the perfect choice for the glamorous children in your life. The rhinestone sparkle and rainbow silicone will put a smile on everyone's lips. This package comes with three different nose bridge fittings for customized comfort.
Key Features:
Three different nose bridge fittings included
Hard and clear carrying case
13-month warranty
Cost: $12
Recreational Swim Goggles
Excellent 180-degree vision and extra soft double silicone seals are the highlights of the AqtivAqua Swim Goggles. They're extra wide lenses provide an unobstructed line of sight and contour nicely to the face. A one-click strap adjustment lock gives these goggles a truly anti-slip fit.
Key Features:
Wide polycarbonate anti-fog lenses
Stylish storage case included
12-month warranty
Cost: $20
The BALNEAIRE Swim Goggles are available in many fun color and design combinations that pair perfectly with the company's other swim products such as swim caps and bathing suits for a unified swimwear aesthetic. You can cover yourself in cute cats!
Key Features:
Multiple fun designs
Anti-fog coating
Shatterproof polycarbonate lenses
Cost: $25
The Friendly Swede swim goggles are designed to fit any adult face. Dual adjustable silicone straps can be used to dial in the correct fit, and three different interchangeable nose pieces are included to accommodate any nose shape. The black goggles have tinted lenses, while the white goggles remain crisp and clear.
Key Features:
Interchangeable nose pieces
Protective case included
Lifetime warranty
Cost: $20
UTOBEST Nearsighted Swim Goggles
If you're nearsighted, the UTOBEST Nearsighted Swim Goggles are your solution to clear vision at the pool. These are available in a -1.5 to -5.5 vision correction spectrum, providing the perfect solution for nearsighted folks who require glasses in their day to day lives. The lenses are also tinted and mirrored.
Key Features:
Myopia goggles
Tinted mirror lenses
Soft nose bridge
Cost: $15
View RX Optical Prescription Swim Goggles
The View RX Optical Prescription Swim Goggles take vision correction one step further by providing full prescription lens functionality for nearsighted and farsighted swimmers. When purchasing this product, you can also select to have each lens set at a different prescription strength if you need different adjustments for each of your eyes.
Key Features:
Nearsighted and farsighted goggles
Tinted lenses
Storage case
Cost: $30
ZABERT Pro Swim Goggles use a stronger-than-average anti-fog coating that will last longer than the lighter coatings used by other brands. Earplugs, additional nose clips, and a hard storage case are included with these goggles.
Key Features:
Buckled locking straps
Interchangeable nose bridge
12-month warranty
Cost: $11
Competitive Swim Goggles
Proswims Racing Swimming Goggles
The Proswims Racing Swimming Goggles use a unique, yet effective bungee cord strap that is easy to adjust. Its polycarbonate lenses are shatterproof, UV protecting, and coated with an anti-fog layer. A case, microfiber cloth, earplugs, and interchangeable nose clips are included.
Key Features:
Bungee cord strap
Case and microfiber cleaning cloth included
Lifetime warranty
Cost: $15
A top-tier competitive swim goggle, the Speedo Speed Socket 2 has mirrored lenses that reduce glare and wrap around the contours of your face for better peripheral vision. The panoramic design is made to remove all visual obstacles for your competition, and the low profile fit creates little resistance during high-speed races.
Key Features:
Mirrored lenses
Latex-free
Panoramic lenses for enhanced peripheral vision
Cost: $30
The Speedo Vanquisher 2 is a popular swim goggle in the realm of competitive swimming. They feature mirrored lenses for reduced glare and come with four different sized nose pieces so that competitors can find the perfect fit. Their classic, inner-eye fit is the most popular style worn by competitors today.
Key Features:
Wide range of color options
Four included interchangeable nose pieces
Mirrored lenses
Cost: $20
ZABERT R6 Competitive Swim Goggles
Featuring the elements we want to see in competitive goggles, the ZABERT R6 Competitive Swim Goggles are a well-rounded, affordable option. They come packaged with a nose clip and earplugs. The low profile design reduces drag during races, and the panoramic lenses provide great vision.
Key Features:
Low profile, panoramic design
Nose clip and earplugs included
12-month warranty
Cost: $12
Budget Swim Goggles
Budget-friendly, cute, and effective, the Careula Colorful Swim Goggles are a great deal. There is a rainbow of color combinations to choose from, and each pair of goggles comes with its very own clip-on car storage case. An easy-to-use clasp in the back of the strap makes it easy for kids to put these goggles on or take them off themselves.
Key Features:
Many color combinations to choose from
For ages three to twelve years old
12-month warranty
Cost: $17
Bargain priced swim goggles don't get any cheaper than the Elimoons Swim Goggles. This two-pack is packaged with additional nose clips and earplugs, making it an even better value. There is an array of goggles to choose from, and each features easy-to-use strap clasps that are fit with fit-locking systems so that you'll only ever have to adjust them once.
Key Features:
Mirrored and unmirrored lenses
Nose clips and earplugs included
12-month warranty
Cost: $13
OMERIL Kids 2 Pack Swim Goggles
As the least-expensive kids goggles on our list, the OMERIL Kids 2 Pack Swim Goggles are the best buy for parents who simply need to get their kids some swim goggles. They come with a storage case and are paired with a 12-month warranty. These goggles have lock-in buckles so they won't slip, and have anti-scratch lenses.
Key Features:
Anti-fog and anti-scratch
Case included
12-month warranty
Cost: $13
Coming from a reputable outdoor watersports brand like Speedo, you can be sure that the Speedo Jr Hydrospex are held to high standards. They're made from high-quality latex-free materials and have won the Women's Choice Award for most recommended swim goggles two years in a row.
Key Features:
Multiple color options
For ages six to fourteen
Latex-free
Cost: $10
Rounding out the pack of affordable, colorful children's goggles, the vetoky 2 Pack Swim Goggles feature buckle-locking straps, UV protection, anti-fog lenses, and come in several gummy-like hues that your children will love. Users have praised how well these goggles fit their toddlers and tweens.
Key Features:
Suited for three to twelves year olds
Ultra-soft silicone eye gaskets and nose bridge
12-month warranty
Cost: $14