Whether you're looking to upgrade, replace, or buy your first set of measuring cups, you won't want to do so blindly. A quality measuring cup will have you set for every recipe you know and the potential more difficult ones you're going to come across. But if you're stuck on what type best suits your kitchen and your needs, you may need to read on to make sure you're not overlooking something.
We reviewed dozens of measuring cups to identify the best of the best. We found the best measuring cups for dry ingredients and for wet ones. We looked at plastic measuring cups, at measuring cups-spoons as a set, and heavy-duty measuring cups made of metal and glass. No matter what you're looking for in your measuring cups, we have the ideal selection for you.
The OXO Good Grips 2-Cup Angled Measuring Cup easily stood out as a clear winner. It's designed for liquids, but can be used for dry ingredients in some cases, too. Plus, it has a patented angled design that makes it easy to see the measurements from the above, meaning fewer adjustments and faster measuring.
The 5 Top-Rated Measuring Cups
*Ratings are from Amazon at the time of publication and can change
Best Measuring Cup Overall: OXO Good Grips 2-Cup Angled Measuring Cup
The OXO Good Grips 2-Cup Angled Measuring Cup is ideal for liquids, but you may find you appreciate how easy it is to use for dry ingredients, too. You won't be able to scrape off to level it for a perfect measurement, but if your recipe doesn't require absolute precision, then you can certainly get by with one-cup-fits-all with this measuring cup. And when you're done, popping this cup directly into the dishwasher makes clean-up super simple.
The angled design makes all measuring easier, as well – you'll be able to pour your ingredient into the cup and look down at the measurements that are shown as perfectly from the top as they are from the side. That means you won't have to lean down after putting your cup on a flat surface to make sure you're getting the right measurement and that seemingly small feature adds up to big convenience.
With well over 7,000 customer reviews on Amazon, you have more than enough reason to be tempted into purchasing this measuring cup, and to add the icing on the cake, the overall rating is an impressive 4.8 stars, too.
OXO Good Grips 2-Cup Angled Measuring Cup Key Features:
4 sizes available
Nonslip grip on handle
Dishwasher safe
Best Glass Measuring Cup: Pyrex Glass Measuring Cup Set
Pyrex Glass Measuring Cup Set
You'll get a durable glass measuring cup set that's excellent for the kitchen novice or the professional baker with the Pyrex Glass Measuring Cup Set.
The Pyrex Glass Measuring Cup Set gives you a set of two 1-cup capacity measuring cups that are often seen as the gold standard in glass measuring cups. The ergonomic handles will allow you to comfortably lift the cup, no matter how heavy the ingredients contained within and the pour spout will allow you to add your ingredients with no extra mess. It can handle both heat and cool – so much so that it can actually be transferred directly from the refrigerator to the preheated oven without breaking and that's a big deal! Because the glass is non-porous, it won't absorb odors or flavors and it will never stain, making it a measuring cup you'll likely have for years to come.
Because this is probably the most well-known measuring cup in the United States, it will likely come as no surprise that it has an overall rating of 4.7 stars on Amazon. There are also several vendors on Amazon that sell this product and each has similar ratings.
Pyrex Glass Measuring Cup Set Key Features:
Microwave and dishwasher safe
2 packaging options
3 sizes available
Best Budget Measuring Cup: Chef Craft Measuring Cup and Spoon Set
The Chef Craft Measuring Cup and Spoon Set include six measuring spoons for virtually every imaginable size in your recipe book. The six tablespoons range from one-eighth of a teaspoon to one tablespoon and the four cups include one-fourth cup, one-third cup, one-half cup, and one cup sizes.
These spoons and cups are intended for dry ingredients so that you can level off the top with a fast scrape, but if you measure over your bowl (or you trust your steady hand), then you'll very likely be able to use them for wet ingredients, too. Just be careful, you definitely won't want to use these cups and spoons for extra hot ingredients, nor will you want to use them in either the freezer or the microwave.
The numbers don't lie, and that's nothing but good news for these measuring cups. Not only are there roughly 3,200 customer reviews on Amazon, but it also has an overall rating of 4.6 stars. But the best number of all is undoubtedly the price: You can get these for right around $5.
Chef Craft Measuring Cup and Spoon Set Key Features:
10-piece set
Dishwasher safe
BPA-free construction
Best Measuring Cup and Spoon Set: Esie Houzie Measuring Cups and Spoons Set
The Esie Houzie Measuring Cups and Spoons Set has a specialized design that makes these measurement cups and spoons all the more convenient and that will likely lead to more use than ever – and that's completely ok when you opt for this kind of durability. The shape of each cup and spoon favors an oval in order to make them the most functional and most easily used in more narrow containers.
Each cup and spoon is made with BPA-free, food-safe plastic that's good for wet or dry ingredients. The nonstick, gloss interior will keep your ingredients from sticking and the matte exterior will prevent slipping. You can even use these randomly colored (with six colors) cups to measure your pet's food, if you'd like your pet to benefit from your purchase, too.
Amazon has this measuring cup and spoon set listed at right around $10, and that kind of value makes it all the more obvious why it also has over 7,000 customer reviews and an overall rating of 4.8 stars.
KitchenAid Classic Measuring Cups Key Features:
Stackable design for compact storage
Dishwasher safe
12-piece set
Best Stainless Steel Measuring Cups: New Star Foodservice Stainless Steel Measuring Spoons and Measuring Cups
The New Star Foodservice Stainless Steel Measuring Spoons and Measuring Cups are made with a high-quality construction that will have your measuring cups lasting far longer than you imagined. You may be leaving them to your children long after you're gone, in fact! The stainless steel will prevent stains (obviously) and rust, as well, making them versatile for all types of use.
Though these are intended for dry ingredients, you may find them just as useful for your wet ingredients, as well. They stack for compact storage and they're held together with a removable O-ring that makes sure you're not losing any of your set and always prepared for a new recipe.
Sitting on Amazon with an overall rating of 4.8 stars, earned by right around 11,000 customer reviews, these stainless steel measuring cups are more than just tempting – they're a sound investment!
New Star Foodservice Stainless Steel Measuring Spoons and Measuring Cups Key Features:
8-piece set; 4 cups, 4 spoons
US and metric engraved measurements
5 sizing options
Who Should Buy a Measuring Cup
If you do any kind of cooking in your home, you'll need a measuring cup of some sort. For budding chefs and bakers, measuring cups will be needed to achieve that perfect cuisine or dessert. Some professionals eventually move on to digital scale for greater precision, particularly professional bakers, while professional chefs are somewhat notorious for using their instincts to add a few dashes of spices or other ingredients to achieve that perfect flavor. In the meantime, you'll want to use measuring cups to lean on closely followed instructions.
At the very least, if you want to have your recipes taste the same every time, the ingredients will need to be measured. And while experience may reduce the need for measuring your common recipes and food styles, most professionals – or hobby chefs, for that matter – will experiment in the kitchen with their recipes and altering foods to their tastes. In order to get your intended results, you'll need the proper equipment, and for cooking and baking that includes measuring cups.
While you're thinking of all the delicious recipes you can't wait to try, you may also be interested in other appliances to make your cooking easier. Check out The Best Bread Machines and The Best Stand Mixers for more options on how to make your time in the kitchen go a bit more smoothly.
Important Features to Consider
A measuring cup should do several things well. Here's what to consider when selecting a measuring cup:
Spoon sets. If you're going to get a set of measuring cups, then you may as well consider all the ingredients you'll be measuring and for each recipe. If you're going to replace a set, then you may not need the measuring spoons, as well, but the chances are that you'll benefit from a set that includes both measuring cups and measuring spoons.
Sizes. Though there are a standard set of sizes that every measuring cup set will come with, there are more than those measurements that you'll likely come across in your recipe book. Rather than eye-balling 1/8 cup, it may be simpler to just find a set that includes the less-common measurements to ensure your recipes come out right every time.
Plastic. For the busy home with kids or less-than-optimally-coordinated cooks, a plastic measuring cup will run a far lesser risk of breaking than several of its counterparts, but you'll need to ensure you're getting BPA-free and food-safe plastics. You'll be far more likely to stain or warp a plastic measuring cup and you won't be able to use it for all temperature foods.
Glass. Glass is ideal for wet ingredients and is virtually the standard for traditional measuring. One cup that measures up to 2.5 cups of liquid and has clearly labeled measurements all the way down to one-half or one-quarter cup is what you can expect in most. The glass construction is one that will allow you to use the cup on cold or holt ingredients as well as activating yeast and curdling dairy when the recipe calls for it. The glass will prevent any of the contents from staining or seeping into the food, and that's a benefit you can't always get from plastic. Just bear in mind you may also break the glass from too extreme temperatures.
Metal. If glass is the gold standard for measuring liquids, metal measuring cups are widely considered the ideal choice for dry liquids. You'll be able to measure ingredients without transferring any taste from the material of the cup to the foods, and the cup won't break should you need to measure extra-hot or cold ingredients, either.
Frequently Asked Questions
What are the two types of measuring cups?
Though it is not 100% fool-proof to think of measuring cups this way, generally, a measuring cup that is one large cup (glass or plastic) with several measurements listed along the side is for wet ingredients. The measuring cup sets that have a different cups (or spoons) for each ingredient are for dry ingredients. Measuring cups for liquids have a larger capacity to allow you to fill directly to a line for an exact measurement and transfer without spilling. For a dry ingredient, you'll want to make sure the ingredient is completely even with the top of the specific cup – and that means you'll have to overfill it and then scrape the top to ensure a flat surface that's level with the cup. Spilling isn't as big of a concern, and getting the exact measurement in a larger cup than what you need is not as easily done.
Are measuring cups accurate?
It is incredibly disheartening to realize, but the truth is that there are discrepancies in measurements depending on brand and manufacturer. In some cases, the difference can be up to 30% – and that's a staggering amount! The best way to ensure the same results every time is to stick with the same measuring cups. And that means you'll be particularly keen to get a durable and reliable set from the start.
What is the difference between plastic and glass measuring cups?
There are several obvious differences between glass and plastic, that you probably are already aware of: Plastic will not break as easily; glass is more durable. For a measuring cup, though, you can expect your liquid measuring cups to be glass in most cases, due to the versatility of glass. You'll be able to microwave it, for example, and you won't usually want to do that with a plastic measuring cup. Because you don't typically do too much to a dry ingredient, a plastic measuring cup will work well for your dry ingredients. If you have a liquid measuring cup that's plastic, but never use it for extreme temperatures, then it will very likely be suitable – but you will want to make sure that it's a high enough quality to withstand what you intend to use it for.
What are the four standard sizes of measuring cups?
For dry ingredients, there are four separate measuring cups that all standard sets will include. Those measurements are one cup, one-half cup, one-third cup, and one-quarter cup. Sets will very often include more than those four, mostly in smaller sizes, but those four are essentially the gold standard for measurement for most recipes.
Other Measuring Cups We Reviewed
We looked at 20 other measuring cups. Even though they didn't make our 5 best measuring cups list, they're the best of the rest and each is still a great option for your kitchen. The information you'll need to compare each one is included with the listing.
Metal Measuring Cups
Allwin-Houseware Measuring Cup and Spoons Set
These metal measuring cups and spoons are engraved with their measurements to ensure no amount of washing will wipe away the label.
Key Features:
3 set options
Stainless steel design
US metric measurements
Cost: $25
Cook with Color 8 Piece Copper Measuring Cups and Measuring Spoon Set
These measuring cups are made with a copper finish on stainless steel with rubber ergonomic handles that are perfect for regular use.
Key Features:
2 measuring cups, 4 measuring spoons
Engraved metric measurements
Hand wash
Cost: $17
Cuisipro Stainless Steel Measuring Cup Set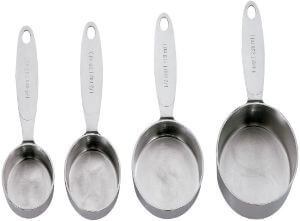 This stainless steel measuring cup set is one of each of the standard cup sizes for dry ingredients.
Key Features:
Narrow oval shapes
Stamped measurements on each handle
4-cup set
Cost: $35
Laxinis World Measuring Cups and Measuring Spoons Set
The stacking measurements cups store neatly and to make sure you don't lose track of any of the spoons, they have a locking ring for convenient storage.
Key Features:
13 pieces
Stainless steel with a polished finish
Engraved US/metric measurements
Cost: $30
Morgenhaan Stainless Steel Measuring Cups and Spoons
The narrow design of the measuring spoons that come with these dry ingredient measuring cups will allow you to dig into the spices in your more narrow containers.
Key Features:
Stainless steel and polished finish
Stacking measurement cups, measuring spoons
8 measurement pieces
Cost: $20
The magnetic snaps on these measuring cups will let you stack and store them without worrying about one slipping into the abyss of your kitchen drawers.
Key Features:
4 standard sizes
Stamped US measurements
Dishwasher safe
Cost: $20
U-Taste 10 Piece Measuring Cups and Spoons Set
These stainless steel measurements are color-coded to make it all the easier to grab and go for fast baking, perfect for when you're in a rush to get things in the oven.
Key Features:
Metric and US measurements
10-piece measuring cups and spoons
Stamped measurements on each cup/spoon
Cost: $25
Wildone Measuring Cups & Spoons Set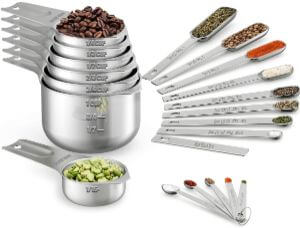 This set has an excellent value with a whopping 21 pieces, giving you all the possible measurements for your recipes.
Key Features:
Leveler included
Stainless steel construction
Engraved US and metric measurements on each cup/spoon
Plastic Measuring Cups
Farberware Professional Plastic Measuring Cups
These dry ingredient measurement cups are perfect for regular use and durable enough to last for years.
Key Features:
US measurements on each cup
Lifetime warranty
5 piece set
Cost: $15
These wet ingredient measurement cups will work well for your room temperature ingredients and stack conveniently for easy storage.
Key Features:
Food-grade, BPA-free construction
US and metric measurements
Dishwasher safe
Cost: $20
Norpro 4-Cup Capacity Plastic Measuring Cup
This large-capacity measuring cup is perfect for your regular, every-day use.
Key Features:
Pour spout
Dishwasher and microwave safe
Food-safe plastic design
Cost: $7
OXO Good Grips 3-Piece Angled Measuring Cup Set
This is a set of 3 cups with the same design as our best overall pick. With the angled design, you'll easily be able to see the markings for US and metric measurements from above, and having three measuring cups with different capacities can be handy if you spend lots of time in the kitchen.
Key Features:
Dishwasher safe
BPA-free plastic construction
Nonslip handle
Cost: $20
Vremi 3 Piece Plastic Measuring Cups Set
These nesting measurement cups are color-coded for the three different capacities, making it all the easier to grab and go in the kitchen.
Key Features:
Nesting for easy storage
Nonslip handles
Metric and US measurements
Measuring Cups and Spoons Set
FAVIA Nesting Measuring Cups and Spoons Set
Not only will you have an excellent measuring cup for your liquids, but you'll also get measuring cups, and spoons for dry ingredients, and a funnel for versatile pouring.
Key Features:
10-piece set
BPA-free plastic
Dishwasher safe
Cost: $20
Kaptron Tools Spoons and Collapsible Measuring Cups Set
If you're pressed for storage in your kitchen you'll appreciate the collapsible design of these measuring cups and spoons.
Key Features:
8 pieces
Dishwasher safe
100% satisfaction guaranteed
Cost: $10
KitchenAid Classic Measuring Cups And Spoons
You'll have all you need for accurate and consistent dry ingredient measuring with this measurement set.
Key Features:
Metric and US measurements
9-piece set
9 color choices
Other Measuring Cups
Digital Kitchen Food Scale and Measuring Cup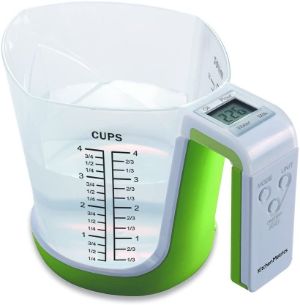 You'll be able to use this measuring cup to measure both the volume and weight of your ingredients.
Key Features:
2 color options
4-cup capacity
Large LCD display
Cost: $25
KitchenArt Professional Series 2 Cup Adjust-A-Cup
You'll be able to use this adjustable measuring cup to level-off dry ingredients and after pouring an exact measurement can pull the cylinder up more to prevent spills.
Key Features:
US and metric measurements
2-cup capacity
Wet or dry ingredients
Cost: $25 (an estimated, rounded cost of the product)
OXO Good Grips 2 Cup Adjustable Measuring Cup
You won't have to worry about storing several pieces for measuring with this adjustable measuring cup that stores compactly in any drawer.
Key Features:
2-cup capacity
BPA-free construction
Dishwasher safe
Cost: $12
OXO Good Grips 7-Piece Nesting Measuring Beaker Set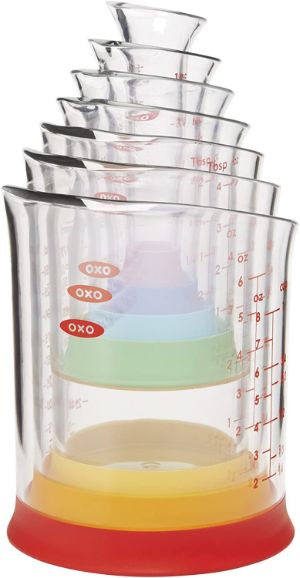 These beaker-style measuring cups are ideal for liquids from 1 teaspoon up to 1 cup.
Key Features:
Nesting for easy storage
2 color options
Top-rack dishwasher safe
Cost: $20