When is it time to get your child that laptop? It's a question many parents wrestle with at some point in their child's life, but lately, it's become even more pressing. With most schools closed because of COVID-19 and kids forced to take classes online, having a laptop has gone from being a nice to a necessary thing.
According to a 2018 report by the U.S. Department of Education's National Center for Education Statistics, 94 percent of children between the age of 3 and 18 have a computer in their home. Of these, 61 percent have access to the Internet. In the classroom, as well, one-to-one access to computers, laptops, and tablets is on the rise.
It makes sense to get your high school student and even your middle school student a laptop. Kids need to learn computer skills to survive in today's world, and having a computer makes research, writing reports, reading books, and creating projects a lot easier. Sure, there are computers at the library, but hours are limited and transportation can be an issue. Having a laptop makes learning more convenient for everyone.
Even elementary school students, though, are now needing laptops. In addition to requiring them for online schooling, children are accessing apps and programs in a way that their older siblings never considered. They are creating videos, writing papers, crafting Powerpoint presentations, and even programming their own apps to demonstrate what they've learned at a much earlier age.
Parents must determine for themselves when it's appropriate for their kids to have laptops, but when you're ready, you may find yourself overwhelmed. There are so many laptops out there! How do you know which ones are best?
We recently reviewed dozens of laptops for kids to find out. We looked at durability, the availability of parental controls, screen type, the capability of the computer to perform numerous tasks, and cost.
We've identified the Tanoshi 2-in-1 Android Computer as our top pick. It can be used as a laptop or a tablet, plus it's specifically made for young kids with easy parental controls.
The 5 Top-Rated Laptops for Kids
*Ratings are current at the time of publication and can change.
Best Laptops for Kids: Tanoshi 2-in-1 Android Computer
If you want to get your child started on a laptop computer, the Tanoshi 2-in-1 Android Computer is the way to go. In addition to being easy to set up and use for a beginner, it has parental controls preloaded along with age-appropriate software. You don't have to worry about your child accessing things on the Internet that you don't want her to, plus you can monitor her use and set limits on screen time. Simply install the "Family Link" app from Google on your smartphone and you can also follow your child's activities online.
The computer runs on an Android platform, which means it can operate all your favorite Android apps. It has a detachable 10.1" high-definition touchscreen, so if your child is watching a video or reading a book or assignment, he/she can pull the screen off, get comfortable, and read or watch away. This makes this machine extremely portable, as well.
When it's time to write a report or do some research, the screen can be reattached to the keyboard and your child can access popular apps such as Docs, Sheets, Drive, Earth, Maps, Gmail, YouTube Kids, and more to complete homework assignments and enjoy other educational activities. Coding apps are also included for children with an interest in computer programming. There are two USB ports available for connecting peripherals.
Tanoshi 2-in-1 Android Computer Key Features:
Specially made for kids 6-12 years old
Comes preloaded with parental controls
Runs on Android software
Works with popular apps like Docs, Sheets, and Gmail
Lightweight, sturdy, and portable
Best Durable Laptop for Kids: ASUS Chromebook C202 Laptop
ASUS Chromebook C202 Laptop
Ready for drops and spills, this laptop boasts a military-grade rugged construction that can withstand a bit of rough treatment.
If your child tends to be a little rough on his things, choose the ASUS Chromebook C202 Laptop. Military-grade rugged construction means this machine can take it with reinforced rubber guards, easy-grip handles, and a spill-resistant keyboard. The manufacturer says you can drop this laptop from 3.9 feet without disruption! Of course, it's still a computer so it's best to set some boundaries with your child, but at least you won't have to worry about the occasional accident, impact, or fall.
The ASUS Chromebook runs on Chrome OS, an operating system by Google that comes with handy built-in virus protection. It also comes standard with all the Google apps you know, which means your child can edit, download, and convert Microsoft files in Google Docs, Sheets, and Slides. Access more programs and apps from the Google Play Store, including music, books, movies, and more.
The screen is on the small side (11.6 inches), but it has a high-quality HD anti-glare display that opens a full 180 degrees makes for easy viewing, particularly for group study or discussion sessions. It has some internal storage plus an additional one-year free 100GB of Google Drive space to ensure all files are backed up automatically.
The ideal education computer for young students, this machine is developed to meet the daily rigors and intense usage it's likely to see both inside and outside of the classroom.
ASUS Chromebook C202 Laptop Key Features:
Military-grade rugged construction holds up kids' usage
Handy built-in virus protection
Runs on Chrome OS and includes popular Google apps and programs
One-year free Google 100GB cloud storage
HD webcam included
Best Budget Laptop for Kids: Dell Chromebook
Dell Chromebook
This refurbished laptop computer works and looks like new, is ruggedly built, and comes with everything your child will need for school.
The best way to save money on a computer is to buy a "renewed" or "refurbished" model. These are used computers that have been repaired as needed and are ready to be put to work again. The Dell Chromebook comes in far under $200 yet it has a high-performance dual-core, 4 GB of ram, 16 GB solid-state drive, and a Chrome operating system, with all your favorite Google apps built-in and more available at the Chrome Web Store.
Designed to handle student life, the Dell Chromebook offers superior durability and is designed to be "school tough." It's been tested for pressure, temperature, humidity, shock, and vibration, so it can handle student life. "Built for the backpack," the manufacturer states, it has a rubberized LCD and base trim to absorb shock in case it's dropped. It also has a scratch-resistant touch screen designed to handle a lot of use, plus spill protection on the fully sealed keyboard.
The 11.6-inch display has a 180-degree hinge that allows it to lie flat so students can easily adjust for group activities. Plus it comes with multi-colored lights that signal the teacher (or parent) when the student is online instead of participating! Front-facing speakers make it easy to hear and be heard.
You also get a lot of ports on this computer, which can be nice for students who need to hook up printers, CD players, speakers, and other tools they may need or want. Included are two USB 3.0 ports, 3 USB 2.0 ports, an HDMI port, a high-quality camera (perfect for filming videos or interacting with teachers face-to-face), and a headphone jack (for no-disturb listening).
Dell Chromebook Key Features:
All the programs you need for a lower price
Built to be "school tough"
Includes special multi-colored lights that signal when your child is online
Has multiple ports for a variety of add-ons
Backed by the Amazon Renewed 90-day guarantee
Best Touchscreen Laptop for Kids: HP Touchscreen Premium Laptop
Have you ever seen a child touch a laptop screen and become frustrated when it won't do anything? Many kids are "raised" on tablets and can find the transition to a laptop difficult because the screen doesn't respond as expected.
If you have a child who loved his tablet but is ready for a laptop, choose the HP Touchscreen Premium Laptop. It has everything your child needs in a laptop with a touchscreen to make it easier to use. It's also great for young artists who are used to drawing programs and other interactive apps.
Don't worry—this laptop will serve your child for years, as it's packed with power. You get the 8th generation Intel core, the Windows 10 operating system, 128 GB solid-state drive, Bluetooth connectivity, an HD TrueVision HD camera with integrated digital microphone, Intel UHD Graphics, dual speakers, and a 14-inch backlit touchscreen.
The HP also makes it easy to add on extras, as it has one type-C USB port, 2 type-A USB ports, one HDMI port, and one headphone/microphone combo port.
Another advantage to this machine is that it comes with a "back to school" bundle, which includes the Legendary backpack and mousepad—a $50 value.
HP Touchscreen Premium Laptop Key Features:
Handy touchscreen retains the "tablet" feel and works great with drawing apps
Powerful and suitable for all types of homework and extra projects
Has multiple ports for a variety of add-ons
Comes complete with a backpack and mousepad
Reviewers rave about its versatility and quality
Best Advanced Laptop for Kids: Acer Aspire 5 Slim Laptop
Acer Aspire 5 Slim Laptop
Made for the more advanced student, this computer offers extensive connectivity and a powerful dual-core processor.
Older students are going to want more power and capability on their laptops. If you have a middle-school or high-school student, consider the Acer Aspire 5 Slim Laptop. It has a dual-core processor that responds quickly—reviewers note how fast it is, saying that it switches quickly between browser pages and open programs. Plus it has a solid-state hard drive, which means there are no moving parts so it can take more abuse.
The 15.6-inch full HD widescreen LED-backlit display makes working on this computer a pleasure, with popping colors and delightful graphics. The keyboard comes complete with a number pad on the right. Reviewers also comment on the high audio quality, noting how clear the sound is.
Operating on the Windows 10S system, which is the so-called "locked down" version of Windows 10, this laptop is designed to be protected from viruses and malware since there is increased control over the programs used. You can get out of the "S" mode if you like (find directions on how to do so online), but once you leave it you can't go back, so this may be the best option for your student.
You can add memory and a hard drive to this system if you need more storage. Simply remove the 10 screws at the back, open the panel, and add another slot of RAM and another hard drive. Plus there are several ports for attaching add-ons, including USB and HDMI ports. Reviewers say you can't go wrong with this machine for this price, and that it works great for running Office programs, surfing the net, and watching videos and movies.
Acer Aspire 5 Slim Laptop Key Features:
Operates on the Microsoft 10S system, which helps protect from viruses and malware (you can take it out of "S" mode if you like)
A lot of computer for the price
Gorgeous display and quality audio
Expandable RAM and HD
Sleek design and lightweight
Has multiple ports for a variety of add-ons
Who Should Buy Laptops for Kids
You may already have a computer at home that your child is using, in which case you may not need to buy another laptop just yet. If you are running into scheduling problems, though—where you and your child both need the computer at the same time—you may want to think about getting your child her own machine.
COVID-19 has forced many companies to go to a "work-from-home" model, which means parents are now using their home computers for work. When kids come home from school and need access to the computer for homework, if you have only one in the household, you may soon find yourself fighting over who gets to use it when. There's no doubt that the coronavirus has forced most families to beef up the technology tools they have available at home.
Children who need a computer to do homework, who have reached the point where other programs and apps are necessary to complete assignments given by the teacher, or who are having to run to the library all the time to manage their schoolwork will manage much better with their own laptops.
A laptop has the power and the flexibility to give a student everything she needs to keep up with school and to expand her education through research and other online educational resources. If you're not sure that your child needs a full laptop, then you may want to check out The Best Tablets For Kids.
Important Features to Consider
When shopping for laptops for kids, consider the following features:
Storage. How much storage does the computer provide? This affects how many files, pictures, videos, and more your child can store on the computer before running out of space. In general, the more the better. Look for the word "storage" or "memory" when finding this information.
Parental controls. One of the things parents worry about when getting computers and tablets for kids is whether they may get into trouble online. Most laptop computers now grant parents the ability to lock out certain functions or to require permission to access them. When searching for a laptop, check to see what sorts of parental controls are available. You can also download and install parental controls if the laptop doesn't come preloaded with them.
Processing speed. Kids can get quickly frustrated with computers that respond slowly. This is usually caused by a lack of processing power. Even if your child is just getting started on a computer, eventually he or she will be doing more with it, so it helps to get the most powerful processor you can as then the machine will likely last longer.
Durability. Kids will be kids, and their laptops are likely to suffer rougher treatment than yours will. Particularly if kids carry their laptops around with them, to a friend's house, or even to school, you'll need a machine that can take a few bumps and drops. Some laptops for kids have extra padding and stronger cases that allow them to resist damage.
Battery life. How long will the laptop last on one battery charge? If your child is likely to be using the machine at school or while away from home, this may be an important feature for you.
Virus protection. Let's face it—the hackers are out there, and they're getting smarter every day. Many companies are installing virus-protection software to help protect your computer from damage. This can be an important consideration, particularly if your child is likely to be on the Internet much of the time.
Screen size. Laptop screen sizes can vary from about 10 inches to 15 or even more. Smaller laptops are more portable, but larger ones are easier to work on because of the bigger screen. A 13-inch laptop is the most popular as it's portable but still large enough to work on for long periods. Think about what your child will be using the laptop for when choosing a screen size.
Frequently Asked Questions
Why should students have laptops?
One of the main reasons students need laptops today is because of COVID-19. Most schools have moved classes online, forcing students to use computers to access class materials over the Internet. Though some schools may be opening in the fall of 2020, others will remain closed or may have to close again in the future to mitigate outbreaks, which will push students back to online learning.
Other schools are planning on implementing a combination of online and in-person classes, which will again make it necessary for children to have some way to access the Internet and do their homework electronically.
There are other benefits to having a laptop. First, it teaches students computer skills, which they will need as they grow up, no matter what sort of occupation they seek. A laptop also helps a child access valuable educational software, expand his or her knowledge through online resources, and complete homework online.
Should I get a laptop or a tablet for my child?
In general, tablets are made for consuming, whereas laptops are made for creating. A tablet can allow a child access to the internet and can provide a way for them to finish homework online, but a laptop provides many more opportunities for creating papers, presentations, videos, and more.
A laptop, because of its size and shape, is also easier to work on for long periods. You can get a keyboard for your tablet so that it operates more like a laptop, but a laptop screen is typically bigger, which can be easier on young eyes. Laptop systems are generally more powerful than tablets, so your child will be able to run more programs at the same time, plus run programs that may not work on a tablet.
Tablets don't have as much internal storage as laptops do either, which can prove problematic as your student becomes more advanced. Tablets also rarely have USB ports, which means your student won't be able to attach microphones, printers, scanners, or other necessary devices when needed.
In the end, for educational needs, a laptop is the better choice for your child.
At what age should a child get a laptop?
Only a parent can determine when their child is ready for a laptop, but there are some general guidelines. The American Academy of Pediatrics (AAP) recommends no screen time (TV, phone, tablet, computer) for kids under the age of two, and limiting total screen time to one hour per day for kids ages two to five.
After that, kids typically start school and you have other factors to consider.
School requirements: Your school may suggest or even require computers for online learning or other purposes. If your child is having to use your computer or go to the library frequently for schoolwork, it may be time to get him/her a laptop.
Your budget: Laptops can be expensive, but fortunately there are many made especially for kids that you may be able to afford.
Your child's development: Is your child interested in the computer? Already playing with yours? These are signs it may be time to get him one of his own.
Are laptops bad for children's eyes?
Laptops (and other devices like tablets, phones, and TVs) do emit blue light, which can penetrate to the back of the eye and with large amounts of exposure, potentially cause damage. The critical factor is time. How much time is your child spending in front of screens? A couple of hours a day is unlikely to cause problems, but to be safe, you can protect your child's eyes by getting a blue-light filter for her laptop screen. These types of filters are available for tablets and phones, too.
You can also get blue-light-blocking glasses your kids can wear while using the computer. These glasses block some of the blue light from reaching the back of the eyes. Check the specifications to see how much protection they offer.
Other Laptops for Kids We Reviewed
We looked at 20 other laptops for kids. Even though they didn't make our top five laptops for kids list, they're the best of the rest and each is still a great option for online classes and home education. The information you'll need to compare each one is included with the listing.
Convertible Laptops for Kids
Acer Chromebook Spin 311 Convertible Laptop
Position this screen wherever you want it—it's flexible enough to turn a full 360 degrees. Runs on the Chrome operating system with built-in virus protection.
Key Features:
Spin the screen around to wherever you want it
Includes a touchscreen
Built-in virus protection
Preloaded with popular Google apps like Docs, Sheets, and Slides
Cost: $270
Acer Chromebook R11 Convertible Laptop
Similar to the Acer above, this laptop allows you to move the screen 360 degrees for use as a laptop or a tablet. This one has more internal storage (32 GB hard drive).
Key Features:
Spin the screen around to wherever you want it
Includes a touchscreen
Built-in virus protection
32 GB HD
Cost: $305
Simbans TangoTab 2-in-1 Laptop
Detach this screen completely when you want a tablet, then reattach it to the keyboard when you're ready for a laptop. Comes with a pre-applied screen protector.
Key Features:
Tablet and laptop in one
Provides a myriad of connectivity options—USB, mini HDMI, micro-USB, SD card slot
High power MediaTek Quad-core processor
64 GB HD
Cost: $160
Lenovo Chromebook C330 2-in-1 Laptop
Sleek, stylish, and secure, this 360 convertible laptop is less than 1-inch thin and about the weight of a hardback book. Includes a variety of USB ports and a built-in camera.
Key Features:
Use as a tablet or a laptop
Built-in virus protection
Long battery life
LotsLot of ports for extra connections—USB type C, SD card slot, HDMI, and USB 3.0
4 GB RAM and 64 GB storage
Renewed Laptops for Kids
This 14-inch laptop has a Chrome operating system, Intel Celeron Dual-Core processor, and a sturdy, solid-state hard drive. Reviewers say this one's perfect for homeschooling.
Key Features:
Chrome operating system
Bluetooth and headphone/microphone combo jack
2 USB Type-C ports, 2 USB 3.1
32 GB HD
Cost: $230
Samsung Chromebook XE303C12-A01
This Chromebook has less internal storage than those listed above, but it can still handle most school projects and has built-in security protecting students against viruses and malware.
Key Features:
Chrome operating system
Built-in security
Free, automatic updates
Two USB ports
16 GB HD
Cost: $190
If you would rather work on a Windows system instead of the Chrome OS, this HP may do the trick. It has an Intel Atom processor and Windows 10 Home OS, along with 32 GB SSD storage.
Key Features:
Windows 10 Home OS
Intel Atom processor
Multi-connectivity with 3 USB ports, 1 HDMI, and 1 MicroSD Card Reader
Stereo speakers
Lightweight and stylish
Cost: $266
Acer High Performance HD Laptop
This laptop also has the Windows 10 operating system, with an Intel Celeron processor and 64 GB of storage. Includes "ComfyView" Technology on the widescreen LED-backlit display.
Key Features:
Windows 10 Home OS
Intel Celeron processor
Integrated Webcam
3 USB ports, 1 HDMI, 1 SD Memory Card Reader
Dual speakers and headphone/microphone combo port
Reviewers say it's tough!
Touchscreen Laptops for Kids
Kids can use this laptop as a tablet as it has a touchscreen, but the screen does not detach. Runs on the Chrome operating system with a smart, dual-core processor for two-way processing performance.
Key Features:
Chrome operating system with a dual-core processor
6 inch backlit LED multi-touch screen display
Includes accessories: USB extension cord, HDMI cable, mouse pad, and 64 GB SD card
Up to 10 hours of battery life
Easy setup for Google classrooms
Cost: $400
This computer is made for older students who will appreciate the Windows 10 operating system, intel core processor, responsive performance, and high-bandwidth RAM.
Key Features:
Windows 10 OS with responsive performance
6-inch touchscreen display
12 GB system memory
Natural finger-touch navigation
Includes accessories: HDMI cable, USB extension cord, mouse pad
Includes 3 USB ports, 1 HDMI, 1 RJ-45, and 1 SD card reader
Advanced Laptops for Kids
This Chromebook has built-in security features to protect from viruses and malware, an 11.6-inch anti-reflective display, an Intel Atom processor, and 16 GB eMMC storage.
Key Features:
Chrome operating system with Intel Atom processor
6-inch display
Water-resistant keyboard great for kids
No setup or long load times—just log in with your Google account
Up to 11 hours of battery life
Cost: $229
If you have a student that likes color, choose this computer—it has three color options. Runs on the Windows 10S operating system.
Key Features:
Windows 10S operating system
14-inch Brightview display, 32 GB eMMC storage
Works with Office programs
Three color options: smoke gray, infinity purple, and aqua blue
Up to 11 hours of battery life
Cost: $430
The smaller, cheaper version of the computer above, this one still has the Windows operating system, plus gives you even more storage—64 GB eMMC.
Key Features:
Windows 10 Pro 64 operating system
6-inch anti-glare display
Intel Celeron processor
Connectivity: 2 USB ports, 1 HDMI, 1 card reader, one headphone/microphone combo
Bundled with a mouse pad and 128 GB SD card
Cost: $300
HP Chromebook Laptop with Swivel
HP goes cheaper yet with this 14-inch Chromebook, complete with 180-degree anti-glare swivel display, dual speakers, up to 9 hours battery life, and 32 GB eMMC storage.
Key Features:
Chrome OS
14-inch anti-glare display
AMD Dual-core processor
Connectivity: 4 USB ports, 1 card reader, one headphone/microphone combo
Up to 9 hours of battery life
Cost: $250
ASUS steps in with another Chromebook, this one with a larger 14-inch anti-glare display and durable 180-degree hinge so you can lay the laptop flat to easily share content. Includes 32 GB eMMC storage.
Key Features:
Chrome OS
14-inch anti-glare display
Handy 180-degree hinge for easy group viewing
Connectivity with 2 USB ports
Built-in virus protection
Metallic finish
Cost: $261
Lenovo's version of the Chromebook adds a rugged design that holds up well with kids. It also includes free extras that allow students to share and sync seamlessly and securely with Google classrooms.
Key Features:
Chrome OS
Drop-resistant design and water-resistant keyboard
6-inch anti-glare display that flattens completely
Includes popular education apps and free productivity tools
Front-facing HD camera
Up to 10 hours of battery time
Cost: $232
A slightly more expensive version of the Lenovo Chromebook above with a larger 14-inch screen, this machine also has more storage (64 GB eMMC) and a sleek, stylish design suitable for older children.
Key Features:
High-performance Chromebook
14-inch display
MediaTek Processor
Built-in virus protection and long battery life
Webcam, dual speakers
Sleek and stylish design for older students
Cost: $280
Dell's version of the Chromebook is really popular, probably because it's quite flexible. You can expand the storage, connect extras tools with 2 HDMI ports, and enjoy fast and responsive action.
Key Features:
Chrome OS
6-inch HD display
Intel Celeron dual-core processor
Flexible connectivity: 2 USB ports, 1 HDMI port, 1 SD card reader, 1 audio jack
Built-in webcam with two microphones
Cost: $290
HP Flagship Home & Business Laptop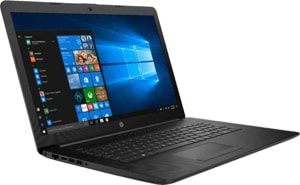 Go for the big screen with this 17.3-inch Brightview display! This is perfect for students working heavily with graphics and who need to have more than one window open at a time. Plus you get lots of internal memory.
Key Features:
Windows 10 OS
Large 17.3-inch Brightview display
Intel Core i5 quad-core processor
Full-size keyboard with numeric keypad and stereo speakers
3 USB ports, 1HDMI, micro SD card reader, 1 speaker/microphone
256 GB SSD storage
Cost: $576
If you can afford it, the Apple Macbook Air is likely to last your child through high school and beyond. The Cadillac of laptops, it has the Intel Core i5 processor, 8 GB memory, and up to 12 hours battery life.
Key Features:
Intel Core i5 with Turbo Boost
3-inch widescreen display
Intel Celeron dual-core processor
Flexible connectivity: 2 USB 3 ports, 2 Thunderbolt ports, SDXC card slot
Extremely light and thin
Great for students who prefer Mac to Windows
Cost: $956